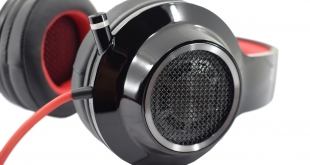 While you may know of as Edifier as a Beijing-based speaker manufacturer, you probably didn't know that they make gaming headsets as well. The headset we are looking at today, the Edifier G4, is actually very cheap at just £40, and aims to offer a decent audio experience along with a solid mic at that low price. Is it any good?
Often budget gaming headsets make too many compromises and end up lacking in too many areas to be considered successful. Edifier will hope its G4 gaming headset will not fall into that trap, though, by prioritising strong sound quality and a good mic. Read on to find out just how successful it is.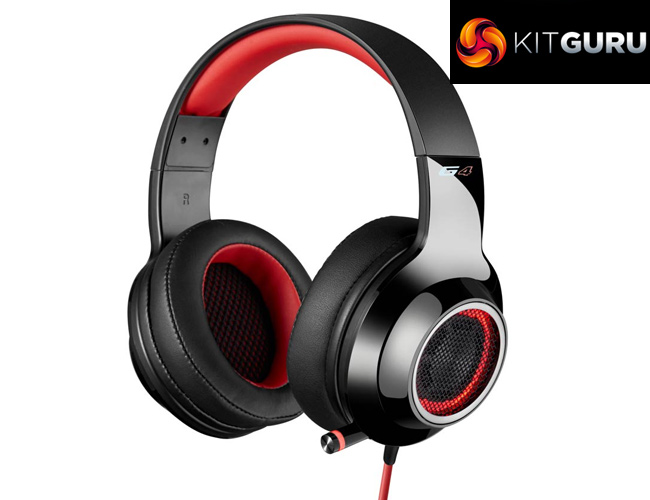 Specification
Driver: 40mm
Frequency response: 20Hz-20KHz
Impedance: 24Ohm
Sensitivity: 103dB
Cable length: 2.5m
Input Plug: USB
The Edifier G4 ships in a black box with very little colour visible. A large product photo dominates the front of the box.
Inside, the only accessory is a small quick-start guide.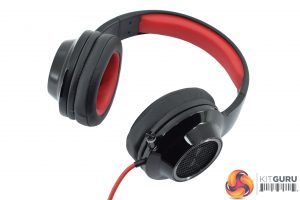 The headset itself is available in three difference colours: black and red, black and green, white and blue. We were sent a black and red sample.
Moving in for a closer look, the back of the ear cups are quite striking thanks to the glossy plastic finish, while the grille section also draws your attention. This isn't an open-back headset, mind, but the grille does give that impression.
Moving to the inside of the cups, the supplied ear cushions are pretty standard given they are covered with faux-leather and measure about three-quarters of an inch thick. They are, however, removable which is a nice touch at this price – many headsets don't have removable ear cushions which just limits their overall lifespan, so kudos to Edifier.
The headband is made from plastic, but it is matte black so you won't be covering it in fingerprints – which is more than can be said for the glossy ear cups.
The inside of the headband is padded with more faux-leather cushioning, coloured bright red.
Moving onto the mic, it is a retractable boom mic that actually stows almost fully away – in a fashion similar to the Razer Kraken 7.1 V2.
Once it has been pulled out, it is also fully flexible. The mic head also sports a red LED strip – when the light is on, the mic is active. No light = a muted mic.
Elsewhere, the G4 features an in-line controller that has a volume wheel, mic mute button and a red toggle switch – this turns the vibrate mode on or off, and is something we talk about more on the next page.
Lastly, the G4 connects via a USB cable that measures 2.5m long.To test the G4, I used it as my daily driver for one week. During this time, I used the headset while gaming, listening to music and watching videos.
Software
Note: if the above gallery is not displaying properly, please disable your adblocker as they are known to interfere with our display code.
Above you can see all the different options available in the software, and being honest, I am not impressed. Having an EQ is useful, but most of the software is junk to be completely honest – things like 'Xear SingFX' and 'Environment Effects' are just gimmicks that essentially just add sound effects to the audio feed.
The good news is, you don't actually need to use the software at all – in fact, the experience is much better without it, as it is essentially just superfluous nonsense.
Comfort and build quality
Moving onto comfort, the G4 isn't the comfiest headset I've ever used, but it isn't bad either. The ear cushions are bit too spongy for my liking – I'd like them to be a bit firmer – which means you can feel a bit too much clamping pressure around the sides of your head.
However, the headband is well-padded and distributes the headsets weight nice and evenly, so that is a plus.
Build quality is actually very good for the money, especially considering it is an all-plastic construction. I'm not too keen on the glossy ear cups as they are serious fingerprint magnets, but that is my only real complaint. The rest of the headset is very sturdy and that is quite impressive when we remember the G4 costs just £40.
As a point of reference, the Cooler Master MH320 costs £35, and despite incorporating a metal headband, it feels much cheaper than this Edifier G4.
Sound quality
Right off the bat, one thing becomes very clear about the G4's sound: there is very little bass, something which is actually quite surprising for a gaming headset. It is not completely missing but it is definitely recessed and is about as far from 'powerful' as it gets.
That does mean music sounds a bit flat and lifeless – there's just no low-end energy to give any impact or 'slam'.
However, the benefit of the overall sound signature definitely comes out when gaming. In-game audio just sounds so clear – whether you are listening out for your team mates or trying to hear the enemy's footsteps, there is great clarity to the sound.
For instance, I have been playing a lot of PUBG recently, where audio cues can really play a major role in your battle for survival. Using the G4 I was able to pick out distant gunshots, the roar of approaching cars and even the nearby footsteps of my rivals.
While we are on the topic of gaming, I should mention the virtual 7.1 surround-sound engine that can be enabled or disabled in the software. I won't mince my words – it is very poor. The clarity and detail that is present in stereo mode instantly vanishes into a big soupy mess when the virtual 7.1 is enabled – it was much easier to place in-game noises in stereo mode than with virtual 7.1 turned on, so I would strongly discourage you from using it.
One other very 'interesting' feature is the vibration mode that is enabled by toggling the red switch on the in-line controller. This is a very bizarre function, but it seems it is designed to add some more 'rumble' in the low-end by causing the headset to vibrate. In short, it absolutely wrecks the audio quality so I would stay well away. It is certainly novel and unique, but it is just not necessary.
Mic quality
Cutting right to the chase, here is a quick mic test of the Edifier G4:
Overall, the sound is actually very clear and is not really that nasally at all, which is certainly impressive. I do think the audio sounds a bit distant, but the clarity is definitely there and I had no issues using it with Discord's voice chat functionality while playing PUGB. With the G4 being a USB headset, too, there is no EMI interference to worry about either.Considering its pretty low price of just £40, the Edifier G4 is actually a pretty decent gaming headset.
For starters, it is well-built, despite its plastic construction, and should be able to survive a knock or two.
In terms of comfort, I do wish the ear cushions were a bit thicker and a bit firmer, but the cushions themselves are actually removable so there is scope to replace the stock ones with some third-party cushions that are more to your liking.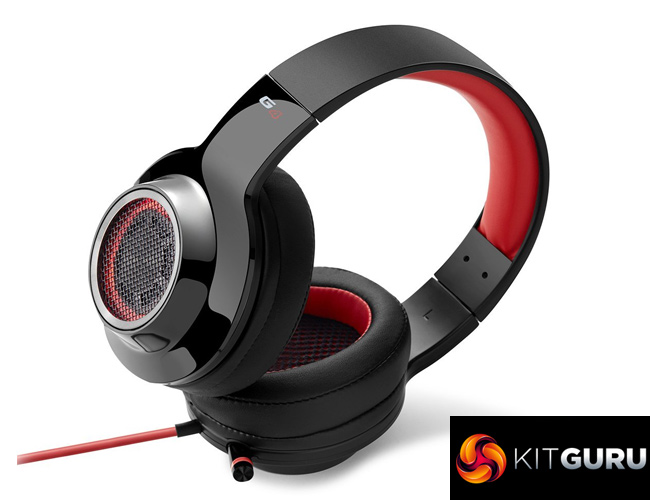 Now, sound is obviously a vital area for any headset, and the G4 is certainly quite interesting in this regard – essentially, it really lacks some kick in the low-end. This does mean music listening is not the best, as the lack of bass results in a pretty lifeless sound.
However, the G4 does have excellent mid-range clarity and this works really well while gaming – everything comes across very clearly with excellent definition. The mic is also very capable for the money – it isn't the best I've heard, but clarity is also very good and I had no issues using it for a week of online gaming.
So, in conclusion, the Edifier G4 is a very good gaming headset considering the price. It doesn't have a very 'fun' sound signature, so I wouldn't recommend it for music listening, but the overall clarity of the sound and the thoroughly decent mic makes it well worth buying for gaming purposes.
You can buy one for £39.99 from Amazon HERE.
Discuss on our Facebook page, over HERE.
Pros
Very affordable.
Clarity of sound is excellent.
Mic is also very decent.
Build quality is surprisingly solid.
Cons
Lack of bass means listening to music isn't the best experience.
Terrible software.
Vibrate function sounds terrible and is not necessary.
KitGuru says: For the money, the Edifier G4 is a very decent gaming headset. There are a few peculiar features which I would stay well away from, but the headset offers excellent clarity and a decent mic for an attractive price.