The Mixcder MS301 ships in a black box with gold accenting on the front. Instead of an actual product photo, the outline of the headphone is also printed in gold.
Inside, two small booklets are included: one quick-start guide and one customer feedback pamphlet. Two cables are also included: one micro-USB charging cable and one 3.5mm-to-3.5mm headphone cable.

Moving onto the headphone itself, the MS301 is a closed-back wireless device which sits over your ear, instead of on the ear.
It is also immediately obvious the ear cups are rotatable, so they can be laid flat, which is handy if you will be putting the headphones in a bag.
The MS301 is also made from quite robust materials – the back of the ear cups are made from metal, while the ear cup hinge and headband slider are also metal.
Aside from obvious build quality benefits, this also gives quite a sleek and modern look to the headphone.
Elsewhere, there are a few on-ear controls worth touching on. Starting with the right ear cup, here we find 'forward' and 'back' buttons, as well as the 3.5mm jack input for using the MS301 as a wired headphone.
Towards the top of the right ear cup is the power button itself, as well as the power LED notification light.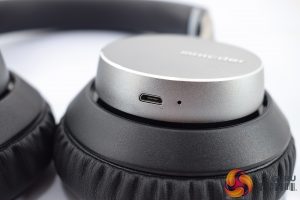 The left ear cup is less busy, with just the micro-USB input for charging. I do wish the charging port was USB Type-C, though, as essentially all modern smartphones now use this connector as the older micro-USB connector is being phased out.
Turning to the inside of the ear cups, we get a look at the ear cushions. These are covered with faux-leather and are not removable. A big 'R' or 'L' is printed on the inside of the cup to let you know which way round to wear the headphone.
Lastly, the padded headband is also covered with faux-leather. The padding itself measures approximately half an inch thick.