The Razer Tiamat 2.2 V2 ships in a box that is typical of Razer – meaning there is a triple-headed snake logo, green accents and a large product photo on the front.
Inside, the headset itself is very neatly packaged in plenty of foam, while the accessories are hidden under the 'welcome to the cult of Razer' cardboard flap.

Speaking of accessories, the Tiamat 2.2 V2 comes with a small quick-start guide, a greeting card and a 2m jack extension/splitter cable.
Now, coming to the headset itself, I must admit the overall 'boxy' design reminds me of the Cooler Master MasterPulse MH320 – or perhaps the MH320 should remind me of the Tiamat, as the original 2.2 did come first.
That said, the overall design is not unpleasant, and I do quite like the stealthy, matte black style which is typical of Razer products.
Moving to the ear cups, we can see they are closed-back, which is to be expected, and there is a small Razer logo on the outside of each cup.
On the inside of the cups we can see the foam cushions have a faux-leather finish. I personally prefer fabric cushions as faux-leather cushions make my ears very warm during extended use, but that is obviously just personal preference.
There aren't any spare cushions in the box, which is a shame given the price, but the cushions are removable, so perhaps there will be the option to buy spares/replacements in the future.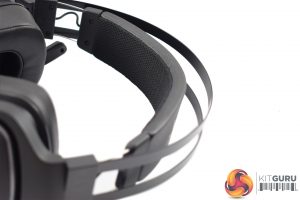 Elsewhere, the headband is of the 'floating', or suspended, variety – so it stretches to fit your head as you put it on. That padded headband, covered with a fabric mesh, is suspended from a sturdy metal frame.
The Tiamat 2.2 V2's microphone is fully rotatable so it can be stored up and away when not in use. The mic's pickup pattern is unidirectional, too, so hopefully that will prevent background noise from leaking into any recordings.
In terms of on-ear controls, there is no adjustable volume wheel or anything like that. The only on-ear control is a small slider on the right ear cup. This toggles between 'standard' and 'dual speaker' mode, and dual speaker mode enables the secondary bass driver in each ear cup.
Lastly, Tiamat 2.2 V2's cable is not detachable and measures 1.3m long. It uses a standard 3.5mm jack, though, so it can be used across multiple platforms. The extension cable (shown above) does split the audio and mic signals into separate jacks, though, so it can be used on a PC just fine.