The Sennheiser GSP 350 ships in a clean, white box. On the front there is a large product photo as well as some Sennheiser branding.
The only included extras are two small booklets – one safety guide and one quick-start guide.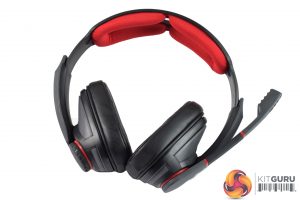 Getting our first look at the headset itself, it is immediately clear that Sennheiser has reused the design of the GSP 300 for the GSP 350 – the only difference is the colour scheme, as the GSP 350 is black and red, rather than black and blue. It keeps the same all-plastic construction, too.
On the topic of build quality, I do think the plastic exhibits a bit too much flex for my liking, especially considering the price. After all, the Razer Kraken 7.1 V2 costs £20 yet sports an aluminium frame, and that headset feels much more sturdy in the hand.
Moving in for a closer look, the ear cups are oval shaped and closed back in design. The foam cushions are covered with faux-leather, though they are removable so you could try using your own cushions if you prefer.
The back of the cups are made from plastic, while the right ear cup also sports a large volume wheel.
The GSP 350's headband is well padded with more foam, though the cushioning is covered with fabric this time, rather than faux-leather.
Adjusting the size of the headband is easy, just pull the headband up until you find the desired size. There are notches on the side of the band so you can get both sides to the same point.
Moving on, the mic is non-detachable, though it can be rotated up and out of view when it is not in use, something which also mutes the mic. It is also noise cancelling, but we will talk more about sound quality on the next page.
Lastly, the cable situation is worth touching on. The cable on the left uses a 2.5mm jack to connect to the headset, while it ends with the 7.1 surround-sound dongle. The cable on the right connects to that dongle via micro-USB and eventually plugs into your PC with a standard USB Type-A connector.