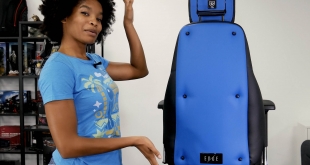 If you spend as much time gaming as I do, then it's time to move past the simple FPS blitz and focus more of your attention (and PC budget) on the subject of spines, chairs and derrières. Edge is a new company, based in Wales, dedicated to creating the world's best gaming chairs – from the ground up. No re-skins here, each chair is individually hand made to order. But, can any gaming chair be worth the best part of £1,000?  The backrest, seat base and headrest come fully-assembled. No tools are required for assembly and all gamers have to do is pop the gas stem into the base and engage the seat base. They can be gaming in seconds.
if you can't see our gallery above then please disable your ad blocker as they are known to sometimes interfere with our code.
The brainchild behind the Edge GX1 is Clyde Crawford, a Chartered Ergonomist and Human Factors Specialist (C.ErgHF) with post-graduate qualifications in training, occupational health & safety, injury / illness management, occupational rehabilitation, health surveillance and functional capacity evaluation. He has over 20 years' experience in delivering a diverse range of ergonomics solutions to a broad range of clients.
A significant proportion of Clyde's work has been to provide ergonomics support in the fields of product design and computer based workstations. This has included the design of commercial gaming seating, display screen equipment and medical devices. He has also provided consulting services for gaming industry manufacturers and suppliers around the importance of ergonomics in the design and procurement of gaming equipment. Furthermore, he was part of the ergonomics team that achieved a highly commendable award for the Qantas Next Generation Check-In at the 2011 International Ergonomics Design awards.
Neil Hill is his partner and Neil has extensive gaming industry knowledge and experience in production selection, design and distribution.  Neil has held Director level positions for some of the world's leading computer and gaming brands.
Technically speaking, the chair is firmly placed in the high end. Some of the features are as follows:
Backrest is designed with a solid and bespoke piece of wood (most racing seats are just padded metal skeletons)
The contouring of the foam on the base, neck rest and backrest is bespoke. The contouring is designed to support the natural curvatures of the spine while also supporting the pelvis, head and neck through a variety of postures. Furthermore, the contouring has been designed to enhance support but not constrain posture.
The lower back support uses an enclosed air cell which enhances comfort and support
The foam is high density and there is an additional layer of memory foam on the seat base
Tilt mechanism provides additional negative tilt to enhance support in forward-leaning and engaged posture.
The mechanism provides a unique asynchronous gravity driven tilt which allows easy transition between postures . Gamers can lock or unlock the seat base and backrest tilt which are independently adjustable. The tilt tension for the backrest can be adjustable when using the dynamic position
The seat fabric/material, which is breathable and easy to clean, but importantly is designed for thermal comfort – it's cool in the Summer, warmer in winter, but never makes you feel hot like many gaming seats on the market.
The range of gas stem adjustment  is greater than normal and supports are more optimal sitting height. Many racing seats do not offer sufficient height adjustment, which automatically means the sitting/gaming posture will be incorrect.
Seat slide mechanism allows the seat depth to be adjusted to better support the legs.
We spent time gaming and working in the chair, with some competing models in the same room for comparison. When we say competing, it's important to point out that the 'challengers' were about a third of the price. We'd also recently experienced a variety of models up at the EGX show. 
I can FEEL the difference sitting in the GX1 compared to say, an Omega, it's far more comfortable by a huge margin. But with the Omega starting at around £300 and the GX1 at £809 I'm still struggling to say that you should definitely go and buy this product. The science is there, they've done the research, the benefits are pretty obvious, so it should be an easy sell, but thats ALOT of money for a fancy piece of gaming furniture, right?
Some of the best ergonomic office chairs sit in the range of £600 to £1000+ , so maybe it's time we started taking our health a little bit more seriously? As this is the flagship product we can only assume in the future they may come out with stripped down versions at a smaller price. until then it's going to depend on how much your spine is worth to you. Hell, if you can shell out a couple grand for a new graphics card maybe it's something you should seriously consider.
All chairs are supplied with a five-year guarantee against fault in manufacture, including structural parts, when used in normal conditions for up to 8 hours a day. The guarantee is conditional in that it covers normal use and that misuse has not taken place and that the final decision rests with EDGE, their component and fabric suppliers. The guarantee is conditional on the purchaser providing a description of any fault and, if needed, returning the product to EDGE for assessment.
You can buy from Edge direct HERE.
Base chair: £809.99
Headrest: + £89.99
Silver aluminium base: +£41.99
Hard-floor castors: +£27.59
Small seat: (no cost change)
Foot-rest: + £41.99
Pros
Extremely comfortable

Moulds to any shape person

Cool features, like negative tilt and inflatable lumbar support
Cons
Price

Tricky chair controls

Paying extra for the head and foot rest.
KitGuru says: Unless you are spending the majority of your day on a PC – either gaming or designing – then this is not the chair for you. If, like me, you are a professional designer who spends all their free time gaming, then even the mahoosive price tag may not put you off. For the same price, you can get a pair of Noblechairs or enough Ikea operator's chairs to seat a pair of Counter Strike teams. What is the most important thing to you?  Supported spine?  Blissful seating?  Then the Edge GX1 might be worth buying. Sitting on a regular gaming chair, after the GX1, is literally a pain in the arse.