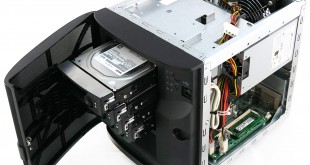 If you are a fan of model names that describe a product in a fair amount of detail then the PowerNAS Business Mini will be right up your street. PowerNAS offers three families of NAS and this model is loaded with Windows Server 2012 R2 for the business market. It earns the other part of its name by using an Ablecom NAS chassis that is (relatively) small and compact and, incidentally, reminiscent of the cuboid Thermaltake Core V21.
PowerNAS populates the Business Mini range with four Hitachi Deskstar NAS drives that spin at 7,200rpm with 64MB cache so it is a simple matter of choosing the capacity you want and handing over the required sum of money.
Watch via our VIMEO Channel (Below) or over on YOUTUBE
The base model PowerNAS Business Mini, with no hard drives is £406.22+VAT (£487.46 inc VAT)
4x 1TB – £575.52+VAT (£690.62 inc VAT)
4x 2TB – £653.02+VAT (£783.62 inc VAT)
4x 3TB – £712.59+VAT (£855.11 inc VAT)
4x 4TB – £845.91+VAT (£1015.09 inc VAT)
4x 5TB – £962.72+VAT (£1155.26 inc VAT)
4x 6TB – £1072.28+VAT (1286.74 inc VAT)
Specification:
Motherboard: Supermicro Embedded CPU Server Motherboard
Processor: Intel Celeron J1900 Quad Core CPU
RAM: 4GB Non-ECC DDR3 1600MHz
Boot Drive: 64GB SATA-3 6Gbps Transcend TS64GMSA370 SSD
Case: Micro Chassis with 4x 3.5″ SATA-3 6Gbps Hot-Swap Bays (Orange LED for Drive Activity: Blue LED for Health/Status). Lockable Front Door with Magnetic Catch
Power Supply: FSP 250W 80-plus Efficient PSU – Auto-Ranging Voltage
Network Connectivity: Dual Gigabit LAN (1000Mbps) Ports
Video Output: Intel HD Graphics with HDMI, DisplayPort and VGA with Triple Monitor Support
Expansion ports:
1x Rear USB 2.0
1x Rear USB 3.0
2x Front USB 2.0
Windows Storage Server 2012 R2 – Workgroup Edition
We were sent the 4x4TB model to review and while 16TB sounds like a mighty amount the storage pool is 14.6TB after formatting and then transforms into a parity array of 10.9TB with one drive devoted to array integrity and three drives are available for your movies. I mean spreadsheets. And databases. Spreadsheets and databases.
Hardware
The hardware in the NAS is straightforward. The Ablecom NAS chassis includes a 250W FSP power supply so you don't have to worry about an external power brick that might get in your way. On the downside the power supply has a tiny 40mm cooling fan that spins at quite a rate and emits a steady drone.
This is aggravating as the 120mm fan at the rear of the chassis that draws air through the perforated door to keep those all-important drive cool is effectively silent. The only noise you can hear is the power supply fan so let's hope you plan on locating the NAS in your server room.
Inside the chassis there is a Supermicro X10SBA Mini-ITX motherboard with passively cooled Bay Trail J1900 Celeron which is a form of Atom. The J1900 is no powerhouse but is perfectly adequate for a mid-range NAS and certainly can be expected to perform better than a dual core Atom or ARM processor. The question mark is whether or not it has the grunt to drive a full blown OS such as Windows Server 2012.
One memory slot on the motherboard is populated with 4GB of laptop DDR3 and there is a second slot ready for an upgrade if you feel the system is running too slowly for your tastes.
Open the door on the front of the chassis and you reveal the four drive caddies, the power and reset buttons and two USB 2.0 ports. The ports are only available for use when the door is open but at least means you won't forget your flash drive in a hurry.
On the rear of the chassis we have a third USB 2.0 port, a single USB 3.0 port, dual Gigabit Ethernet, VGA, HDMI and DisplayPort outputs. This business of NAS companies supplying only one or two USB 3.0 ports seems like penny pinching and is thoroughly frustrating.
Those four Hitachi drives are only used to provide storage and the copy of Windows is installed on a separate 64GB Transcend TS64GMSA370 SSD with an M.2 form factor.
Windows Server 2012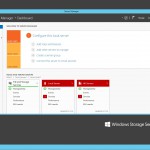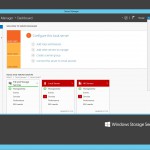 The NAS we received already had a Storage Pool created on the drives so we didn't have the chance to play explorer and enter the Primordial pool, which is the fanciful name that Windows Server 2012 R2 uses to describe an array of drives. Once you have a Storage Pool you can assign space, set drive permissions and effectively open the NAS for business.
Using the Business Mini is simple as we are all familiar with a file tree. When you connect to the NAS across your network it simply appears as an extra drive (or two or three) in Windows Explorer and your ability to read, edit or delete files is entirely in the hand of the Windows Administrator.
You can forget about downloading and installing apps or software packages from the NAS company's store. This is Windows and you can install pretty much any software you want to deal with your files.
It's a different story when you dive in on the Administrator side of things. Connecting a monitor, mouse and keyboard directly to the NAS works well enough however the desktop scaling is all wrong as Intel never thought to create graphics drivers for Windows Server. We had the best results using an antiquated VGA connection which felt bad but looked good.
The Server Manager Dashboard is the heart of the software and couldn't be any further from the cuddly, friendly interface offered by the likes of Synology and QNAP. On the other hand if you are familiar with PowerShell and Microsoft Azure Azure Services you will feel right at home. Or rather, your Administrator will feel right at home as that is the person who will deal with this hidden side of Windows. Everyone else in your team will see the NAS as an extra drive letter or two on their list of storage drives.
Power and noise
The PowerNAS Business Mini draws more power than you might expect. At start-up the power draw is 100W however the figure drops to a steady rate of 50W, rising to 55W when the drives are working hard. That's high for a NAS but of course this is actually a small form factor PC and in that context it is understandable.
On the noise front the cooling fan in the power supply is a nuisance and will get on your nerves if you station the NAS in the corner of your office. Park it in a factory or server room and you won't have a problem.
Performance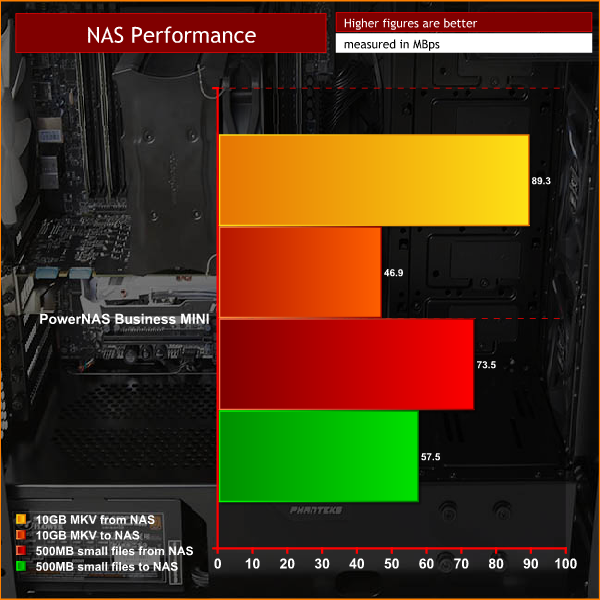 The Business Mini does a good job and works pretty much as the specification suggests. The combination of quad core CPU, 4GB of RAM and a boot drive SSD works well enough to drive Windows Server 2012 along at a decent pace.
On the downside the Hitachi NAS drives don't excel and in particular failed to impress when writing files to the NAS. Overall the performance was absolutely fine and the PowerNAS did a good job.
Closing thoughts
The PowerNAS Business Mini is delivered as a system that is ready to go with the bare minimum of fuss and bother. You don't have to install Windows or plug any drives into their caddies. You shouldn't find it difficult to have this NAS up and running as a drive on your network in a matter of ten minutes. On the other hand you could probably spend a lifetime working on Windows configuration and barely scratch the surface of the options and settings.


The hardware in this NAS does a good job and the only problem we had was the noise from the cooling fan in the power supply. Provided the NAS is out of earshot that really shouldn't be a cause for concern.
Overall performance isn't breath taking but the NAS does a perfectly decent job and plugged away serving files without a hint of a problem.
Visit PowerNAS Business Mini HERE. Get the 16TB option over HERE.
Discuss on our Facebook page, over HERE.
Pros:
Zero installation.
Arrives with storage drives installed.
Windows Server 2012 comes on a dedicated SSD.
Quad core Celeron only requires 10W of power.
Cool operation thanks to the 120mm case fan.
A massive 11TB of storage with one drive reserved for parity.
Pricing is quite reasonable.
Cons:
Relatively large for a four bay NAS.
Only one USB 3.0 port.
Tiny internal power supply has a noisy cooling fan.
Lack of Intel graphics drivers for Windows Server looks poor over HDMI.
Relatively high power draw for a NAS.
KitGuru says: PowerNAS made a good choice, delivering a quad core processor to drive Windows Server 2012.