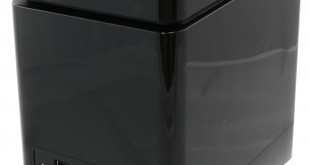 It may not be immediately apparent that the QNAP TS-453mini is a NAS that accommodates up to four 3.5-inch hard drives. Its tiny footprint (200mmx151mm) requires the bare minimum of shelf space, however that isn't the natural environment for this particular NAS.
Take a look on the rear and you'll see that in addition to the usual pair of Gigabit Ethernet ports, USB 3.0 and USB 2.0 you also get an HDMI output. While you can certainly use the TS-453mini as a traditional NAS that is parked at the end of an Ethernet cable, you can also connect a mouse and keyboard and plug in a monitor to use the device as a Celeron powered mini computer.
Watch via our VIMEO Channel (below) or over on YouTube HERE.
Specification
HDD Interface: 4 x SATA III – 6Gb/s
HDD Form Factor: 4 x 3.5″/2.5″
CPU: Intel Celeron J1900 2.0GHz
On Board Memory: 8GB DDR3L
External Connectivity: 1 x HDMI, 2 x LAN (10/100/1000), 2 x USB 2.0, 3 x USB 3.0/2.0
Cooling: 120mm fan
Max. Power Consumption: 30W
Dimensions: 151 x 210 x 200 (WxHxD mm)
Weight: 2 kg
This direct connection approach is handy if you want to take your network out of the equation when you are fault finding. It also means you can run a Windows Virtual Machine on this Linux NAS, which might sound a bit weird. After all this is a NAS so where do Virtual Machines come into the equation? Let's rewind a little.
Installing drives in the TS-453mini is a simple matter of removing the magnetically retained top cover, installing drives in the four caddies (in this instance brand spanking new 4TB WD Red NAS drives) and sliding the caddies into place. When you use 3.5-inch drives it is an entirely tool-free operation, thanks to clip-on side rails, but if you use 2.5-inch drives you'll have to mount them in the caddies using screws.
Once the drives are installed and the power is connected you turn the NAS on, wait a minute or two and then install QNAP QTS 4.1 software.
QNAP stands for Quality Network Appliance Provider and QTS for QNAP Turbo NAS System. You use details provided on a label on the side of the NAS to connect across your network and to start the process of installing the QTS software which pretty much boils down to clicking 'next' a few times. If you accept default settings your four drive installation will employ RAID 5 to protect your data, which is the logical choice. QNAP allows you to select any level of RAID or drive configuration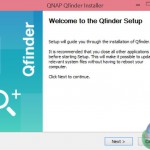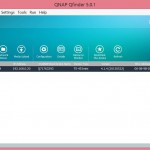 Once QTS was installed we found the QNAP TS-453mini appeared to vanish from the home network however QNAP's Qfinder utility revealed the IP address.
We have had the exact same thing happen with Synology NAS which appear to avoid detection after the OS has been installed yet which popped up when you use the correct detection utility.
The QTS home screen and Control Panel are entirely intuitive. With a monitor connected directly over HDMI the image required scaling to fit the screen correctly and this took no more than one minute of digging around in the settings. When you are directly connected the system automatically downloads and installs HybridDesk Station and Chrome (about 300MB together) which then presents a desktop that appears identical to the user experience when you connect to the TS-453mini across the network.
The home screen shows the set of apps or software stations you expect to see with any modern NAS with dedicated packages for the Control Panel, file management, photos, videos, music, surveillance and security. QNAP doesn't put a particular emphasis on any of these areas, although it is clear that File Station is going to be central to most peoples' experience. Some people will use their NAS to handle the feed from a number of IP cameras, in which case Surveillance Station is going to be your cup of tea, but that is a fairly specialist area of interest.
If Surveillance is a minority sport, we can only hazard a guess how few people will get stuck into Virtualization Station which is found within QTS Essentials. This is software that makes the most of the mouse and keyboard connection, HDMI output and one of the Ethernet ports.
The idea is that you create a VM and then run, say, Windows on your NAS. This isn't the type of feature we would use ourselves but it gives an insight into the way that QNAP approaches its NAS. In essence the TS-453mini is a quad core computer with 8GB of RAM (typically 2GB) and a whole bunch of storage that can basically do anything that doesn't involve decent graphics.
Testing
Uploading and downloading files from the NAS was fast and pretty much hassle-free, with one notable exception. Marking a single file such as a movie for upload is as simple as it sounds. Uploading a folder of files is only allowed, however, if you use the Chrome browser. Firefox, Internet Explorer and Safari are locked out and you get a message telling you to use Chrome. I could understand if the message said 'Chrome is faster' (although I would want some evidence) but simply blocking every browser apart from Chrome is just plain wrong.
Downloading single files is like copy and paste while multiple files are zipped together by the NAS in a seamless and rapid process.
Performance
Download speed for a 10GB MKV file from the NAS was 80.3MBps, while a 500MB batch of smaller files downloaded at 113.6MBps. Upload speed for the large 10GB MKV movie file was 93.9MBps, however the upload speed for the 500MB set of smaller files was significantly slower at 20.9MBps.
The speed of the TS-453mini is fast without being epic and will suffice in most scenarios such as backing-up your laptop or watching movies. At every stage in the game the Celeron and 8GB of RAM felt snappy and swift and the array of WD Reds was just as fast as necessary.
Noise and Power
The QNAP NAS is effectively silent although we could hear the WD Reds rustling away.  Power consumption is trivial, the cooling fan is inaudible and there was no noticeable heat output.
Closing Thoughts
The hardware that forms the basis of the QNAP TS-453mini is nothing special as Intel Celeron J1900, DDR3L RAM, USB 3.0 and Gigabit Ethernet are all tried and true components. QNAP supplied our review sample with 8GB of memory which is an expensive upgrade. Generally speaking, the version on sale is the cheaper 2GB model and we would have preferred to work with that as it is more representative of the typical user.
The way in which QNAP has used this hardware in a tiny tool-free chassis is both neat and innovative however it is the QTS software that makes all the difference. You can use the stations or apps that come with the basic installation of QTS to perform pretty much any task that matters, or you can download and install extra software to fill any gaps.
Features that make the TS-453mini stand out from the crowd, such as the support for Virtual Machines or the ability to connect a screen directly over HDMI are unlikely to be used very often by mainstream NAS customers, however that is beside the point.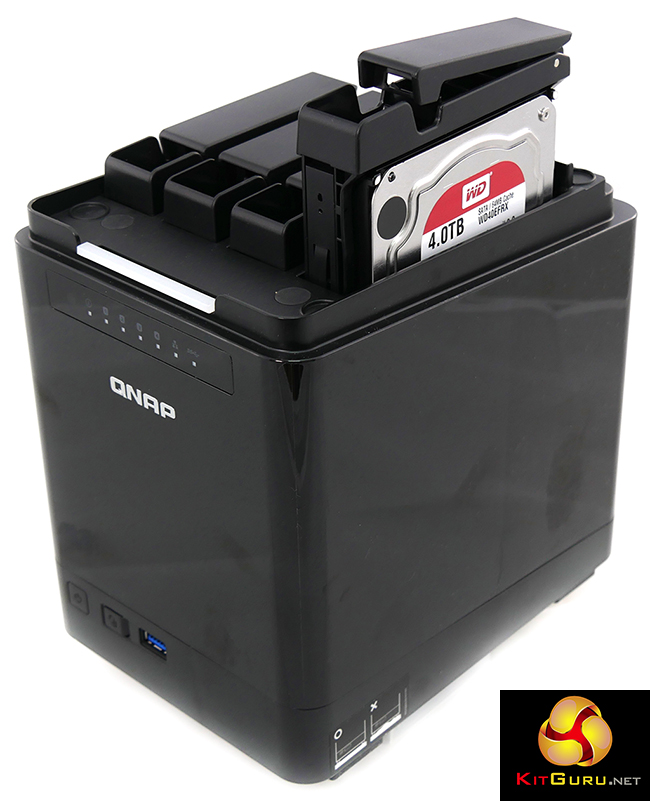 The underlying NAS is a fine piece of hardware that can be used to perform mundane tasks such as uploading and downloading files and performing backups while the more exotic features can simply be ignored. It is very satisfying to see the way that QTS pushes forward the main features while keeping everything else at one remove, without making you dig through endless menus and sub-menus to find what you want. It is a fine balancing act and QNAP has pulled off a very neat trick with this software.
The hardware looks good, although the shiny black plastic casing appears to be a magnet for fingerprints, and the row of status LEDs shows the health of drives, the drive array, USB ports and network connections. The long LED light below the top cover shows whether the NAS is awake or sleeping.
The only actual problem we came across with this NAS is the insistence that you use Google Chrome to upload folders of files, but other than that it is all good.
The 2GB memory version of the QNAP TS-453mini is available for just under £350 at Scan, while the 8GB of memory version sells for £486.71 at Amazon.
Discuss on our Facebook page, over HERE.
Pros:
QTS 4.1 software is packed with features and intuitive to use.
Fast, snappy performance.
Effortless software installation.
Impressive support for RAID arrays and drive pools.
Tool-free drive installation.
Ability to run Virtual Machines that support Windows software.
Qsirch utility searches text to find your files on the NAS.
Cons:
You can only upload a folder of files if you use Google Chrome.
Casing attracts dust and looks prone to scratching.
Upgrading from 2GB to 8GB of RAM can cost over £100.
KitGuru says: A truly impressive NAS that is sensibly priced with 2GB of RAM.