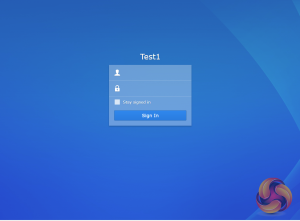 To test the DiskStation DS119j, we used version 6.2.1 (6.2.1-23824) of Synology's DSM (DiskStation Manager) OS. DSM has a graphically rich interface with all the major features of the OS clearly listed. Synology updates it at regular intervals to add more features and apps.
The basic start page just lists four items; Package Center, Control Panel, File Station and DSM help. Clicking on the left-hand tab at the top opens a window with more advanced menu choices than the basic one.
Clicking on the furthest right-hand icon at the top of the window opens the System Health and Resource Monitor widgets.
There's a choice of control panels: Basic displays the features most people will want to get to grips with while the Advanced option offers plenty of scope for those that want to delve deeper into the system to take advantage of all the features the software offers.
At the heart of DSM is Storage Manager. Storage Manager looks after RAID setups, volume creation and all other disk management duties. Obviously as the DS119j only has a single disk, this version of Storage Manager has hardly any options to work through.
File Station is a multi-platform file manager supporting Windows, Mac and Linux PCs as well as Android, iOS and Window Phone mobile devices. With it you can access and share your files on the DiskStation from anywhere.
By using Dropbox, Box, Google Drive and Microsoft OneDrive mounted to File Station you can access remote data in the same way as locally stored files etc.
Synology Universal Search is a search tool that includes multimedia files and apps and offers previews of metadata and contents of files with just a mouse click.
Package Center is where you'll find all the add-in apps and with well over 130 apps and counting in it already you should be able to customise the DS119j to your own requirements.
The Resource Monitor is an easy to use tool to keep an eye on the DiskStation's resources. With it you can monitor CPU usage, memory usage, disk utilisation and network flow in real time or historically.
Helping to keep the NAS safe is Security Advisor. As you might have guessed from the name, Security Advisor scans the NAS providing detailed reports on any security problems it finds and lists any actions that might be needed to be taken. So it's quick and easy to find out where and what's needed to correct any errors.
Be sure to check out our sponsors store EKWB here