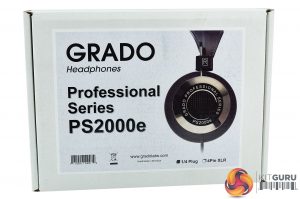 The Grado PS2000e headphones arrive in a simple cardboard box. We appreciate Grado say they don't want to waste money on shipping materials, but they really could come up with something a little nicer. I have heard that you can buy a mahogany case for them for $100 but as Grado aren't even listing the PS2000e headphones on their own UK website as we go to publication, we think it might be available later. Given terrible UK pricing in 2017, expect this to retail for £100 (or more).

We guess it is one of the downsides when dealing with a family run company. If this is your first pair of Grado headphones (really?!)  you may find the bare bones packaging rather surprising and rather underwhelming.
Inside, you get a letter from the Grado family, explaining the heritage of the company and how the control has been handed down through the generations.
The driver cups are protected underneath some covers. Grado also supply a 6.5mm to 3.5mm converter adapter and an extension cable. The cable is thick, high grade OFC but many people comment on how much it feels like a 'power cable'.
The headphones are simply glorious to look at. I did notice a few minor little marks on the chrome style finish when I first had a close up examination – almost like a residue of the manufacturing process. Thankfully a wipe with a high grade jewellery cloth removed them easily enough. I would be careful not to treat these chrome cups roughly as scratches would likely show. The chrome is more like a 'smoked' finish now – the PS1000 was very bright and clear – I prefer the new look as its a little more refined.
Any owner of PS1000 headphones will be used to the sheer heft of the PS2000e – they feel almost identical in regards to weight. I actually like the physical presense of these headphones although I may be in the minority. Being the proud owner of a somewhat large skull and with the new, wider Grado headband I found them very comfortable and stable on my head. My brother however didn't have as pleasant an experience, he said when he moved his head that he felt them wobbling left and right, almost as if they would slip from his head. He loved the sound quality but wasn't overly impressed with the weight. Back to your Bose set then I say.
Please be aware its difficult for me to rate comfort as everyone has a different shaped head, but there are definitely noticeable improvements in regards to comfort if you are using the PS1000e. Clamping pressure on my head is not too tight, and yet, not loose enough to cause problems.
I listened to a Box set of 24 bit Neil Young tracks for 3 hours one evening during my testing routine and only started to feel a little fatigue. Not quite as good as the say the Sennheiser HD800S long term (have worn these for 4 hours without a problem), but still very satisfactory. Being an open back design, some air will circulate which always helps.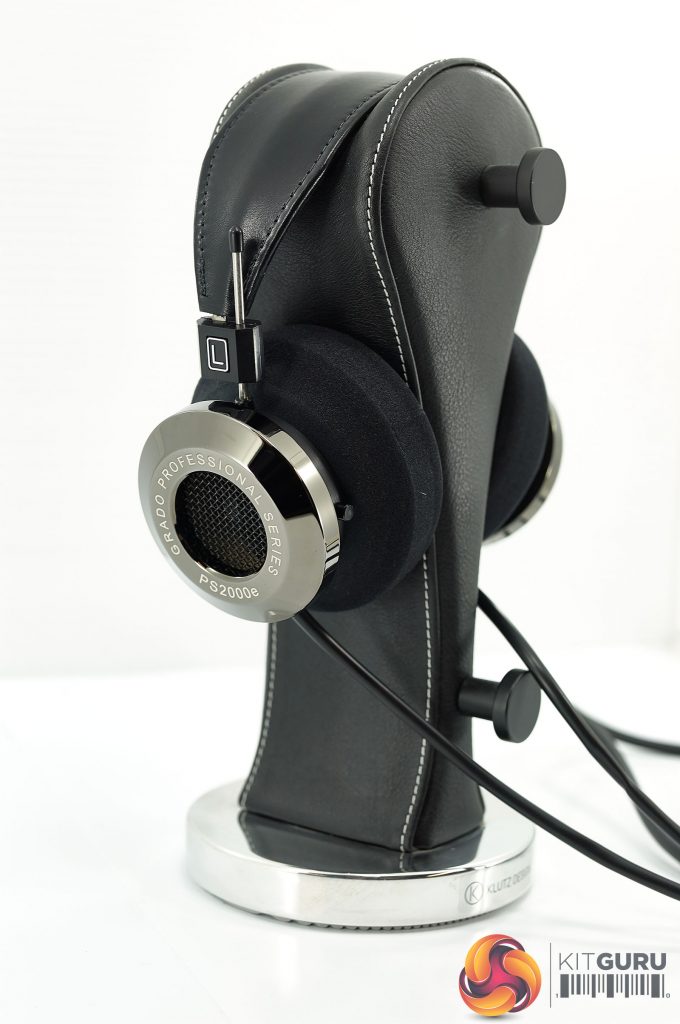 Adjusting the headphones for your head is easy enough. You pull down and up on the ear piece and they move smoothly inside a plastic holder marked with L and R (left and right). Its a simple but effective system, and the new super wide headband works a treat – aiding long term comfort. The cables are not adjustable or replaceable – if you wanted to change the cables you would need to be pretty handy with a solder, however I really do rate the standard Grado cabling – they really don't need replaced.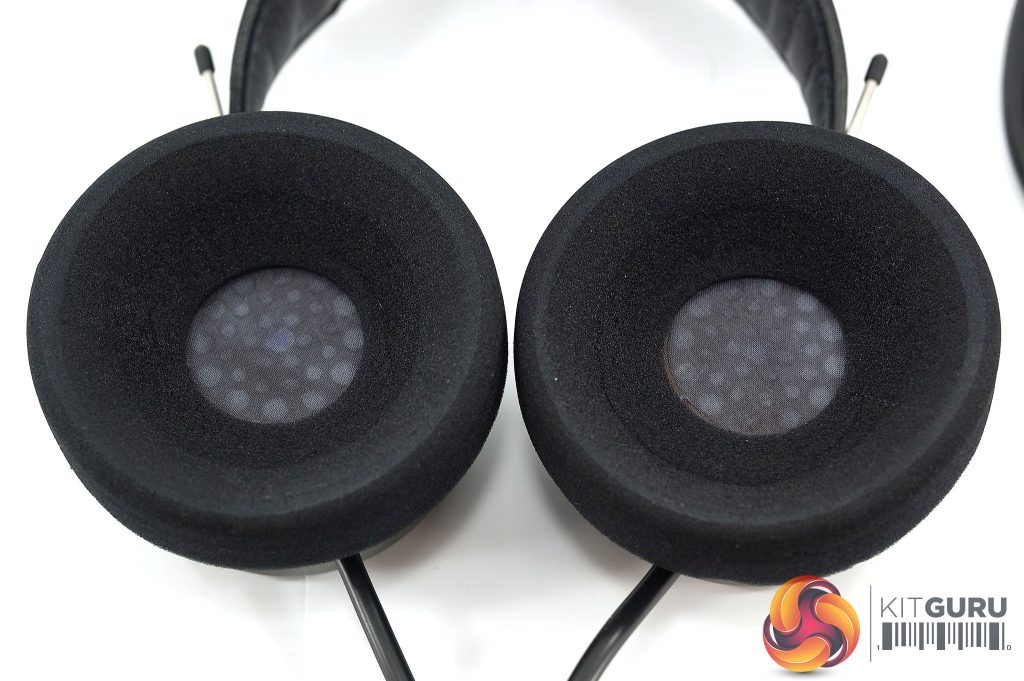 Grado have created a new set of drivers for these headphones with an astonishing response rate of 5-50,000 hz. They have a very easy to drive impedance of 32 ohms meaning they will work from the headphone jack (with the 3.5mm adapter) of any phone or tablet. They have a high sensitivity of 99.8dB as well so again – very easy to drive. Grado quote a driver matching of within .05dB which, if accurate is very impressive. As a point of interest I noticed with my STAX 009 lately that one of the the electrostatic drivers is louder than the other so I will have to get them serviced soon.
Grado say that they have worked on the diaphragm geometry and changed the design to more accurately convey the 'signal into music'. They developed a new front cap and grill for the new driver which helps minimise diffractions of the signal emitting from the diaphragm.  This is all mounted into their proprietary hybrid housing which gives the driver very high levels of support to eliminate resonance and distortion.
The 'Salad bowl' cushions are replaceable, comfortable and easy to buy from sites like Amazon in the UK. Just make sure you get the correct size, as buying other cushions will alter the sound signature. Some Grado aficionados do switch between cushion sizes to tweak the sound presentation (they have a universal mounting system), but this really would require a separate article to cover indepth!
Grado surround the drivers with wood – keeping the driver itself separated from the metal/chrome finish. Grado explained that these headphones are a no expense spared design and that the wire, voice coil and magnets are all hand picked from materials of the highest grade they can get. The serial number of each pair is marked clearly on the wood – as shown above.
This inner chamber is hand crafted from Maple wood, a wood well known for its acoustic properties and vibration dampening characteristics. The PS1000e used mahogany wood, which Grado say is acoustically inferior to the Maple used in the PS2000e.