The Grado PS2000e is a heck of an impressive headphone and while many people may not feel the need to upgrade from the PS1000 series, there are noticeable improvements that become clear over time, if not perhaps immediately. I don't always believe it is necessary to let headphone drivers 'bed in', but after around 50 hours, the PS2000e drivers had settled in, loosened up and signs of minor grain had vanished.
The Grado PS2000e are sensitive enough that they can be powered from the headphone jack of an iPod, iPhone or smartphone (with the supplied 3.5mm adapter of course). You will not be getting anything close to the best sound quality from these headphones with that kind of source however as the PS2000e exhibit audible benefits from greater amounts of voltage. It really helps the drivers sing.

While no one with any real world sensibility would be using a PS2000e headphone with an Android phone on a daily commute – you will need to spend some money on a quality amplifier and source. Most portable players may produce adequate volume, but they can not drive the PS2000e properly.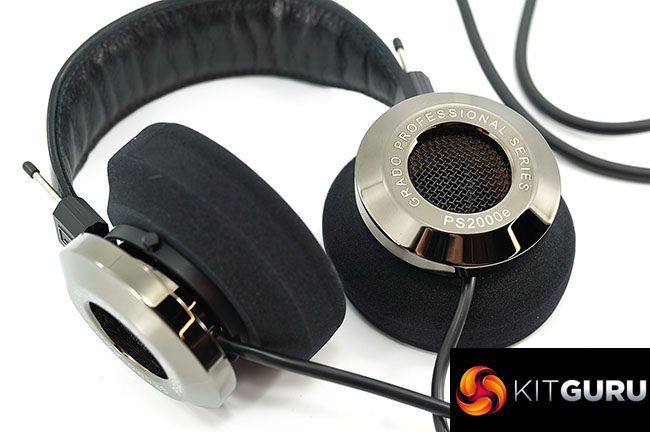 The only audio player I have which works well direct to the PS2000e is the Astell and Kern AK380. The optional amplifier helps a little more even though I don't rate it very highly in the grand scheme of things. Here is the kicker though… The Chord Dave completely pushes the headphone into new territory. But that is an £8,500 DAC, its expensive. The Chord Dave has transformed every headphone to new heights of audio nirvana, but the PS2000e seems to have a unifying synergy with the Chord Dave that is utterly delightful to experience.
Another improvement over the PS1000e is the sound staging presentation. The PS1000 has an unusual sound staging characteristic that can lock some instruments into specific positions in the three dimensional Map outside your head as you listen. The PS2000e strikes wider when it needs to, and it can project an incredibly realistic 3D image too. It doesn't create a huge soundstage like the Sennheiser HD800, but its big enough to give a sense of weight and presence to orchestral recordings. Vocals and acoustic guitar sound sublime with the PS2000e, although again, with a lesser DAC and amplifier, this will be noticeably less impressive.
I actually find the Grado GH2 to be a slightly more neutral headphone, but the PS2000e retrieves more detail, has greater sub bass response, and with a high grade amplifier and DAC will suck you into the music. From Neil Young to Bach – if you throw a high quality recording at these headphones they will deliver with an infectious enthusiasm that is hard to resist.
Just be prepared to spend a lot of money on the rest of the equipment – however if you have just spent the guts of £3k on headphones, its likely you already have a high grade DAC, amplifier and mains filtering system in place. The PS2000e are so sensitive, you will need the cleanest feed possible from source to headphone.
You can buy these headphones from Gary Penska and his wonderful team over at Analogue Seduction HERE for £2.695.95 inc vat. He has limited stock right now so if you want a pair, don't hang around.
Grado have said that the PS2000e is 'Simply the best headphone we have ever produced, and perhaps, the best in the world.' It is unquestionably their finest (and most expensive) headphone to date, and sets a strong challenge to other market leaders such as the Hi-Fi Man HE1000 V2, Audeze LCD4 and Focal Utopia. Even if you haven't been a fan of the Grado sound signature in the past, the PS2000e are worth a serious audition.
Discuss on our Facebook page over HERE.
Pros:
Smoked Chrome over Maple wood. Stunning.
Soundstaging.
Sensitive.
scales well with more expensive equipment.
new PS2000e driver is a step forward.
sub bass is impactful.
smooth mid range.
new headband is very comfortable.
Cons:
Need good partnering equipment.
can pick up line noise due to sensitivity.
expensive (like all flagship headphones in 2017).
substandard packaging.
Heavy.
KitGuru says: The Grado PS2000e are a formidable tour de force of headphone excellence. If you can afford them, and have a suitable amplifier / DAC they will reward you for many years. Grado's finest headphone yet.