Today's headline news is that AMD has launched its B450 chipset for AM4 Ryzen. Much as we would love to build this up as a big story the honest truth is that the new B450 is very similar to the previous B350 and also has a great deal in common with the X470 that launched alongside Ryzen 2000.
In fact the real news is that Asus, ASRock, Gigabyte and MSI are launching a stack of new AMD motherboards that should cost considerably less than the X470 models that are currently on sale. That might not matter so much if you are spending £290 on a Ryzen 7 2700X but if you fancy a Ryzen 5 2600 at £170 this could well be interesting.
If you happen to have a £100 Ryzen 3 we can bet you want a cheap motherboard and will study B450 with extremely close attention.
The key fact about B450 is that it is an evolution of B350, in exactly the same way that X470 is built on X370. PCI Express 3.0 support is limited to 1×16 with no option of 2×8 so if you want to run dual graphics cards you should ignore B450. On the other hand if you are happy with a single graphics slot then everything is fine and dandy.
Watch the video via our VIMEO Channel (Below) or over on YouTube at 2160p HERE
Note: if the above images are not displaying properly, you may need to disable Ad Block as it is known to interfere with our display code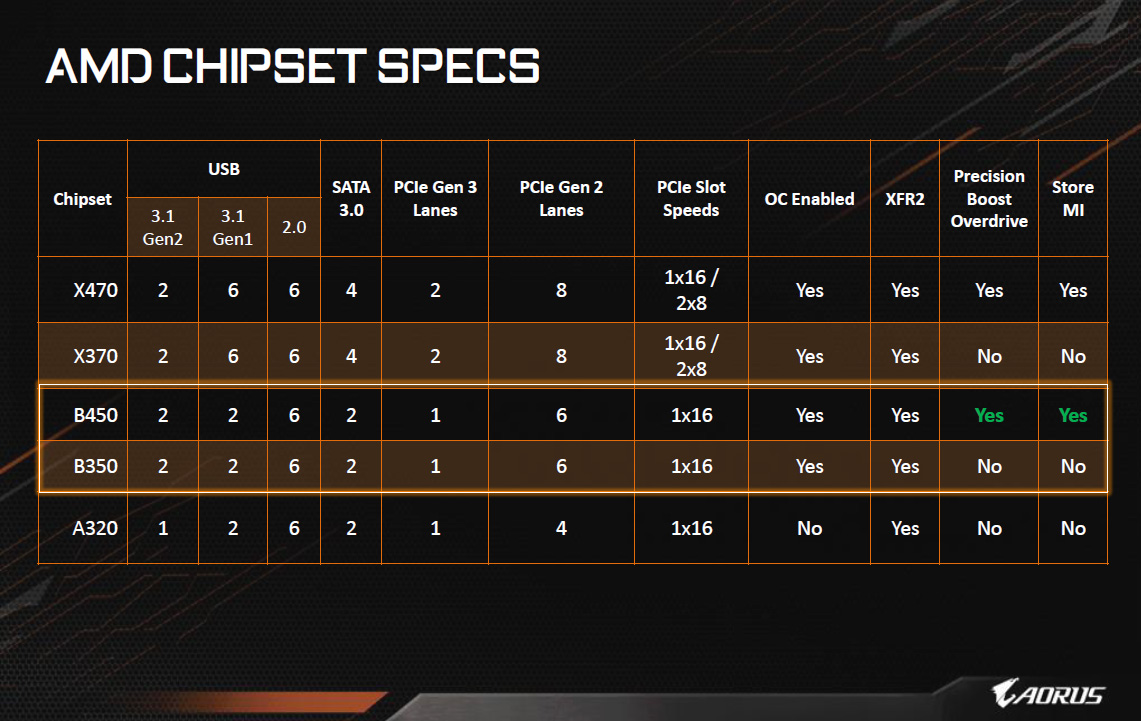 Many features, such as support for USB 3.1Gen1 and Gen2, are identical across the range of chipsets although there is some minor differentiation when it comes to SATA 3.0 and PCI Express 2.0 support. In the great scheme of things, the X and B chipsets have a great deal in common while the budget A320 chipset is limited. If an A420 chipset comes along, we shall ignore it in exactly the same way we ignore A320.
The two new features in B450 compared to B350 are the addition of Precision Boost Overdrive and Store MI. Our experience with X470 and X370 indicates that the 'new' chipsets are pretty much the same as the old and that the key factor is your choice of CPU. If you currently run a Ryzen 1000 on X370 or B350 you might consider a CPU upgrade but a motherboard upgrade would be a bold move unless it delivers a feature you are currently missing, such as USB Type C or an extra M.2 slot.
For this preview we are looking at two motherboards that we will be reviewing in the near future.
Asus ROG Strix B450-I Gaming
The first is the Mini-ITX Asus ROG Strix B450-I Gaming which is pretty much identical to the ROG Strix B350-I Gaming with the addition of an HDMI output on the I/O panel. As we explain in our video, the SoC is powered by a single power phase that looks marginal for the Vega graphics in a Raven Ridge APU. We recommend you stick to CPUs for this motherboard and ignore APUs. The other new feature in the ROG Strix B450-I Gaming is the introduction of M.2 NVMe RAID that uses the slots on either side of the board. That might interest you but we struggle to see the appeal of RAID in a modern system as a single SSD should be sufficiently fast.
This is an interesting motherboard with six decent power phases for the CPU and a look and feel that is remarkably solid. It is a real surprise to us that Asus does not include a USB 3.1 Gen2 Type C connector. We struggle to imagine anyone upgrading from a ROG Strix B350-I Gaming to this motherboard, although it might work as an upgrade for a budget Mini-ITX such as the Gigabyte AB350N-Gaming WiFi.
Gigabyte B450 Aorus Pro
By contrast the Gigabyte B450 Aorus Pro has clearly been built down to a price. In this instance the price is £100, although we think it would look more appealing at £89.
Gigabyte did not produce an Aorus Gaming model with the B350 chipset so the B450 Aorus Pro is in new territory. As you will have seen in our video, once you remove the I/O shroud and pull off the VRM heatsinks (plastic pop pins rather than metal screws) you are left with a basic board that has rudimentary 4+3 VRMs. Gigabyte initially claimed this was an 8+3 set-up but now describe the hardware correctly.
The layout of the board looks sensible with plenty of space around the slots and connectors, although we cannot understand why the SATA connectors are separated. The I/O panel would surely be improved if the DVI-D connector was replaced by a DisplayPort output.
Closing Thoughts
AMD B450 is a fairly dull chipset as it is remarkably similar to the existing X470 so there is nothing new to see. That may sound like we are damning B450 with faint praise, however the chipset retains pretty much every feature you get with X470. This will allow the motherboard manufacturers to deliver a range of cheaper motherboards in exactly the way they did with B350 with prices that hopefully go all the way down to £70.
The key point about the AMD AM4 platform is that performance, power and overclocking are governed by the CPU while the chipset is merely the supporting act. If you are spending £290 on a Ryzen 7 2700X or £255 on a Ryzen 7 2700 it makes perfect sense to lay out £225 on an X470 Aorus Gaming 7 or £250 on an Asus ROG Crosshair VII Hero WiFi.
By contrast if your budget limits you to a Ryzen 5 or an older Ryzen 3 you may well want to cut costs and step down to B450 with the confidence that you still get support for XFR2 and Precision Boost. We will have reviews of the Asus and Gigabyte motherboards in the near future.
KitGuru says: AMD B450 is here and we need to get busy reviewing a stack of budget AMD motherboards.