Korean action cam company iSAW has come up with a neat idea. The EXtreme action cam offers a fascinating proposition. The package includes a fully featured 1080p 60fps action cam with 802.11n Wi-Fi, a 2-inch LCD and a stack of accessories for an SRP of £249.99. That's everything you need to make high quality movies without spending another penny on accessories. Admittedly you'll need to buy a MicroSD card, however that is a minor expense.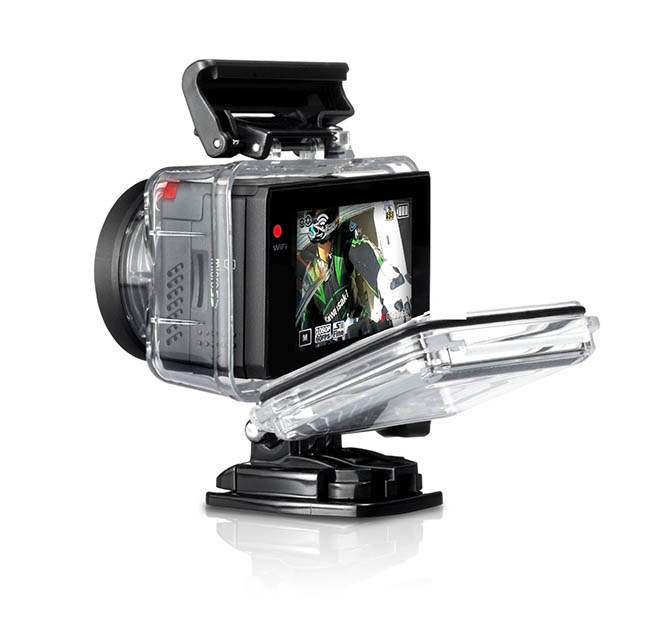 Highlighted features
Full HD 1080p at 60fps or 30fps
1600×1200 at 60fps or 30fps
HD 720p at 120fps, 60fps or 30fps
WVGA 480p at 240fps
Camera options 8.5MP 3:2, 12MP 4:3, 7.2MP 16:9
2-inch LCD screen 360×240 dots
12MP Sony Exmor sensor
8 elements glass lens with F/2.4 aperture with 152 degree wide angle FOV
802.11b/g/n Wi-Fi
Micro HMI output
iSAW Viewer app for Android and iOS
Time lapse and aqua modes
4x digital zoom
Micro SD slot up to 64GB SDXC
Li-ion 1200mA battery with claimed life approx. 150mins continuous 1080p recording at 30fps
Bare camera measures 61x43x42mm and weighs 112g
Camera in waterproof housing 72x77x51mm and weighs 190g
Waterproof housing works to 60 metres
There's no avoiding the name of this camera so let's get that out of the way first. No doubt someone, somewhere feels that iSAW is a terrific name.

'It's a camera that shoots what I saw', here in the UK the words sounds like 'eyesore'. Specifically, an eyesore is a thing or a building that is deeply unattractive. This is a terrible name for a product that actually looks rather good and that sells for a significant amount of money. 'Hey, I spent £250 on an eyesore.'
OK let's move on and never mention the name ever again.