Chief executive officer of Nvidia Corp. this week said that the company is designing a broad lineup of solutions for different applications powered by its next-generation "Pascal" graphics processor architecture and other technologies from the company. Jen-Hsun Huang seems to be impressed about the prospects of products that are in the company's pipeline, but he naturally reveals no details. The CEO advices to "wait a little longer" to find out more about them.
"I cannot wait to tell you about the products that we have in the pipeline," said Jen-Hsun Huang, chief executive officer of Nvidia, at the company's quarterly conference call with investors and financial analysts. "There are more engineers at Nvidia building the future of GPUs than just about anywhere else in the world. We are singularly focused on visual computing, as you guys know."
In fact, Nvidia's "Pascal" graphics processing architecture is ought to be impressive and there are many reasons why the chief exec of Nvidia is excited about it. Thanks to major architectural enhancements, the company's next-gen GPUs will support numerous new features introduced by DirectX 12, Vulkan and OpenCL application programming interfaces. Moreover, having more GPU engineers than any other company in the world, Nvidia will probably add a lot of exclusive capabilities to future GPUs.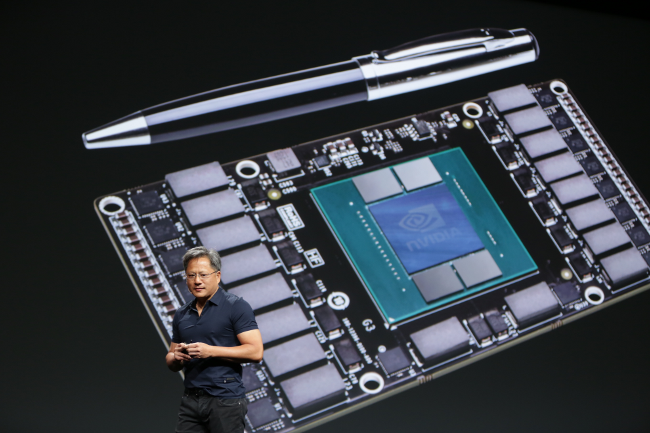 The upcoming PK100 and PK104 graphics processing units will not only feature major architectural innovations, but they will also be made using either 14nm or 16nm manufacturing technology with fin-shaped field-effect transistors (FinFETs). "Pascal" GPUs will be the first graphics chips from Nvidia to be made using an all-new process technology since "Kepler" in 2012. Finer fabrication process is something that should permit Nvidia engineers to considerably increase the number of stream processors and other units inside the company's future GPUs, dramatically increasing their performance.
In addition, next-generation graphics processing units from Nvidia will support second-generation stacked high-bandwidth memory (HBM2). The HBM2 will let Nvidia and its partners build graphics cards with up to 32GB of onboard memory and 820GB/s – 1TB/s bandwidth. Performance of such graphics adapters in ultra-high-definition (UHD) resolutions like 4K (3840*2160, 4096*2160) and 5K (5120*2880) should be extremely high.
For supercomputers, the "Big Pascal" chip will integrate NVLink interconnection tech with 80GB/s or higher bandwidth, which will significantly increase performance of "Pascal"-based Tesla accelerators in high-performance computing (HPC) applications. Moreover, NVLink could bring major improvements to multi-GPU technologies thanks to increased bandwidth for inter-GPU communications.
Graphics and compute cards based on "Pascal" will offer breakthrough performance, but the new architecture will be used not only for gaming and HPC markets. Nvidia will use its "Pascal" technology for a variety of solutions, including those for mobile and automotive applications.
"We have found over the years to be able to focus on just one thing, which is visual computing, and be able to leverage that one thing across PC, cloud, and mobile, and be able to address four very large markets with that one thing: gaming, enterprise, cloud, and automotive," said Mr. Huang. "We can do this one thing and now be able to enjoy all and deliver the capabilities to the market in all three major computing platforms, and gain four vertical markets that are quite frankly very exciting."
While the chief exec of Nvidia is eager to reveal that his company's next-generation GPU architecture will be big and will span from GeForce to Quadro Tesla and Tegra, bringing unique set of benefits to every platform and market, there are many things he will not elaborate on. The exact details and launch timeframes.
"I cannot wait to tell you all about it, you are just going to have to wait just a little longer," teased Mr. Huang.
Discuss on our Facebook page, HERE.
KitGuru Says: Without any doubts, future graphics and multimedia processors based on the "Pascal" architecture will be able to offer dramatically higher performance compared to existing GPUs and SoCs, which will help to extend usage models of such chips. The main question that market observers, gamers and PC enthusiasts have these days is simple: when does Nvidia plan to release its first "Pascal"-based products.