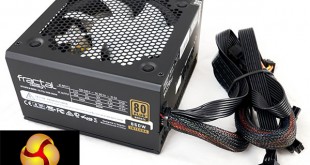 Today we take a look at the latest power supply from Fractal Design, the Integra M 650W – released to target the budget enthusiast audience. This semi modular design has achieved 80 Plus Bronze Certification and will hit retail for around £55 inc vat. Is it worth shortlisting if you are working with a restrictive budget?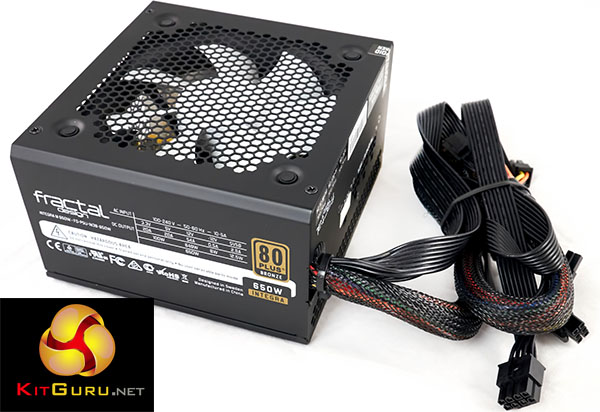 The Fractal Design Integra M 650W is designed to aggressively target the mass enthusiast audience who are running a budget to low/mid range system. Fractal told us that they partnered up with ATNG for this specific design, so we expect a reasonable quality power supply, with some compromises made to ensure the price point.
There are four capacities in this range, 450W, 550W, 650W and 750W.

General Specifications
80PLUS Certification Bronze
Modular cables Yes
Modular cable type All-black flat cables
Fan type 120mm Sleeve bearing – Temperature controlled
Maximum operating temperature at full load 40°C. 50°C at 80% load
Fully Intel Haswell C6/C7 compliant Yes
Warranty 3 years
Capacitors Taiwanese
Protections OPP / OVP / UVP / SCP / OCP
Life expectancy (MTBF) 100,000 hours
PSU specification compliance ATX 2.4 / EPS 2.92
Standby efficiency ErP 2013 compliant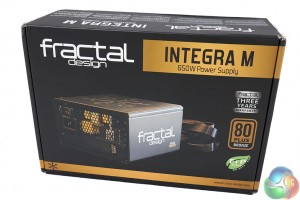 The Fractal Design Integra M 650W supply arrives in an attractive box with a high resolution image of the unit on the front.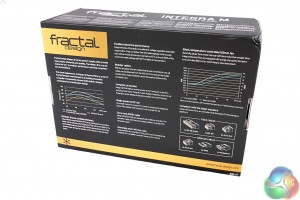 Some technical data is shared on the back of the box.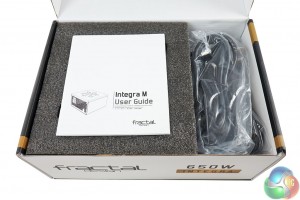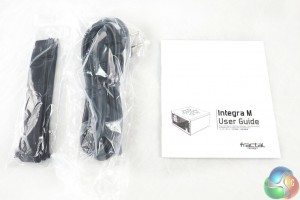 The power supply itself is protected between thick slabs of foam. A user manual rests on top of the unit and the cables are beside it.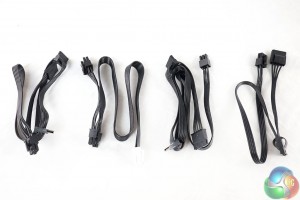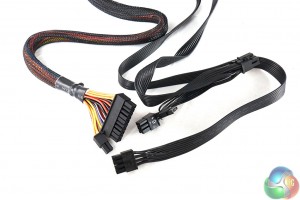 | | |
| --- | --- |
| Cable | Connectors |
| ATX 20+4 pin | x1 (700mm) |
| 6+2 pin PCIe (hardwired) | x2 (500mm + 100mm) |
| 6+2 pin PCIe (modular) | x2 (520mm + 100mm) |
| SATA | x2 (650mm + 120mm) |
| SATA | x3 (400mm + 120mm) |
| MOLEX | x2 (400mm + 120mm) |
Two of the PCIE cables are hardwired out of the chassis on one cable and another two 6+2 are on a single modular cable. The quality of the cables is perfectly acceptable. The only cable that is sleeved is the main ATX 20+4 which feeds the motherboard.
We would have preferred that both PCIe cables were modular, rather than one being hardwired.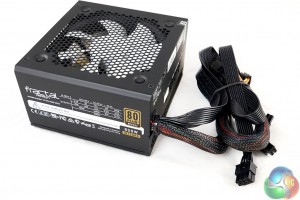 The Fractal Design Integra M 650W is pleasing to the eye, and build quality is hard to fault for the £55 asking price. Paint work is reasonably deep and it dealt with our screwdriver test surprisingly well. This test involves running the head of a Philip's screwdriver down the side of the chassis with weak to modest pressure. How often have you accidentally hit a power supply with some tools during a system build phase?
The paintwork survived the test, with only one section of the abrasion showing a slight scratch.
The Fractal Design Integra M 650W power supply measures 150mm x 86 mm x 140 mm – ideal for cases with limited physical space. It weighs 1.69kg.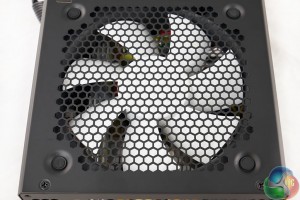 A large white fan takes centerstage behind a black grill – we take a closer look at this shortly, when we crack open the case.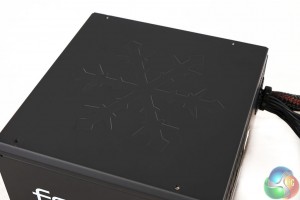 The other side of the case has a little company logo beveled into the metal. Its a subtle touch, but welcomed.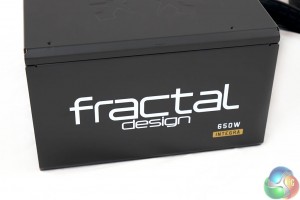 One side is home to the company logo and the capacity of the unit is visible bottom corner.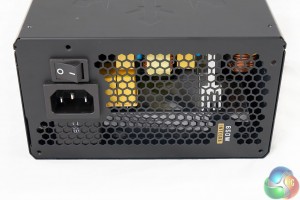 Another side of the chassis is vented to help with airflow. There is a power button and connector at the side.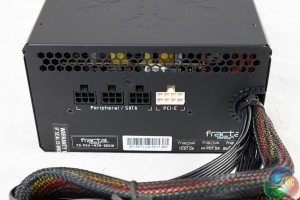 This is a semi modular unit and the simple row of three connectors is hardly likely to confuse anyone. They are all labelled to make life easier.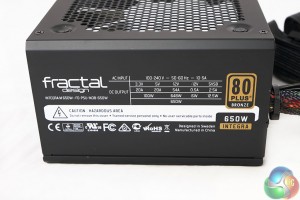 Fractal Design Integra M 650W Power Supply

DC Output

+5V

+3.3V

+12V

-12V

+5Vsb

Max Output

20A

20A

54A

0.5A

2.5A

Max Combined Wattage
100W
648W
6W
12.5W
650W
The OEM has made the +12V rail very strong indeed, delivering 54Amps. The Bitfenix Fury 650W Gold certified unit that we reviewed back in July for instance has a 50Amp +12V rail.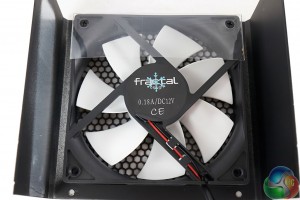 Hard to get information on the fan as the details and OEM partner information have been removed. A small clear plastic cover is placed over part of the fan to direct the air over the heatsink area.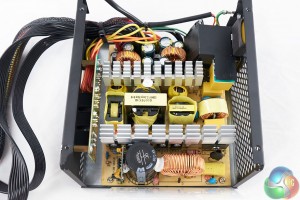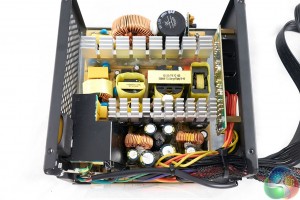 The ATNG design seems clean enough, with several rows of large heatsinks to aid with the cooling of the unit.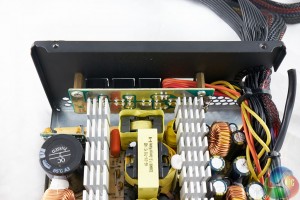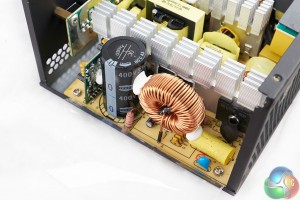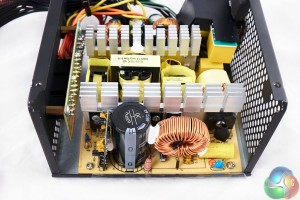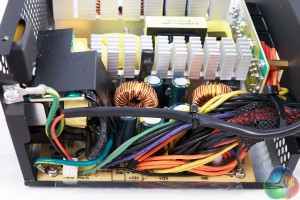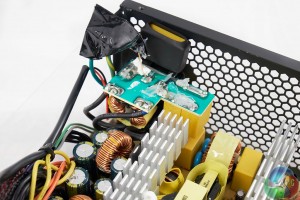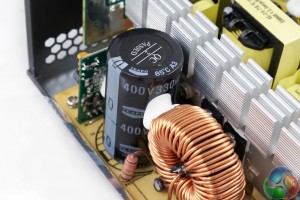 The Fractal Design Integra M 650W unit uses Chinese TEAPO capacitors. The primary capacitor is TEAPO, rated 85C 400V 330uF. I can't say I am a particular fan of TEAPO branded capacitors – we have seen several fail in the last 24 months, although other people seem to rate them highly enough. Regardless, they aren't a patch on a quality 105c Japanese capacitor and are only used when hitting a specific price point is a concern. In the case of the Integra M 650W, the price point is very tight.
The unit has OPP/OVP/UVP/SCP/OCP protection in place. Interesting to see that in the official PR literature accompanying the unit that Fractal rate the lifespan of the supply at 100,000 hours. Officially, if left on for 24 hours, then 4166 days is the rated time before failure (11.4 years). This does seem rather optimistic to us. On this page we present some high resolution images of the product. These will take much longer to open due to the dimensions, especially on slower connections. If you use these pictures on another site or publication, please credit Kitguru.net as the owner/source.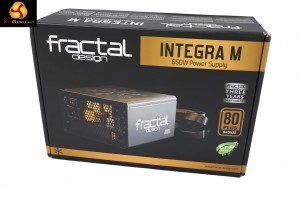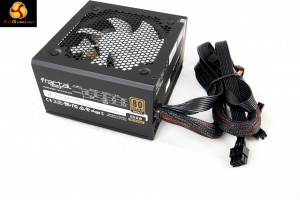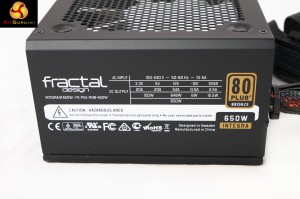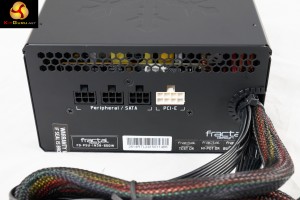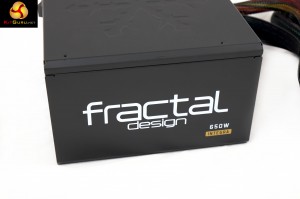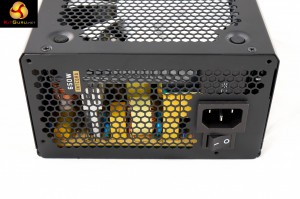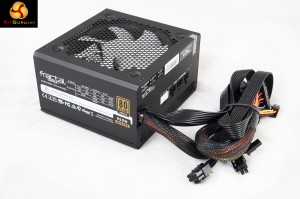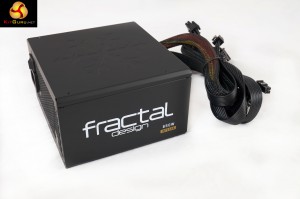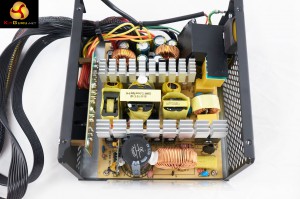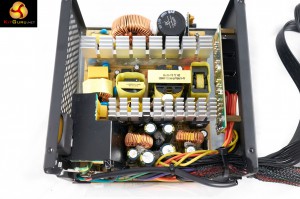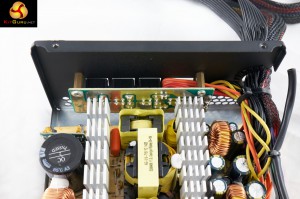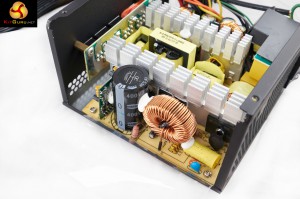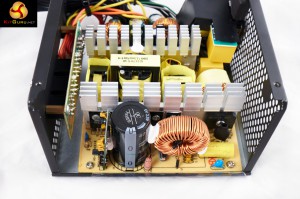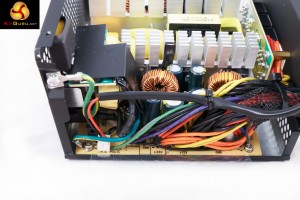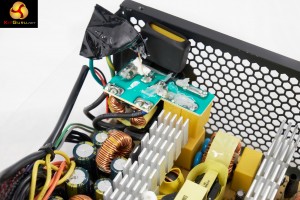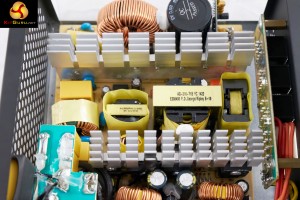 Additional technical assistance: Peter McFarland and Jeremy Price.
Correctly testing power supplies is a complex procedure and KitGuru have configured a test bench which can deliver up to a 2,000 watt DC load. Due to public requests we have changed our temperature settings recently – previously we rated with ambient temperatures at 25C, we have increased ambient temperatures by 10c (to 35c) in our environment to greater reflect warmer internal chassis conditions.
We use combinations of the following hardware:
• SunMoon SM-268
• CSI3710A Programmable DC load (+3.3V and +5V outputs)
• CSI3711A Programmable DC load (+12V1, +12V2, +12V3, and +12V4)
• Extech Power Analyzer
• Extech MultiMaster MM570 digital multimeter
• SkyTronic DSL 2 Digital Sound Level Meter (6-130dBa)
• Digital oscilloscope (20M S/s with 12 Bit ADC)
• Variable Autotransformer, 1.4 KVA
DC Output Load Regulation

+3.3V

+5V

+12V

+5VSB

-12V

A

V

A

V

A

V

A

V

A
V

152W

2.08

3.39

2.04

5.04

10.14

12.12

0.50

0.20

-12.04

270W

3.05

3.38

3.07

5.04

19.16

12.07

0.50

0.30

-12.07

400W

4.05

3.37

5.05

5.04

29.18

12.02

1.00

0.30

-12.08

523W

6.08

3.35

7.06

5.03

38.31

11.97

1.50

5.02

0.30

-12.08

650W

8.00

3.34

9.02

5.02

48.00

11.89

2.50

0.30

-12.08
Load regulation is good on the +3.3V and +5V rail although there was a bit of fluctuation on the +12V rail, dropping to 11.89V at full load.
Fractal Design Integra M 650W

Maximum Load
692W
The power supply would shut down at 692W, gracefully. The protection circuitry worked fine.
Next we want to try Cross Loading. This basically means loads which are not balanced. If a PC for instance needs 500W on the +12V outputs but something like 30W via the combined 3.3V and +5V outputs then the voltage regulation can fluctuate badly.
Cross Load Testing
+3.3V
+5V
+12V
-12V
+5VSB
A
V
A
V
A
V
A
V
A
V
590W
1.0
3.38
1.0
5.03
48.0
11.87
0.2
-12.08
0.50
5.02
145W
12.0
3.32
15.0
5.00
2.0
12.14
0.2
-12.09
0.50
5.01
Cross load results are fine, although there is some noticeable shift on the +12V rail, dropping to 11.87V when hit with 48A.
We then used an oscilloscope to measure AC ripple and noise present on the DC outputs. We set the oscilloscope time base to check for AC ripple at both high and low ends of the spectrum. ATX12V V2.2 specification for DC output ripple and noise is defined in the ATX 12V power supply design guide.
ATX12V Ver 2.2 Noise/Ripple Tolerance

Output

Ripple (mV p-p)

+3.3V

50

+5V

50

+12V1

120

+12V2

120

-12V

120

+5VSB

50
Obviously when measuring AC noise and ripple on the DC outputs the cleaner (less recorded) means we have a better end result. We measured this AC signal amplitude to see how closely the unit complied with the ATX standard.
AC Ripple (mV p-p)
DC Load
+3.3V
+5V
+12V
5VSB
152W
10
15
20
15
270W
15
15
25
15
400W
15
20
35
20
523W
20
25
40
20
650W
25
30
45
20
Ripple all falls within the industry rated guidelines. +5V peaked at 30mV when running at full load. The +12V rail peaked at 45mV. Not the greatest results we have seen, but considering the price point its difficult to find fault.
Efficiency (%)

152W

82.12

270W

85.43

400W

85.12

523W

83.64

650W

81.78
Efficiency is actually very good, peaking at around 85.5 percent at 50 percent load. At full load, this drops to close to 82 percent.
We take the issue of noise very seriously at KitGuru and this is why we have built a special home brew system as a reference point when we test noise levels of various components. Why do this? Well this means we can eliminate secondary noise pollution in the test room and concentrate on components we are testing. It also brings us slightly closer to industry standards, such as DIN 45635.
Today to test the Power Supply we have taken it into our acoustics room environment and have set our SkyTronic DSL 2 Digital Sound Level Meter (6-130dBa) one meter away from the unit. We have no other fans running so we can effectively measure just the noise from the unit itself.
As this can be a little confusing for people, here are various dBa ratings in with real world situations to help describe the various levels.
KitGuru noise guide
10dBA – Normal Breathing/Rustling Leaves
20-25dBA – Whisper
30dBA – High Quality Computer fan
40dBA – A Bubbling Brook, or a Refrigerator
50dBA – Normal Conversation
60dBA – Laughter
70dBA – Vacuum Cleaner or Hairdryer
80dBA – City Traffic or a Garbage Disposal
90dBA – Motorcycle or Lawnmower
100dBA – MP3 Player at maximum output
110dBA – Orchestra
120dBA – Front row rock concert/Jet Engine
130dBA – Threshold of Pain
140dBA – Military Jet takeoff/Gunshot (close range)
160dBA – Instant Perforation of eardrum
Noise (dBA)

152W

28.7

270W

29.5

400W

33.3

523W

34.7

650W
37.2
Noise levels are reasonably low until higher loads are demanded from the supply. Fan noise becomes quite evident when the load demand hits around 500 watts. In real world terms, the unit is quiet if load is below 300 watts – above 400 watts the fan starts spinning higher, becoming audible.
Temperature (c)

Intake

Exhaust

152W

36

43

270W

39

48

400W

42

54

523W

43

57

650W

45

60
At full load, the exhaust temperature rose to 60c.
| | |
| --- | --- |
| Maximum load | Efficiency |
| 692W | 80.9 |
Pushing the power supply above its rated limits generates an ultimate efficiency level of around 80.9%. This is not a viable 'real world' situation, but it is interesting nonetheless.The Fractal Design Integra M 650W has clearly been created to target a specific budget oriented audience and at the asking price, it proves rather difficult to find fault. That is not to say there aren't any, but we do need to take the price into consideration in a final analysis.
First impressions are positive, mainly due to the surprisingly high build quality. The finish is excellent, paint work is relatively deep and the cabling is of a high standard. We don't think anyone would find a problem with the overall presentation of the unit.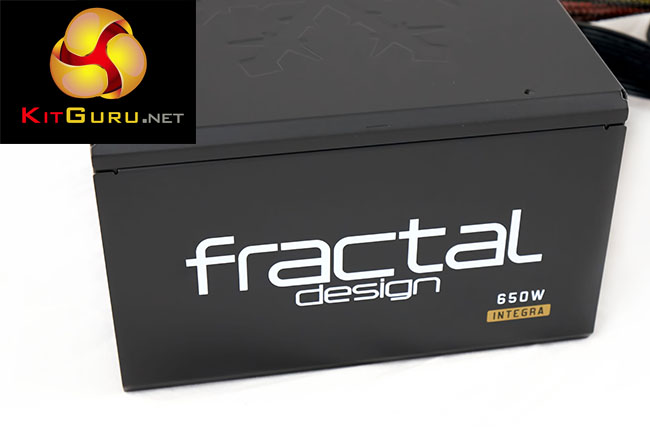 Inside, we begin to see specific sacrifices that have been made in order to meet the price point. Chinese TEAPO capacitors have been used to help reduce the overall build cost – it is just a little bit of a disappointment to see that the primary capacitor is rated 85c and not 105c.
Technically the unit is solid, if unremarkable. Load regulation is quite good, with some fluctuation on the +12V rail … although nothing to cause concern. The cross load test highlighted similar movement on the +12V rail, but again, the end result fell within safe parameters.
Ripple suppression is decent, and all rails hold within rated industry specifications. The +12V rail peaked at 45mV at full load, a decent result for a lower cost power supply. +3.3V and +5V peaked at 25mV and 30mV respectively.
The large fan produces plenty of air, but it can get a little loud when load rises above a total output of 500 watts. Again we would guess that most of the audience contemplating a £55 power supply will be running a single GPU with a load below 400 watts – no coincidence that this is the sweet efficiency spot for this unit.
All in all, the Fractal Design Integra M 650W is a no frills power supply that delivers stable power without creating a fuss. At a retail price of £55, it certainly deserves to be on a final budget shortlist.
Discuss on our Facebook page, over HERE.
Pros:
semi modular.
good build quality.
decent overall performance.
aggressive pricing.
Cons:
Would prefer to see PCIe connectors all on modular cables.
Chinese TEAPO capacitors.
Kitguru says: Well built, decent performance and aggressively priced.