The Fractal Design Integra M 650W has clearly been created to target a specific budget oriented audience and at the asking price, it proves rather difficult to find fault. That is not to say there aren't any, but we do need to take the price into consideration in a final analysis.
First impressions are positive, mainly due to the surprisingly high build quality. The finish is excellent, paint work is relatively deep and the cabling is of a high standard. We don't think anyone would find a problem with the overall presentation of the unit.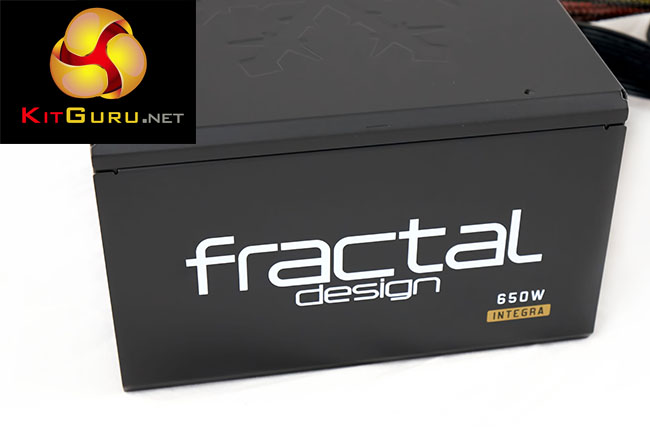 Inside, we begin to see specific sacrifices that have been made in order to meet the price point. Chinese TEAPO capacitors have been used to help reduce the overall build cost – it is just a little bit of a disappointment to see that the primary capacitor is rated 85c and not 105c.

Technically the unit is solid, if unremarkable. Load regulation is quite good, with some fluctuation on the +12V rail … although nothing to cause concern. The cross load test highlighted similar movement on the +12V rail, but again, the end result fell within safe parameters.
Ripple suppression is decent, and all rails hold within rated industry specifications. The +12V rail peaked at 45mV at full load, a decent result for a lower cost power supply. +3.3V and +5V peaked at 25mV and 30mV respectively.
The large fan produces plenty of air, but it can get a little loud when load rises above a total output of 500 watts. Again we would guess that most of the audience contemplating a £55 power supply will be running a single GPU with a load below 400 watts – no coincidence that this is the sweet efficiency spot for this unit.
All in all, the Fractal Design Integra M 650W is a no frills power supply that delivers stable power without creating a fuss. At a retail price of £55, it certainly deserves to be on a final budget shortlist.
Discuss on our Facebook page, over HERE.
Pros:
semi modular.
good build quality.
decent overall performance.
aggressive pricing.
Cons:
Would prefer to see PCIe connectors all on modular cables.
Chinese TEAPO capacitors.
Kitguru says: Well built, decent performance and aggressively priced.