Intel's 9-series chipset has launched and one of the most interesting features that it delivers is native support for M.2 SSDs. Devices using the M.2 (formerly NGFF) connector can differ in their connection to the chipset. Two common approaches used today are the M.2 PCIe variant, which uses PCIe connections, and M.2 SATA, which operates via a SATA controller commonly found on 2.5″ SSDs. We managed to bag an early engineering sample of an upcoming Kingston drive that uses the M.2 SATA approach. Let's take a look at what it has to offer.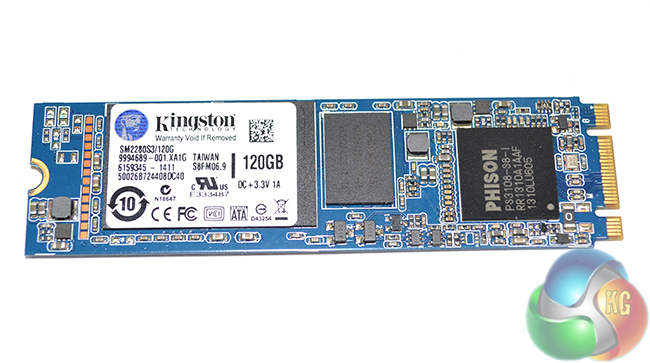 The first point to reference is the relevance of an M.2 SATA device. After all, it won't make use of the boosted speed that has desktop users interested in the PCIe-fed M.2 interface. But current PCIe-to-NAND controllers aren't as cheap as SATA alternatives and they can be difficult to source (there are only a few on the market right now).
Kingston's use of a widely-available Phison PS3108 SATA controller means that the company should be able to hit a more aggressive price point when the drive shown today is finalised. And while desktop users will most likely opt for a 2.5″ SSD instead, it's small form factor (SFF) environments where a SATA-fed version of M.2 can show its worth. Space for multiple 2.5″ SSDs is hard to allocate in notebooks and even NUC-style systems.
Kingston's SM2280S3/120G uses four 32GB NAND packages marked 'FA32B08UCT1-B3' to provide a 120GB SSD (after over-provisioning) . We would expect the 240GB variant to use eight NAND packages.
A Phison PS3108 SATA controller operates the drive and cache is provided by a 256MB Nanya NT5CB128M16HP DDR3 SDRAM chip.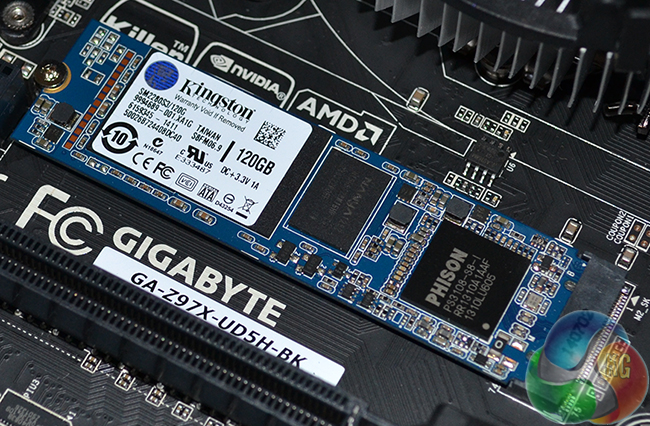 As already pointed out, the drive operates via the M.2 connector, but that doesn't mean it automatically works with your hardware. Something that has not been made very clear with motherboards currently supporting M.2 is how they work.
M.2 SATA is not the same as M.2 PCIe, and only some components offer support for both. For example, some budget motherboards such as Asus' Z97-A only support M.2 PCIe devices (we tested M.2 SATA – it will not work) whereas higher-priced parts such as the Asus Z97-Pro and Gigabyte's Z97X-UD5H-BK support both methods of connection.
It's the same with laptops currently operating the M.2 connector, so we really must emphasise the point of ensuring compatibility before spending money and expecting a drive to work "because it's M.2".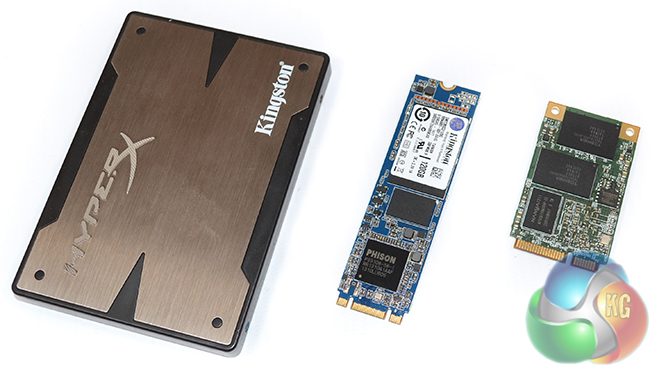 In a SFF or notebook environment, the optimised size of M.2 can be beneficial. The most common form factor of M.2 devices currently on the retail market is 2280 (22mm-wide, 80mm-long). Although approximately 16% larger than mSATA in device area, the M.2 2280 design allows up to eight NAND packages to fit on a single-height board, double what mSATA can hold.
Kingston's SM2280S3 uses the M.2 2280 form factor, meaning that it can support up to eight NAND packages. That gives a maximum drive capacity of 480GB (512GB in NAND) on current package densities, or 960GB (1TB in NAND) when flash companies start selling their 128Gbit dies outside of their own doors.
Speed
Read and write speeds of Kingston's M.2 SM2280S3/120G are right up there with modern 2.5″ and mSATA SSDs, and that's no surprise given similarities in the controllers used. Laptop users would be able to see a significant boost in speed over a 2.5″ HDD, but as intended from the device's size, they could use an M.2 SSD alongside their large mechanical drive (laptop-dependent, of course).
The SFF SSD and 2.5″ mechanical HDD is an approach that we see used extensively in current laptops, such as MSI's GS70 series. M.2 aims to make this function a task for itself. Thanks to the 2280 form factor of common M.2 drives, the ability to house 1TB of NAND (with current density dies) is no problem.
Current mSATA SSDs can hold up to four NAND chips which translates into a 512GB maximum capacity (unless using double-capacity 16-die NAND packages, like Samsung does, which can also work for M.2). As such, M.2 devices such as Kingston's SM2280S3 have clear potential to solve a storage conundrum for high performance users.
Discuss on our Facebook page, over HERE.
KitGuru says: It is widely acknowledged that M.2 will take command of the notebook (and probably desktop SFF) SSD market, thanks to its optimised dimensions compared to mSATA. As such, it is good to see that highly-respected vendors such as Kingston will be offering their M.2 devices in coming months, providing additional market competition for drives using the interface, which typically translates in to lower prices for us consumers.