When you skim through the specification of MSI Aegis X it reveals a list of gaming goodness. Core i7 Skylake, Z170 chipset, GTX 1080 graphics and two SSDs with NVMe in RAID 0 will inevitably add up to epic frame rates and hours of fun. The list of components doesn't prepare you for the tiny size of Aegis X which is indecently small for a high end PC with a volume of a mere 19.6 litres. Neither does the specification say anything about the unusual styling of this gaming beast which sits on a plinth and is kicked up at the rear to give it a streamlined attitude. We cover this in our video so click the button, have a watch and all will be revealed.
MSI has decided to name Aegis X after a mythical shield that was used by Zeus so MSI has gone to town with the theme of armour, in particular on the front of the chassis. Before we dive inside we have to cover the price of this PC which is one penny less than £2,000 which is expensive by any stretch of the imagination.
Watch via our Vimeo Channel (Below) or over on YouTube at 1080p60 HERE.
Specifications:
CPU Intel Core i7-6700K
Chipset Intel Z170
Graphics MSI GTX 1080 Armour 8GB
OS Windows 10 Home
Memory 16GB DDR4-2133MHz SO-DIMMs (2x8GB) Max. 32GB
Storage 256GB SSD Toshiba THNSN5128GPU7 (128GB x2 M.2 PCIe NVMe in RAID 0) + 2TB HDD Seagate ST2000DM001
PSU 600W 80PLUS Silver
Storage
HDD: Support 2 x 3.5″ + 1 x 2.5″ SATAIII
SSD: Support 1x NVMe M.2 2280 PCI-E Gen3 x4 for PCI-E SSD / M.2 SATA SSD combo (Front side)
Support 1x NVMe M.2 2280 PCI-E Gen3 x4 for PCI-E SSD only (Back side)
Support RAID 0 mode for 2 PCI-E SSD only
Audio 7.1 Channel HD Audio with Nahimic audio enhancer
Optical Drive Slim Type(12.7mm) Slot-Load Super Multi
Wireless LAN Killer Wireless-AC 1435
Bluetooth 4.1
LAN Killer E2400 Gigabit Ethernet with Killer Shield
System Fan Exclusive Silent Storm Cooling 2 Pro
Size 19.6 Litre
Dimension 433.18mm x 376.11mm x 169.92mm (19.6L)
Weight 10.5 kg
More details on the MSI Aegis X system over HERE.
Removing the two side panels and the top panel is a quick process that pretty much exposes the innards. Take another minute or two to remove the full sized desktop graphics card and you'll see that MSI has used some pragmatic engineering.
The graphics card is entirely conventional and the motherboard is a regular Mini-ITX piece of hardware with the M.2 SSD and DDR4 SO-DIMMs arranged on both sides of the motherboard.
Perhaps the most clever piece of hardware is the All-in-One liquid cooler on the Core i7-6700K CPU which only measures 100mm x 100mm with a 92mm fan. The cooler exhausts through a vent in that kicked-up portion of the chassis and the whole things works so well that you almost wonder why anyone ever buys a tower PC.
There are two obvious snags with the tiny form factor. The first is that you have less scope for upgrading your new purchase in years to come and the other is the power supply that is housed in the base or plinth of the Aegis X. MSI has used a 600W unit with an 80 Plus that is only rated Silver and has a tiny 40mm cooling fan.
This is the weakest part of the system and you are basically stuck with it. Under load we saw Aegis X draw 300W at the wall socket and are confident that MSI could deliver an external power brick that is passively cooled and silent in place of the internal PSU.
Testing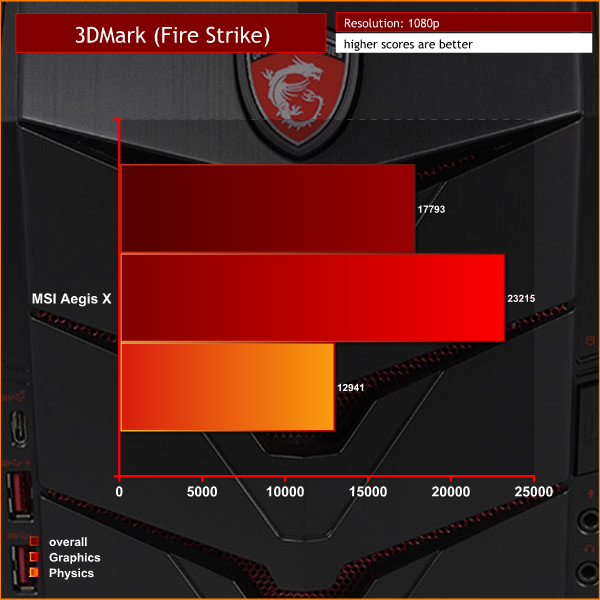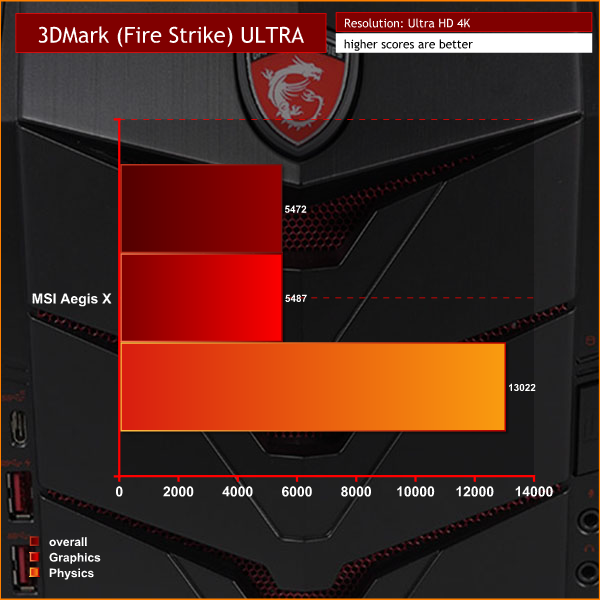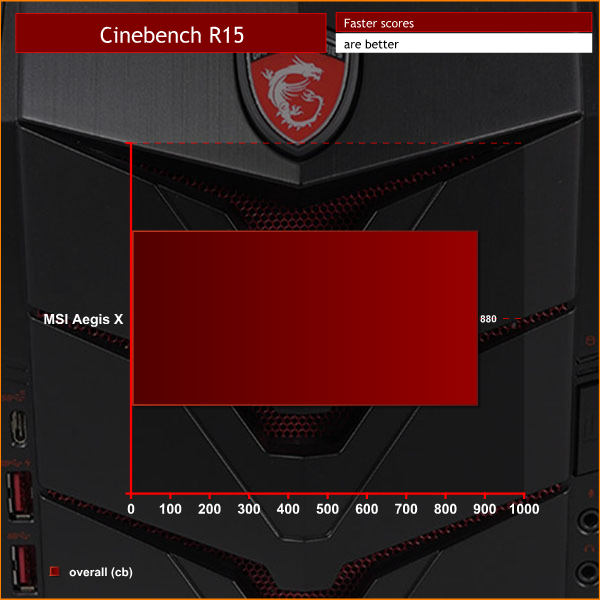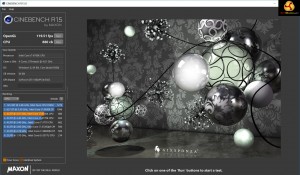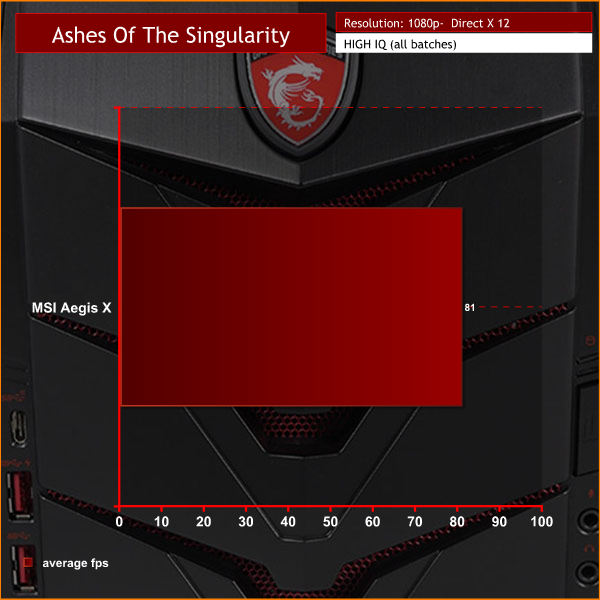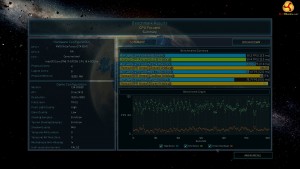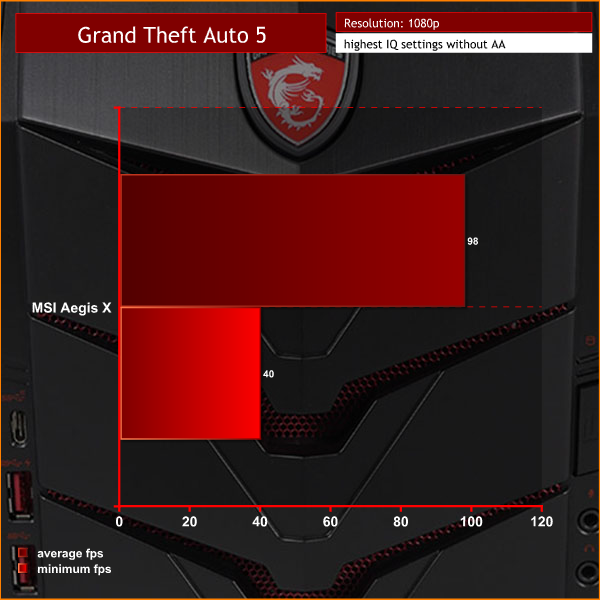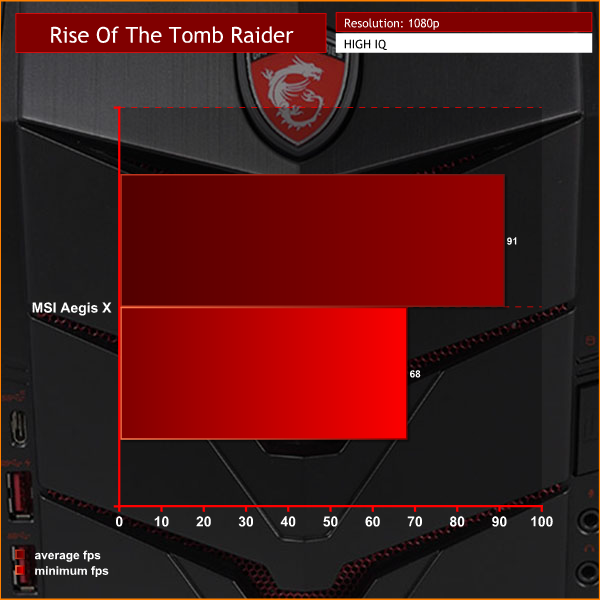 As we explain in the video we tested Aegis X twice. For some reason the first set of graphics scores were far too low so we uninstalled the graphics drivers and reinstalled the same version which increased performance hugely.
We have no explanation for this phenomenon so will take the easy option of blaming whoever reviewed the unit before it came into our possession.
Once we overcame that hurdle the Aegis X delivered a stunning set of figures for such a small PC, which confirms the desktop CPU and GPU were both operating at full speed. The cooling allows the hardware to stretch its legs and romp along at full speed without any funny business such as throttling.
You can check out any number of GTX 1080 reviews on KitGuru to confirm that 2560×1440 and 4K gaming are well within the capabilities of Aegis X.
Cooling Performance.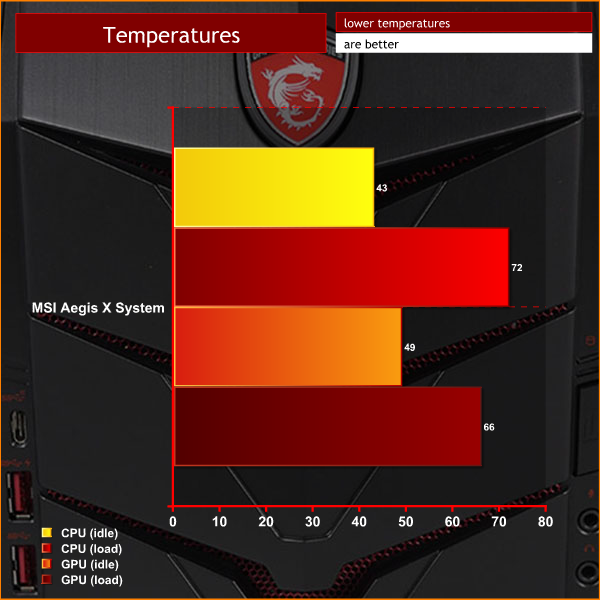 The temperatures of the MSI GTX 1080 were exactly what we expect to see from a system with excellent airflow. The graphics card can draw air in directly through the ventilated side panel and then blow it out to the rear.
The tiny liquid cooler on the Core i7 also does a good job, and that is impressive as LGA115x CPUs are not especially good at shedding heat from the package. Seeing a maximum CPU temperature of 72 degrees is very pleasing and confirms that MSI has done a decent job during development of Aegis X.
Acoustics performance.
With the MSI Gaming App set to OC Mode or Gaming Mode the fan speed kicks up and the system is fairly raucous. Switch to Silent Mode and Aegis X certainly becomes more manageable however you cannot really claim it is silent. The case fan and CPU cooling fan are fairly quiet however the tiny fan in the power supply is always audible.
Closing Thoughts.
The MSI Aegis X is an impressively small gaming PC, however it begs the question why you would spend £2,000 on a small PC when you could get the same performance in a tower chassis at a lower price. The obvious answer is that you love the styling of Aegis X and the way that functions such as VR Link (an HDMI pass through) are built in at the factory.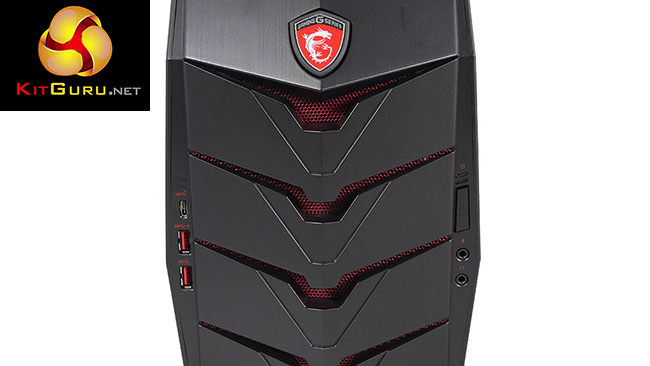 There is no denying that Aegis X is more than the sum of its parts so on the one hand you have the Mystic Light system on the front of the case and the metal carry handle that allows you to tote the Aegis X to a friend's house with the minimum of fuss. Balanced against that you have the tiddly power supply in the base of the system and you pay a premium for the smart design.
It's a game of give and take and while we like what MSI has done with Aegis X it seems like a heck of a lot of money to pay for a gaming PC that looks rather unusual. Furthermore we feel that Aegis X really should be silent yet it insists on making a certain amount of noise at all times.
Price – available soon for £1999.99 inc VAT at PCWorld and Very.
Pros:
GTX 1080 gaming performance.
Core i7-6700K hauls along at a healthy pace.
Very small and easily portable.
Two SSDs in RAID 0 load games double quick.
Nifty liquid cooler keeps the CPU under control.
Mystic Light system on the front of the chassis is fun.
HDMI pass-through for VR Link is a neat touch.
Cons:
High price.
The silver rated PSU is too noisy.
Performance Mode is noisy.
Styling is love-it-or-hate-it
KitGuru says: Aegis X delivers huge levels of gaming performance but it comes at a stiff price.