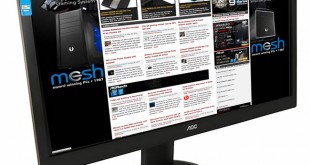 2014 is the year of Ultra HD 4K. Prices have been dropping steadily in recent months and today we look at the latest 4K panel from AOC, the U2868PQU. This WLED/ TN panel has onboard speakers, a 60hz refresh rate, 1ms GTG response and a 1000:1 typical contrast ratio. At £499.99 inc vat it is priced £100 less than the Asus PB287Q 4K UHD that we reviewed earlier this week. Is it worth the cash?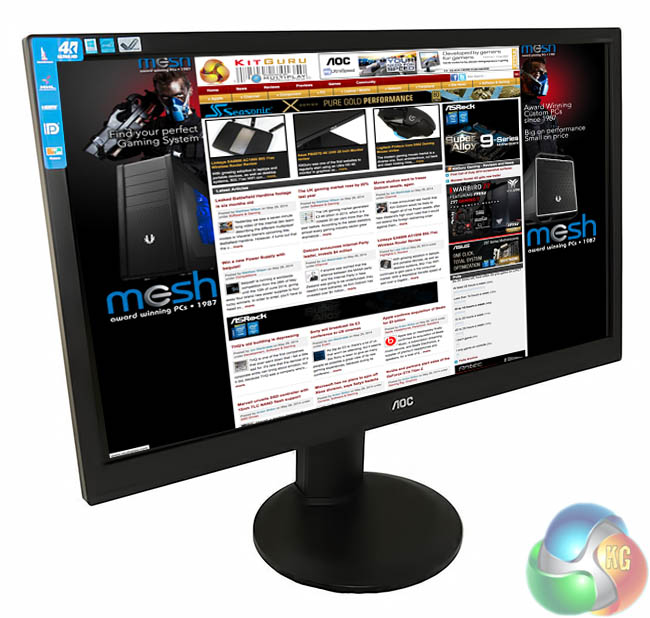 The AOC U2868PQU runs natively at 3,840×2,160 resolution and is capable of running at 60hz, a significant step up from the previous 'budget' limitation of 30hz. A lot of our readers on Facebook have mentioned that they won't be happy until they can get 120hz 4k screens, but we see this as being a standard for the future – certainly not in 2014. But why?

Achieving smooth, consistent 120 frame rates at 3,840×2,160 will demand seriously powerful graphics hardware. Our recent review of the Overclockers 'Infinity Vesuvius' system featuring two R9 295X2 graphics cards highlighted that even this £2,200 graphics combination was unable to maintain 120fps+ at all times with the latest Direct X 11 titles. Sure, you could drop image quality significantly to possibly get smooth engine performance at a constant 120 fps, but why buy a 4K in the first place then?

Asus engineers spoke with us just before publication and they said '4K at 120Hz (or 8K at 60Hz) will require DisplayPort 1.3 (which is not a finalised spec yet), and we estimate 1-2 years before there is the DP 1.3 spec, GPU support, and a scalar chip for the LCD electronics that could support this. HDMI 2.0 is only good for 4K at 60Hz.' Interesting info.
AOC U2868PQU Details
Inputs: D-SUB, DVI-D, HDMI.
3840 x 2160 maximum resolution.
Special Features: -5/24 Tilt, Audio out, Display Port Input, Eco Mode, e-Saver, i-Menu, Kensington Security Lock, PIP (Picture in Picture), PBP (Picture by Picture), screen+,USB 2x 2.0, 2x 3.0,VESA 100 mm.
300 cd/m².
1 ms GTG.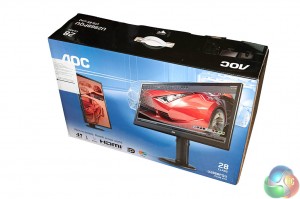 The AOC U2868PQU arrives in a full colour box, highlighting the monitor display and some specifications. The box weighs almost 11kg.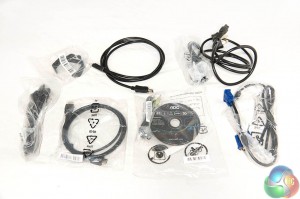 The bundle is extensive. AOC include an HDMI cable, DisplayPort cable, VGA cable, audio cables, software disc, cable clip and USB cable. Our review sample also shipped with a European and UK power cable.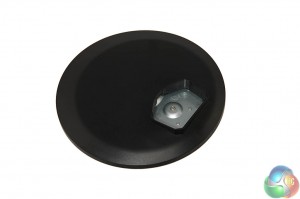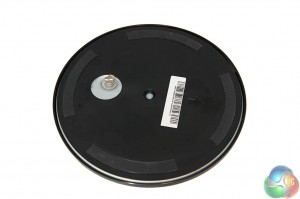 The AOC U2868PQU ships with the stand already fitted, and rotated along the length of the screen – exactly like the Asus PB287Q. The bases are different however. The Asus PB287Q stand is square shaped and a little bigger. The AOC base is circular, but attaches to the stand leg with the same clip based finger screw. We like the tool less setup, as it means you don't need to hunt for a screwdriver to set the screen up.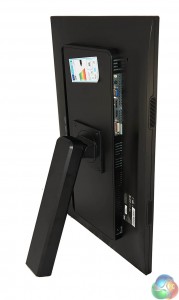 The monitor is already fitted to the arm, saving the user the hassle. The arm simply needs bolted into the base – which is tool less.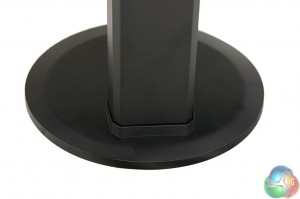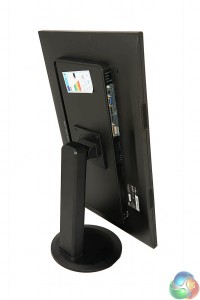 Fitting the base only takes a couple of seconds. The screen is actually very steady in operation and it didn't wobble at all on our desk. Fully assembled, the screen weighs around 8kg.
Mechanical design:
Chassis Colors : Black
Tilt : +24°~-5°
Swivel : Yes
Pivot : Yes
Height Adjustment : Yes
VESA Wall Mounting : 100x100mm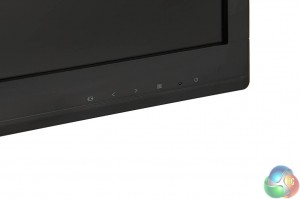 The AOC U2868PQU has a panel bottom right of the bezel. The Asus PB287Q has physical buttons around the back of the screen, but AOC have adopted a touch panel design. I discuss this in more detail on the next page of this review.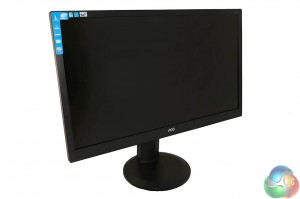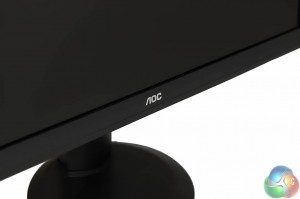 The AOC U2868PQU is a fairly plain looking screen, although it is inoffensive and well put together. The AOC logo takes center position below the panel – no other markings are visible.
The U2868PQU has two 3W stereo speakers installed. As we would expect they lack any kind of bass weight and have limited volume capabilities. Still, it is a helpful addition for some people and you can disable them if you want.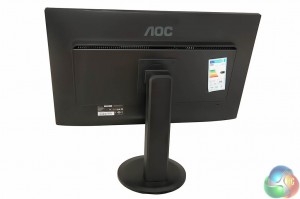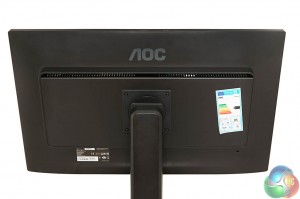 The screen is fully height adjustable, you push down and pull up with modest pressure on the panel to move it. It will also tilt, to suit a variety of desk and chair positions.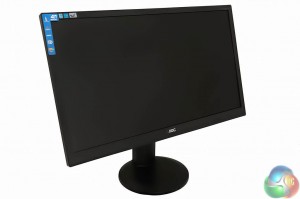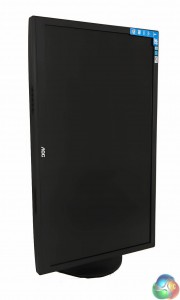 Rotating the screen is simple enough. pull up to maximum height and apply pressure on the side. Just ensure the cables have a little play before rotating.


One side of the main rear panel has connectors for HDMI (MHL support included), VGA and DisplayPort connectors. There are also two 3.5mm audio jacks next to the video connectors. The power connector is on the other side of this panel. The AOC U2868PQU doesn't take a standard PC power cable, it is one of the smaller '8' shaped style power cables.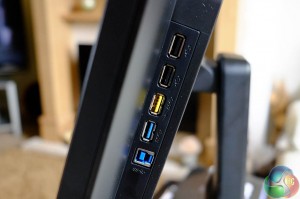 The other side of the panel is home to a four port USB hub (V3.0 and V2.0 ports), which is useful if you have a handful of devices on the desk. Surprisingly, the more expensive Asus PB287Q does not incorporate a USB hub – perhaps they felt it wasn't an important enough addition. Still, better with than without.
Both Asus PB287Q and AOC U2868PQU monitors have been released this week and are very closely priced. While both of these 4k monitors share very similar operation capabilities and even technical characteristics – there are some noticeable differences. The onscreen interface is one of them.
I mentioned earlier this week that I felt ASUS should have moved the power button away from the main menu buttons. It is very easy to accidentally press the power button and turn the screen off – when you had in fact intended to confirm a setting. It caused me no end of frustration during the review.
The AOC interface panel is better implemented, however it is not without flaws.
I didn't have to fumble around the back of the screen to press physical buttons because AOC have placed all of the touchscreen buttons on the front of the panel, in an easy to access manner. Unfortunately there is a certain amount of pressure required to activate, so depending on the table surface, you may need to hold the screen in place while you press them.
Neither ASUS or AOC have got it right really – in an ideal world I would have wanted physical buttons on the front of the screen, with a larger power button out of the way, at the side of the screen. We can't all have what we want, life lesson number 1.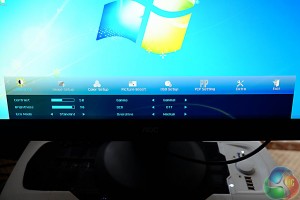 The 'Luminance' panel offers control over basic settings, such as contrast, brightness, Gamma and overdrive. The screen was set up by default with a 50% contrast and 90% brightness setting. Eco is set to standard.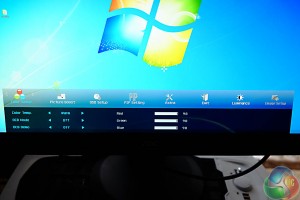 The 'Color Setup' menu can be used to correct for slight colour imbalances, without any hassle. It actually works very well too, but I will detail this more on the next page. There are some pre-configured 'Color Temp' settings, and it defaults to 'warm'. This is all going to be related to personal taste – if you like a cooler image, then change this immediately.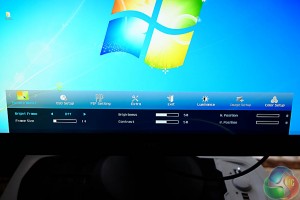 'Picture Boost' is an interesting submenu as you are presented with settings such as 'Bright Frame' and 'Frame Size' – both are interconnected. Bright Frame allows you to select a rectangular area of the screen with its own brightness and contrast settings. You can use this to focus on a certain area of the screen, it is fully customisable. Not sure I would ever use this myself, but it is there if you need it.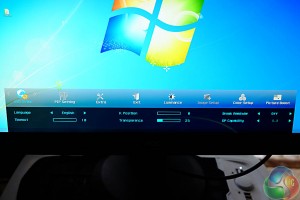 The OSD Setup is self explanatory – it allows for an adjust of the On Screen Menu. positions, transparency and timeout. Strangely AOC have decided to put the DisplayPort Capability option in this On Screen Display Setup menu, which makes little to no sense to me. DP 1.1 and DP 1.2 is offered, but if it has defaulted to DP 1.1 then you will only be able to select a 30hz refresh option within the Windows OS. DP 1.2 is the setting you will want all the time – to get 60hz.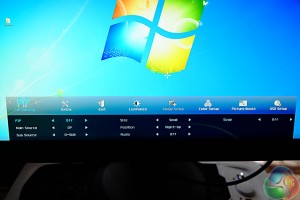 The AOC U2868PQU, in similar fashion to the Asus PB287Q, has full support for Picture in Picture settings. Useful, but again, something I would never touch.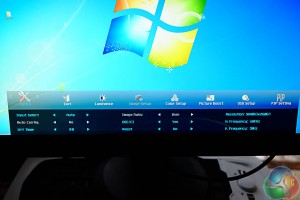 The Extra menu gives control over various ratio, configuration and timer settings. There is also a live readout displaying the resolution and H/V frequencies. If you are seeing a V.Frequency reading of 30hz then you want to make sure you have DP 1.2 selected in the OSD Setup menu. Finally make sure Windows 7/8 isn't set to a 30hz refresh in the display settings.
Windows 7 still proves popular with our audience and many people have not moved to Windows 8/8.1 yet. There is no doubt however that Windows 8.1 offers better scaling options for Ultra HD 4K monitors.
Using the Windows desktop at the native 3,840 x 2,160 resolution on a 28 inch screen can put some strain on your eyes. We aren't going to go into a lot of detail in this review as many readers will already know about this but if you want a quick crash course on Windows 8.1 scaling, check out this page.
To test today we are using a LaCie calibration gun along with specific software to accurately measure the readings. We analyse the 2D elements of the monitor via this test system featuring a reference Nvidia GTX780 Ti graphics card.
We measured gamut out of the box and the U2868PQU returned a reading of 2.18 which is very good. We manually adjusted the Gamma to 1.8 and the panel returned a 1.78 result.
The AOC U2868PQU is a TN panel and as such the viewing angles are much reduced over an equivalent IPS panel. Viewing angles were very close to the official specifications of 170°(H)/160°(V).
The DisplayMate 64 step Grayscale test returned a very good result, although a few steps were missing. As we said in the review of the Asus PB287Q panel if this is critical to your work environment then you need to be aiming at more expensive models such as the 31.5 inch Asus PQ321QE.
The AOC U2868PQU panel is an 8 bit +FRC arrangement, and more than a billion colours can be produced. It doesn't ship from the factory in a calibrated state and our sample had a noticeable red bias (related to the default 'warm' colour temperature setting). We could remove this easily enough via the onscreen menus. After we had calibrated the panel the images produced were clean, vibrant and sharp. As with the Asus PB287Q, 1080p media content did render slightly 'soft', but playing back native 4K movie files was very impressive – although right now content available online is rather limited. We did find that red colours didn't look quite as vibrant as the those produced on the Asus PB287Q, although it was barely noticeable to the naked eye.
Panel linearity rated as good, with some minor deviation at the edges of the panel close to the bezel. This is a pretty common thing to see unless you budget considerably more money for a flagship screen. sRGB color gamut rated at close to 97%. Gradients are reproduced smoothly with only minor banding noticeable.
This panel is rated with a 1ms GTG (gray to gray) refresh, ideal for the hardcore gamers out there. We played several games such as the latest Wolfenstein and Watchdogs titles, released in recent weeks. I noticed no smearing or artifacting at all. We asked a few members of a local Battlefield 4 clan to spend several hours with the screen before publication and they confirmed no refresh rate 'issues'.
It is worth pointing out that gaming at the native resolution of 3,840 x 2,160 will place a huge demand on the graphics hardware in the system, so it is important to factor this into the total cost of ownership when buying a new Ultra HD 4K screen. We recommend a GTX780 Ti or R9 290/X to get a good overall experience (if you want a solid 60 fps at high image quality settings then you need to look at spending extra for an SLi or Crossfire setup). You can read some of our benchmarks at 4K in our latest Sapphire R9 290X Vapor-X OC review, with plenty of comparisons included.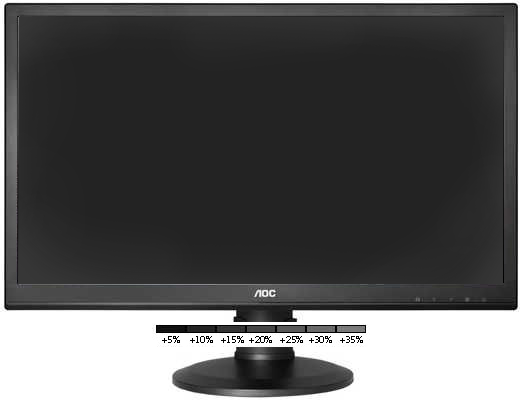 Black Definition rates quite well and we recorded some light leakage across the full width of the panel, rising to around 20% on the extreme corners. Under real world conditions the naked eye is unlikely to notice this even when watching high definition bluray discs. That said, if you increased the contrast and brightness levels as far as possible and viewed a predominately black image you would notice it. Its not practical to be running this screen at those settings however.
Contrast levels are reasonable and are very similar in real world terms to the Asus PB287Q that we reviewed earlier this week. Both screens deliver plenty of punch in the image. You won't need to run at 100% when gaming or using the panel for general tasks.
In a similar fashion to the ASUS PB287Q, the blacks in the three quarter range look a little more gray that we would like, although you would need to spend a lot more on an IPS panel to improve the situation.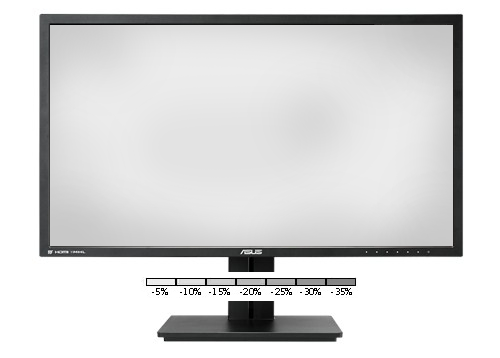 White purity is decent, with the corners of the screen reading around -15 percent, and rising to around -20 percent at the extreme edges. A few areas in the middle of the screen read around 15%, although this can vary from panel to panel, even within the same batch. The Asus PB287Q did deliver slightly better (cleaner) readings in the center area of the screen although I could not really pick this up when actually using the screen.
As with most TN panels, if you are a colour critical photographer, or designer who needs completely accurate reproduction then you will need to aim for a more expensive IPS/IGZO panel.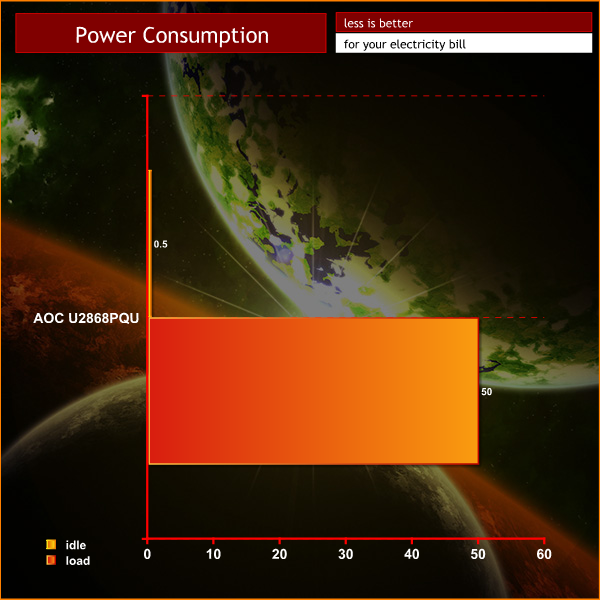 When idle, the AOC U2868PQU uses 0.5 watts. After our calibration, it demanded 50 watts at the socket.
When Ultra HD 4K monitors were announced, the pricing was extremely prohibitive. Kitguru has been in a fortunate position of using the £2,400 Asus PQ321QE now for the last eight months – the IGZO display is spectacular, but the asking price had proved a sticking point for many.
Late last year a slew of inexpensive 30hz 4K screens saturated the market, but gamers avoided them because of the low refresh rate. No one wanted to game on a 30hz panel and we couldn't blame them either.
This week, alongside the Asus PB287Q, AOC have released their 28 inch U2868PQU and we have been suitably impressed. Both screens use a less exciting twisted nematic panel, but the price tag is much sweeter. The AOC U2868PQU has the edge in regards to price, £100 less than the Asus screen at only £499.99 inc vat on Overclockers UK this week.
Both screens have stereo speakers onboard – they are equally feeble and have no bass response worth mentioning, but they are easily ignored if you have an external pair of speakers or headphones. Better to have, than not, we say.
Technically there are some differences between the Asus PB287Q and AOC U2868PQU panels. Asus are using a 10 bit panel, while AOC's is a 8 bit +FRC arrangement. While we noticed the ASUS screen produced slightly deeper reds and it rated a little better in our white purity test, they are very evenly matched for gaming and general everyday tasks. Viewing angles are not great, but the 1ms refresh rating on both is equally impressive – targeting the wide, yet demanding gaming audience.
The AOC U2868PQU, in a similar fashion to the Asus PB287Q has a very practical and sturdy stand system which offers full tilt, swivel, pivot along with height adjustments. Portrait mode can be useful for the audience who use Facebook and forums on a regular basis, and the AOC screen can be rotated into portrait mode by increasing the height to maximum and pushing down on one side of the panel.
The onscreen menu system of the AOC U2868PQU is accessed by front mounted touch buttons, which work reasonably well. We wouldn't say it was a flawless implementation as it can require a fair amount of pressure, but I liked it a little better than the fiddly rear mounted physical buttons on the Asus PB287Q. I still don't know why Asus felt it was a good idea to put the power button right next to the 'OK' button in the same row – it was a constant pain to deal with.
AOC have included a four port USB 3.0/2.0 hub on the U2868PQU, which may prove benefical to a wide audience, especially those with a variety of USB powered items on their desk. It is a genuinely useful addition and is not included on the Asus PB287Q.
Everything considered, the AOC U2868PQU is a bargain. It doesn't deliver a perfect image, but at only £500 it delivers an outstanding gaming experience to potentially a very wide audience. The image quality on the Asus U2868PQU is a little better, but AOC and Asus panels are so closely matched that we doubt many people would notice under real world conditions. At £100 less, and with the addition of a four port USB 3.0/USB 2.0 hub it may just seal the deal for many.
You can buy the AOC U2868PQU 4k direct from Overclockers UK now, for £499.99 inc vat.
Discuss on our Facebook page, over HERE.
Pros:
Very competitively priced.
stand is well constructed, tool-less and supports portrait mode.
1ms GTG refresh.
panel linearity is decent.
overall image quality is high.
4 port USB hub.
cables all in the box.
Cons:
onboard speakers are weak.
touch panel interface could be better.
Kitguru says: At £499.99 this is a very difficult screen to ignore. There are some flaws, but all-in-all this screen is bargain priced.