We were in Cambridge over the weekend for MSI and TeamGB's first OC Academy tour. In coordination with TeamGB overclockers and a number of sponsors, the OC Academy is designed to give enthusiasts a chance to benchmark a selection of hardware in order to promote involvement in the UK's overclocking and benching scene.
At the event was a practically limitless supply of liquid nitrogen (LN2), a group of enthusiasts keen to push the hardware in order to win a bench-off competition, as well as professional overclockers Ian '8 Pack' Parry and Roman 'der8auer' Hartung looking to smash a number of world records.
The Saturday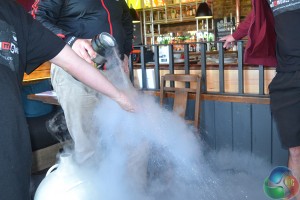 TeamGB's HiVizMan ran an introductory session for enthusiasts who are new to using LN2.
The first issue addressed was safety when using LN2. HiVizMan was keen to point out that LN2, in itself, is not dangerous if you are sensible when using it. The liquid has a boiling point of around -196°C, and therefore enters its gaseous state soon after leaving the flask.
As such, accidentally splashing a small amount of LN2 over yourself is not going to cause your arm to fall off, like many movies would suggest. That's not an invitation for the participants to be careless with the LN2, but it helps them put to rest many worrying misconceptions of extreme danger.
The next part of the introductory session revolved around preparing the hardware for safe usage with sub-zero cooling.
Preparing the hardware for insulation and to protect against condensation were the main focuses. While the LN2 will be in a gaseous state when it reaches the motherboard, the cold metal pot and other hardware cause condensation of moisture in the air.
This condensed water can kill computer hardware if it touches the wrong places, so insulation such as Vaseline and artist's eraser is used to protect areas of the motherboard through which electrical current passes (such as the PCB traces).
Experienced and novice sub-zero overclockers worked together to prepare the hardware for the first bout of 1 vs 1 deathmatches for the LN2 first-timers.
Initially, the primary hardware being used was MSI's Z97 MPower motherboard, a 4790K Devil's Canyon CPU, G.Skill 2133MHz CL9 memory, a GTX 670 graphics card, Plextor's M6e SSD, a test bench from DimasTech, and a host of Cooler Master hardware, including a V850 PSU and peripherals.
The contestants were quick to get to work on their hardware, starting off with tasks such as finding the minimum temperature level where the CPU would operate (known as the cold bug).
The cold bug level changes whether a user is a running a benchmark or trying to boot the system. Booting the system typically requires a higher temperature (around -70°C on some of the Intel chips being used) than running a benchmark, hence why a blow torch is used to quickly heat the LN2 pot in order to boot into Windows.
While the first day of 1 vs 1 sessions were taking place, 8 Pack (right) and der8auer (left) were busy pushing for world records with a pair of Titan X graphics cards.
The Sunday

The 1 v 1 competition continued throughout day 2, with new hardware being introduced. There was more action for the Devil's Canyon 4790K, and Intel's Pentium G3258 Anniversary Edition CPU was also installed on the Z97 systems.
An X99-based system, using MSI's X99S MPower motherboard, the 5960X Haswell-E CPU, and G.Skill Ripjaws4 3000MHz CL15 DDR4 memory, was also switched onto the benching systems.
Achieving the highest score from Intel's Extreme Tuning Utility (XTU) benchmark was the challenge for each competitor.
Clock speeds in the region of 5.5GHz+ for the 4790K were being used to achieve XTU scores of more than 1,300 points. The trick for reaching such high scores was to use a 32-bit Windows 7 OS, but things like cache frequency and memory timings had to be tweaked in order to gain those valuable points.
On the right, ObscureParadox is busy heating the pot on a 5960X CPU which cold bugged at around -100°C. Contestants were pushing the 5960X CPUs to levels around the 5.4GHz mark, rendering more than 2,200 points from XTU.
Day 2 saw der8auer and 8 Pack pushing for Titan X 4-way SLI world records. Their system's primary components consisted of a Gigabyte X99-SOC Champion motherboard, der8auer's strong 5960X CPU, and Kingston HyperX Predator 3GHz DDR4. The cooling pots were from der8auer's range of cooling components.
All four of the Titan X graphics cards were modded with external power boards, resulting in a combination of two EVGA EPower boards, a Gigabyte G-Powerboard, and an Asus power solution being used. The pair was meticulous in binning six cards in order to find the best overclockers on the GPU and memory, leaving der8auer to solder an external power board onto one of the cards in the early hours of Sunday morning.
We spoke to 8 Pack about the SuperFlower Leadex Platinum '8 Pack Edition' 2kW power supplies, two of which were being used for the duo's overclocking system. He was very pleased by their performance, telling us that one of the units was powering two heavily-overclocked Titan X cards and the 5960X CPU, resulting in a power delivery of around 2200W from the unit.
After a lengthy benching session which turned their system into a pixel-pushing snowpile, 8 Pack and der8auer were pleased to celebrate breaking a number of benchmark records, as well as setting new world records.
Their records included a number of single-card top scores for the Titan X, 2-way highest scores in 3DMark tests, as well as world records in 3DMark Fire Strike, Fire Strike Extreme, Catzilla, and 3DMark Vantage.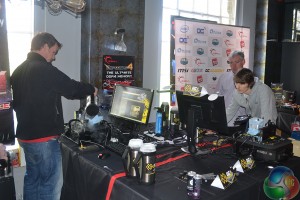 The 1 v 1 deathmatch final saw nickolp1974 (left) and ObscureParadox (right) squaring off with the 4790K CPU. There were a number of new challenges, including highest Cinebench score and the best XTU score with a specific CPU multiplier.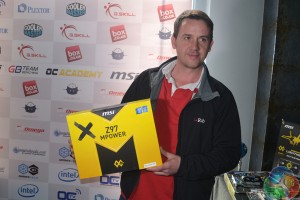 After a timed benching session, nickolp1974 was very pleased to celebrate winning the contest. His prize was an MSI Z97 MPower motherboard.
There was definitely a lot of positive talent on show for TeamGB overclocking. Good things can be expected from the overclocking group in the near future.
On the left, HiVizMan (left) and Tom Rawes (right), MSI UK's marketing manager, discuss the successes of the first OC Academy. On the right, HiVizMan (left) and Chris Gough (right), UK marketing for Cooler Master, reflect on the event.
Everybody at the event was keen to show their gratitude towards the sponsors and hardware suppliers who made the first OC Academy possible – MSI, Cooler Master, Box.co.uk, G.Skill, Intel, Plextor, GT Omega Racing, and DimasTech.
We spoke to Tom after the event who told us that "finding new talent" and giving people who know each other via forums the chance to socialise together were the highlights of the first MSI OC Academy tour.
Tom's advice for people considering attending the next OC Academy tour (which may be later this year, with initial talk of the location being a significantly larger venue in Manchester and extra gaming focus) was "Don't be afraid. There's a common misconception that extreme overclocking is daunting, but this makes it possible by showing safe procedures and how to look after the hardware."
Discuss on our Facebook page, over HERE.
KitGuru says: Events like the MSI OC Academy tour are a great way for enthusiasts to get involved with sub-zero overclocking and TeamGB overclockers. Well done to HiVizMan, TeamGB, and the kind sponsors who made it possible for budding enthusiasts to get involved in sub-zero overclocking on hardware that they may have otherwise never been able to use.