MakerBot, the desktop 3D printing company, has revealed four new materials that you can now use to print your creations with. A little more exciting than the plastic that's been used so far, they're actually composites that contain real metal, stone and wood making this all the more impressive. These materials are mixed with MakerBot PLA Composite Filaments to allow them to be printed correctly but they do retain some of the properties of the materials used.
At CES they have been showing off some of the new creations printed using these materials as you can see below. The names for these composites are Maplewood, Limestone, Iron and Bronze PLA composites and they can be used with any fifth-generation MakerBot Replicator 3D printers.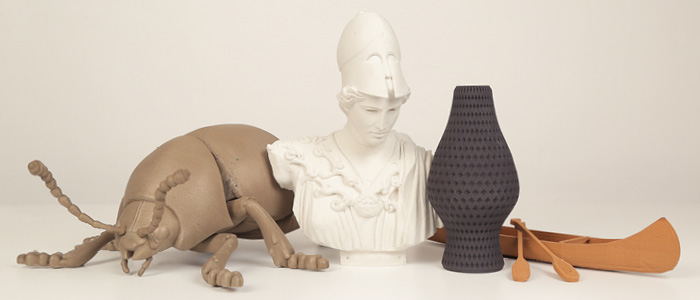 Probably the most interesting thing about items printed with these new materials, is that they have some of the physical properties of the materials. For example the boat in the photo above is light and floats as you would expect, but it also smells of Maplewood and can be treated and sanded like wood. The printed metals can be turned magnetic and are slightly cold to the touch, whilst being heavier than items printed with the normal plastic. The stone as well is apparently heavier and MakerBot has suggested that this might be used, to make temporary replacements for museum pieces or other fine stonework.
With many hailing 3D printing as the third industrial revolution and hundreds of post offices across the US and UK now offering in store 3D printing, we are no longer limited to just printing in plastic. Now if only the price of 3D printing would start to come down… Currently the cheapest MakerBot printer is around £1200 which is a little pricey for home use.
Discuss on our Facebook page, HERE.
KitGuru Says: Personally I think this is really quite exciting, I mean now that we can print wood, metal, plastic and stone how long until we can print most other materials? When printers start combining all of these materials together, we could even be able to print our own 3D printers! Obviously we would still need to buy some components, but I wonder how far away from this reality we are?