In a surprising combination of industries, 3D printer firm XYZPrinting and U.S. based bookseller, Barnes and Noble, have announced a partnership for the upcoming Mini Maker Faire set to take place on 5th and 6th November in select stores. This will be the second annual event and will allow customers of all ages to try their hand at 3D printing, using a Vinci Jr. 3D printer.
The idea behind the Mini Maker Faire is to bring together people from all sorts of different disciplines: crafters, educators, engineers, students, entrepreneurs and their families. It's hoped that these meetings can spark future collaborations, as well as giving everyone in attendance a chance to try out some new creative technologies in the process.
This time around that technology is 3D printing, with XYZPrinting providing the hardware to make it possible.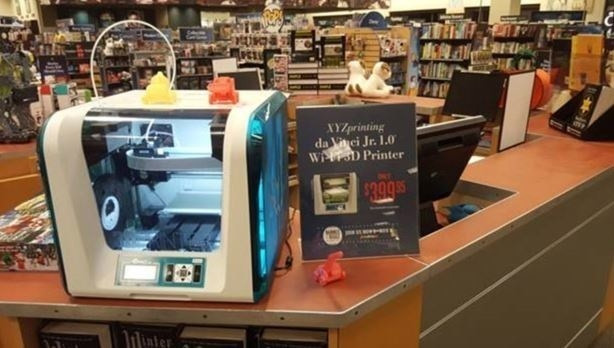 Source: Barnes and Noble
"The biggest barrier for most people interested in 3D printing is their fear that it requires a lot of knowledge about technology, engineering and design," said Simon Shen, CEO of XYZprinting. "We are excited to work with Barnes & Noble to offer hands-on experiences that demystify 3D printing and show adults and kids alike how easy it is to design and create projects. Our entire line of da Vinci 3D printers was developed to offer people an easy-to-use, affordable and compact way to make their own creations."
Of course this is also a great opportunity to market the Vinci Jr. 3D printer to the public. The 400 euro (£355) printer uses non-toxic, bio-degradable PLA filament, so there are no health concerns about children using it. To encourage people to try out the printer at the faire, Barnes and Noble will also be hosting a series of workshops and tutorials on how to take a design from a conceptual drawing, right through to printing it before their very eyes.
Discuss on our Facebook page, HERE.
KitGuru Says: The printers are being marketed to parents too. Being able to fix up any broken toys with Christmas approaching is quite a tempting offer – though the price tag might still put them out of reach of a lot of families.