ASUS has shown off and announced several new products across its ROG range in an event in Berlin which is timed to celebrate its 11-year anniversary. Top of the excitement list for our audience will be the newly announced GTX 1080 Ti Poseidon hybrid liquid and air cooled graphics card, as well as the 144Hz HDR 4K PG27UQ monitor being shown in the flesh.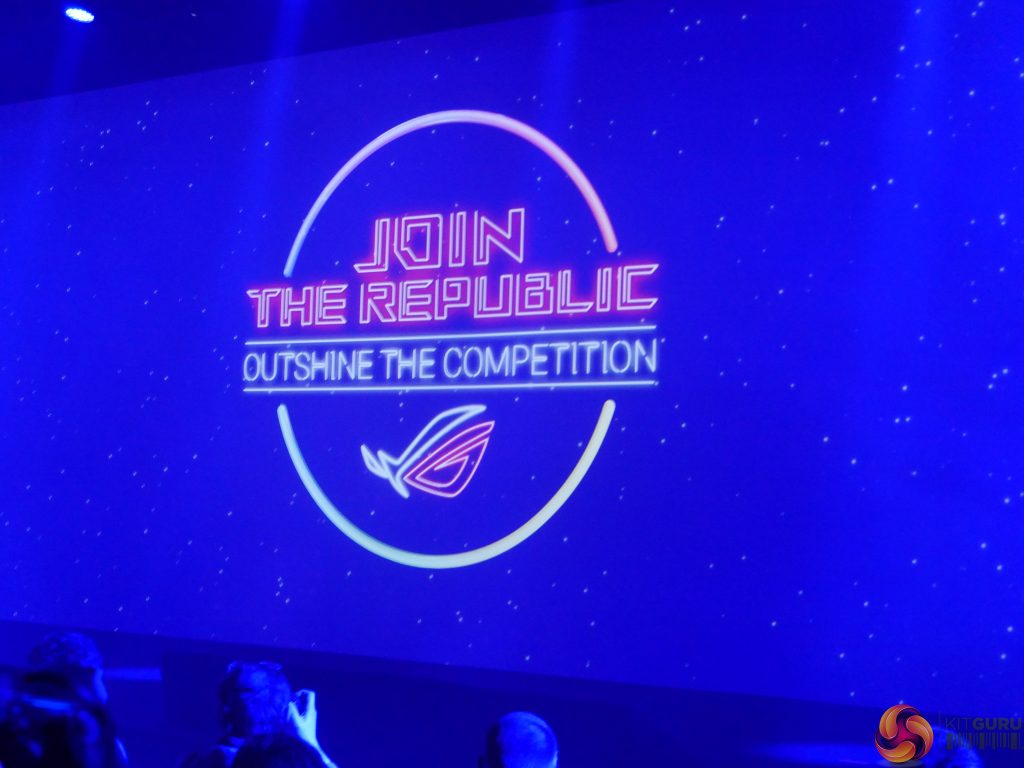 We have shown off the new ROG Poseidon GTX 1080 Ti hybrid liquid/air cooled graphics card in a separate article HERE.
ASUS was also keen to show the upcoming PG27UQ which is the company's 4K 144Hz HDR 27-inch monitor that is set to be available for purchase in Q3. The DP 1.4-powered, G-Sync, Quantum Dot model was shown side-by-side against a non-HDR monitor. However, visual comparisons were difficult to make as the competing non-HDR monitor was configured with poor image quality settings. There is also a 2560×1440, 144Hz HDR PG27VQ monitor on the way in Q3 which is also Quantum Dot and features AURA Sync RGB lighting.
The ROG Rapture GT-AC5300 is a powerful router with eight individual antennas. Designed for heavy streaming and gaming households, eight Gigabit Ethernet ports are provided, two of which feature gaming prioritisation. The AC-5300 tri-band router is powered by a 1.86GHz quad-core CPU and had a current rating of 3.42A on a 19V input (as read from the information on its sticker). It will be available in Europe in May.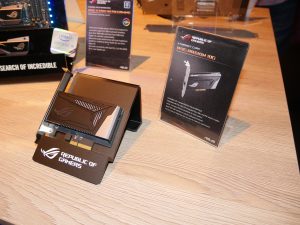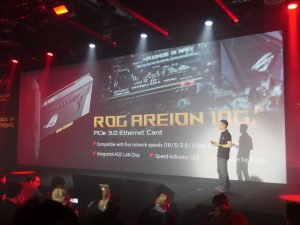 The ROG Areion 10G card generated interest. The 10Gbps-capable Ethernet card uses a PCIe 3.0 interface and supports 5Gbps, 2.5Gbps, 1Gbps, and 100Mbps speeds. An AQC (Aquantia) chip is used.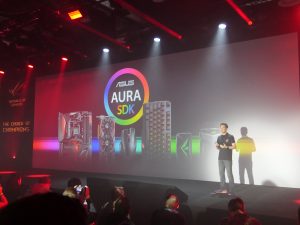 ASUS also announced the AURA SDK which will allow app developers to better program their software with AURA compatibility in mind. A demo was shown to be switching the system lighting colour based on the chosen class shown in a game and when taking damage from enemy fire.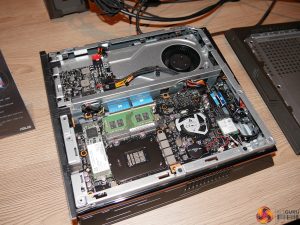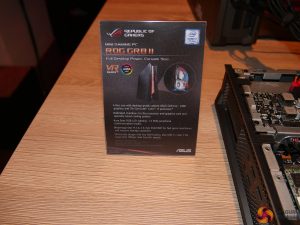 Several systems were shown off, including ASUS' own GR8 II miniature gaming PC and ROG GD30CI pre-built.
Systems builders, including PC Specialist and Overclockers UK, also had systems on display to highlight their bi-directional commitment to ASUS' PBA partnership programme.
There were also ASUS-powered showcase systems on display.

The ROG Pugio ambidextrous mouse was shown to offer AURA Sync RGB lighting and features a 7200 DPI optical sensor. It will be available this month.
Three studio-grade condenser capsules are used to capture audio for the ROG STRIX Magnus USB gaming microphone. The AURA Sync RGB mic is designed for live streamers and also features noise-cancellation technology.
Discuss on our Facebook page HERE.
KitGuru Says: Plenty of interesting technology on display from ASUS' ROG brand. Which piece of kit are you most excited about?