Google may have taken Glass back to the drawing board earlier this year but it definitely hasn't given up on it. Earlier this week we learned that the company could be gearing up to launch Glass Enterprise Edition for business use at some point this year and now we are getting a peek at potential gestures for future versions of the smart glasses.
Using Glass can be a bit of an awkward affair while out in public, after all, nobody wants to walk down the street talking to their glasses to activate commands and I imagine hand gestures would be worse for many. However, that isn't stopping Google, as a new gesture suggests that the company wants you to create a frame with the fingers in order to take a picture with a Glass-like device.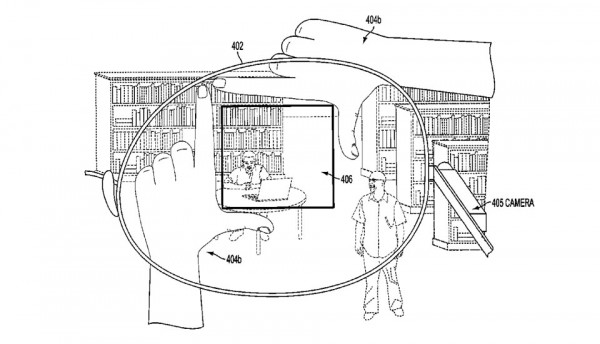 As you can see from the patent illustration, we can see the glass lens, the camera on the side and the hand gesture that would activate the camera. Orientation of the image could be based on the position of the hands making the gesture as well.
We may end up seeing a new Google Glass later on this year, although it may not be for consumer use. The new model is apparently set to be powered by an Intel Atom CPU and use a larger prism display.
Discuss on our Facebook page, HERE.
KitGuru Says: These sorts of gimmicky gestures are common in smart devices these days, the problem is, not many people actually want to use them. That said, for a device like Google Glass, something like this does seem to make sense.