There has been a rise in crypto heists over the last few months. According to security researchers, cybercriminals have been very active over Q1, stealing nearly $1.3 billion USD worth of crypto assets.
According to Atlas VPN and Slowmist Hacked, a company that collects information about disclosed attacks targeting blockchain projects, there have been 78 known instances of successful hacking between January and March, during which blockchain projects lost $1.3 billion. Additionally, attacks on Ethereum and Solana attributed to $1 billion USD in losses.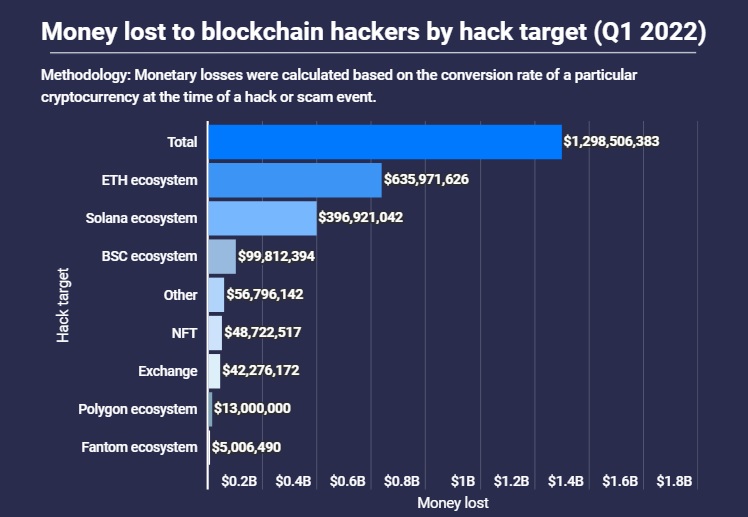 One of the biggest hacks of the quarter targeted Axie Infinity, a 'play to earn' game that rewards players in cryptocurrency. The underlying blockchain that the game is based on was attacked, resulting in $610 million in crypto being stolen. Aside from the Ethereum and Solana ecosystems, cybercriminals have also been targeting others, like the Binance Smart Chain, which suffered from $100m in losses.
NFTs also make an appearance here, with the researchers estimating that $48 million was stolen in recent months. NFTs were also the most common target for hackers in Q1, followed by Ethereum, and then the Binance Smart Chain.
Cryptocurrency projects experienced only 5 blockchain-related hack events in Q1 2018. Next year, in the first quarter of 2019, hacks increased by 1140% to 62. While in Q1 2020, hacks decreased to 13, in Q1 2021, blockchain-related breaches and scams jumped up by 154% to 33. In Q1 2022, the number of hacks has increased even further to an all-time high of 78.
Discuss on our Facebook page, HERE.
KitGuru Says: Crypto has been a target for scammers and thieves for years, but it looks like cybergroups were particularly interested in loading up on crypto during recent dips.