So far, most of the demos we have seen for the Hololens have been gaming oriented, with Minecraft being a pretty big focus at E3. This trend isn't changing any time soon as a new video posted online by Microsoft project manager, Varun Mani, shows off Halo 5 on the currently unreleased augmented reality headset. The game can be seen running on a normal TV and then transitioning over to a virtual screen shown on the Hololens.
The game itself is running on an Xbox One and streaming to the Hololens, so don't get too excited, Microsoft isn't accidentally revealing a PC build here. Mani shows the Hololens being used to place a virtual screen in his field of view, and use eye-tracking and gestures to resize and orient the image itself.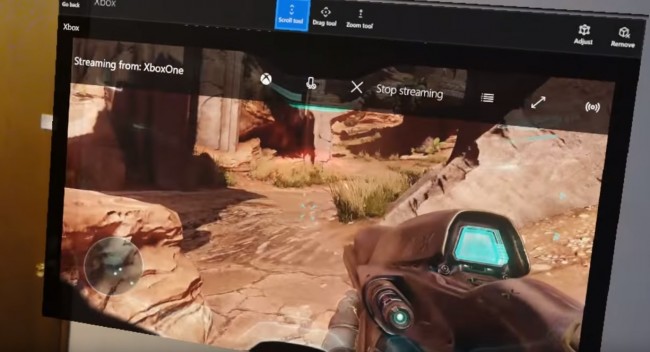 [yframe url='http://www.youtube.com/watch?v=enaCPYuYXps']
Microsoft will be handing the Hololens over to third-party developers starting next year, so we may see even more applications for the headset appear over time. The idea that it can provide you with a virtual screen, removing the need to use a monitor or TV is pretty cool, though things are still fairly early on.
We have heard reports that the field of view for the Hololens could use some work, so maybe we will see Microsoft make some changes to that at some point next year.
KitGuru Says: The Hololens seems to be quite a cool device so far, though we have no idea when it will be ready for consumers. Have any of you been following the Hololens? Would you use one?