Oculus took it upon themselves to kick off E3 a little early with its own virtual reality event today, where it formally revealed the final hardware for the long-awaited consumer version of the Oculus Rift. We now know exactly what VR fans will be buying when the headset lands early next year.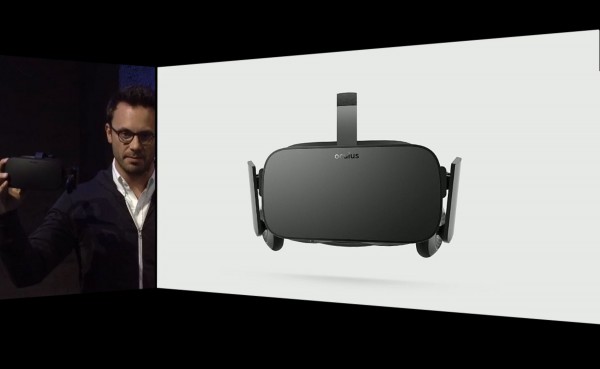 As you can see, the headset looks pretty similar to the leaks Reddit uncovered just a few days ago. There are headphones, although they will be detachable.
The lenses will be adjustable as everyone's eyes are a little different. The headset has also been designed to be comfortable to wear even with glasses on as well, which will be a bonus for many.
The headband goes over the top of your head and joins with the neckband around the back. Apparently the device is light weight and should be pretty comfortable to wear.
While everything looks pretty solid, Brendan Iribe did admit that the screen may not be as high resolution as they would like. However, that is likely down to the fact that today's graphics hardware can't push 90 frames per second at such high resolutions, so some compromises has to be made for the gameplay experience.
Aside from the headset itself, some more announcements were made. Microsoft has teamed up with Oculus to ensure that Rift titles get Direct X 12 support, the headset will also be natively supported in Windows 10 for an easy set up experience. Xbox One controllers will be included with the headset, which is good news at it really is a great gamepad. Jon has more on that, HERE.
This post shall be updated if pricing and pre-orders are announced during the event. Jon and I are watching live so we shall be keeping you all up to date pretty swiftly.
Discuss on our Facebook page, HERE.
KitGuru Says: From what I've seen so far in this live stream, I'm more excited for the Oculus Rift now than ever. Are any of you guys keeping up to date with the news? What do you think of the final version of the Rift?