Samsung has finished work on the latest version of its eye tracking computer mouse, named the EyeCan+. The device helps people with disabilities use PCs through eye movements, allowing them to perform tasks like browsing the web and creating documents.
The EyeCan+ is now in its second generation and while eye controlled computers have been made before, Samsung points out that previous devices required special eyewear and dedicated equipment, making the EyeCan+ the first of its kind as it is designed as a simple portable box and sits just below the computer monitor.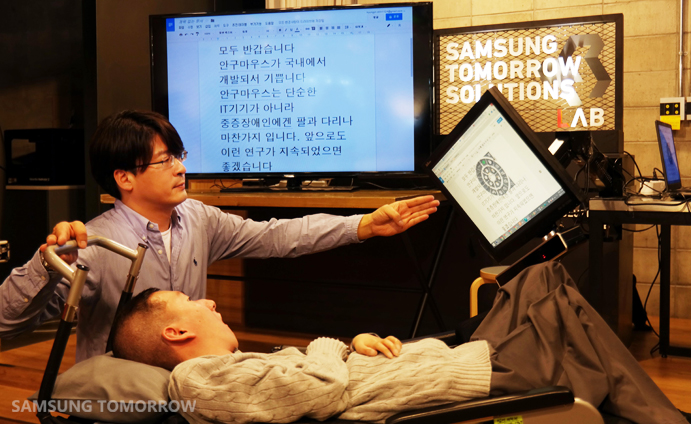 Image source: Samsung Tomorrow official blog.
Upon plugging the box in for the first time, users will need to calibrate their eyes, this process only needs to be performed once. Users can then work with the device while sitting or lying down a couple of feet away from the monitor. The device interface shows up on the monitor as a pop up menu and gives users access to 18 basic commands such as cut, copy, paste, scroll and zoom. To use a specific command users need to blink once while looking at the specific icon, custom commands can also be configured.
Samsung doesn't intend to sell the EyeCan+ directly but will instead release its technology as an open-source effort, allowing other companies to work on it or bring it to the market themselves. The original EyeCan was revealed during the first half of 2012 but the latest version has more accurate calibration capabilities and features a better user interface. According to an official blog post, Samsung owes much of its progress to Hyung-Jin Shin, a graduate student in computer science at Yonsei University.
Discuss on our Facebook page, HERE.
KitGuru Says: Advancements made in this area of technology can help improve the quality of life for those with disabilities. Making it open source should also help specialist companies adopt the new technology faster than they otherwise would.