As Spotify prepares to open itself up to public investment, the streaming service is beginning to crack down on potential piracy and app bypasses. Currently, Spotify has 159 million active users, with 71 million of those being paid subscribers. One of the key features of a premium membership is the removal of adverts, Android users were able to get around this by using a modded APK, but it looks like Spotify has officially caught on.
Currently on Android, users can download a modded version of the Spotify app known as Dogfood. This version lets you log in to your Spotify account and stream music as you would normally, it doesn't give you access to all premium features but its main appeal is the removal of advertisements. Over the weekend, Spotify free users taking advantage of the Dogfood APK began receiving the following email: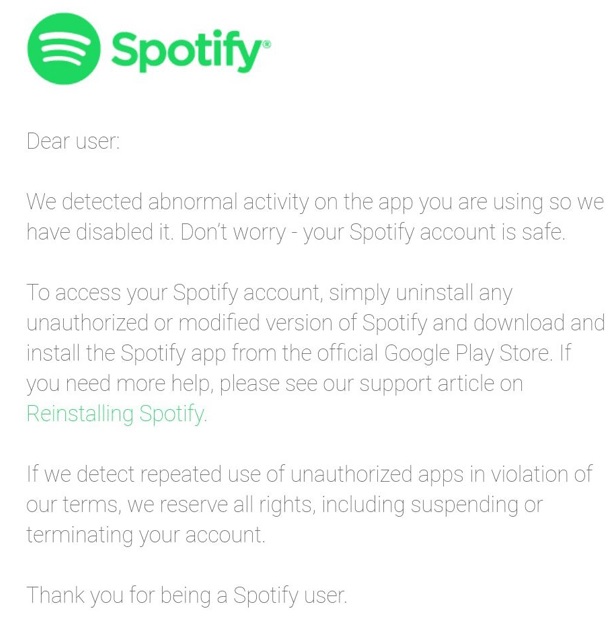 In the email, Spotify warns users that it has "detected abnormal activity on the app" they are using. These accounts are not being outright banned, instead, the email encourages users of the modded APK to head to the official Google Play store in order to download the official app.
Accounts and playlists are being protected. However, Spotify does warn that if consistent use of the modded app is detected, then accounts will start to be terminated. DCMA takedown notices are also being sent around in order to remove the ability to download the Dogfood APK.
Discuss on our Facebook page, HERE.
KitGuru Says: There have been ways to block ads on Spotify in the past, but at this point in my life, I'd rather just pay the monthly fee and not deal with the hassle. Did any of you happen to use the Dogfood APK? Have you received a warning email yet?