T-Mobile has filed a lawsuit against Chinese firm, Huawei, after its staff attempted to sneak in to T-Mobile offices and steal software and technology behind the carrier's phone testing robot, which is nicknamed 'Tappy'.
Huawei employees allegedly stole the software and specifications for the robot, they also took secret photos of the machine at work- corporate espionage at its finest. These employees were then supposed to bring all of this information back to Huawei in order to help the firm build its own phone testing robot. T-Mobile is officially suing the Chinese firm for theft of its trade secrets, violating NDA and supposedly profiting from this stolen info.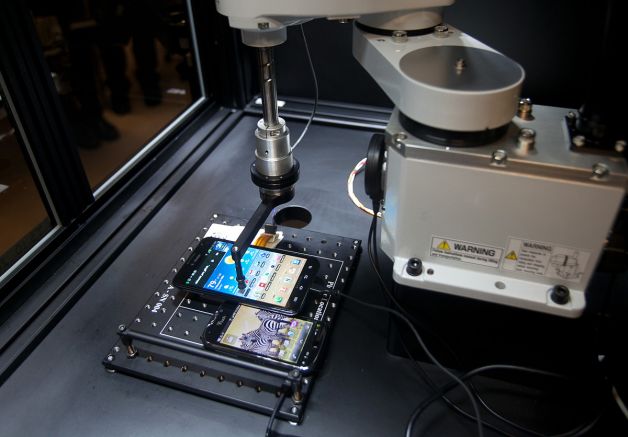 Image source: UberGizmo
The Huawei employees were previously authorized to use Tappy the robot, however, some reports have suggested that these employees were later banned before this incident took place.
"T-Mobile's robot, its component parts, its functionality, and its software were protected by these nondisclosure and confidentiality contracts. Huawei employees were only authorized to use the robot to test their T-Mobile handsets in T-Mobile's labs, and were prohibited from disclosing or using information regarding the robot for any other purpose."
In the filing, T-Mobile states that employees were caught on camera stealing parts of its robot:
"On information and belief, Huawei is already using T-Mobile's stolen robot technology to test non-T-Mobile handsets and improve return rates for handsets developed and sold to other carriers."
The filing also states that T-Mobile beleives that Huawei went on to use this stolen technology to make hundreds of millions of dollars. It is currently unknown how much money the US carrier is seeking to gain from this lawsuit but its fair to assume that it will want a sizable payout.
While this isn't necessarily linked to the above story I think it's important to point out that Huawei is the very company that David Cameron wanted to put in charge of censoring the Internet here in the UK. The company has previously been accused of spying for the Chinese government and is set to open a £125 million research facility in the UK.  The actions taken in this case certainly cast doubt on Huawei as a company and will likely cause a rift of distrust between the firm, its customers and future/present business partners.
Discuss on our Facebook page, HERE.
KitGuru Says: It's not often that we get to report on corporate espionage, these employees worked in the building for some time, surely they knew that there were security cameras watching them steal trade secrets? Hopefully more details surrounding this case will be released soon as it is certainly an interesting one.
You can follow the author of this article on Twitter.