Google gets hit with thousands of takedown requests a day, a significant portion of which tend to be from movie studios attempting to combat piracy. Unfortunately, these requests often tend to be automated and sometimes don't make any sense at all. This week, Universal Pictures sent a Google a new batch of 'infringing URLs' that it would like to see buried by the search engine, one of which happened to be the IMDB listing for Furious 7.
In-case you aren't in the loop, IMDB is a movie database site and is in no way affiliated with piracy. Copyright holders often don't check the validity of their own requests, which results in issues like this.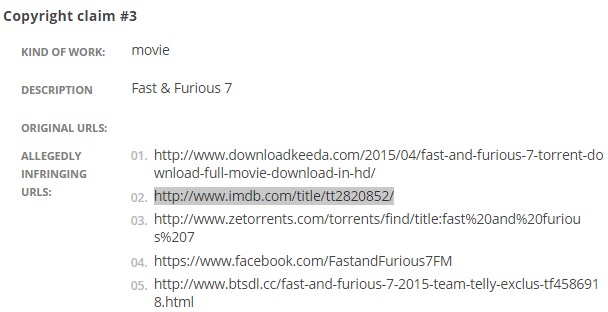 As spotted by TorrentFreak, the takedown request also references links to the movie 'Hacker'. In this request, Universal also mistakenly asked Google to take down a news article from website, Techdirt, which covered the Hacking Team leak recently.
One more amusing observation is that Universal also asked Google in a separate notice to censor http://127.0.0.1 from search results. Universal Studio's takedown requests are actually handled by an outside agency known as Trident Media Guard, which clearly is not doing its job properly if it is linking news articles, IMDB and the standard localhost IP in with piracy takedown notices.
Discuss on our Facebook page, HERE.
KitGuru Says: Piracy is a problem but so is blatant abuse of the DMCA system, something that media companies seem to get away with constantly with no consequences. These studios would do well to actually check the validity of their own takedown requests before dumping them on to Google.