Amazon's trade-in scheme, which allows customers to send in old products like games, books and clothes to earn credit against other purchases, is coming to a close. Anyone wishing to take advantage of it has until the 31st of August to get their returns in, after which Amazon will no longer offer any such service and all products sent in beyond that date will be automatically rejected and returned.
"You can submit trade-in items as normal up to and including 31st August 2015. No Trade-In orders can be submitted online after the closure date. Please ensure your trade-in items are dispatched within 7 days after your submission," Amazon said in its help section update.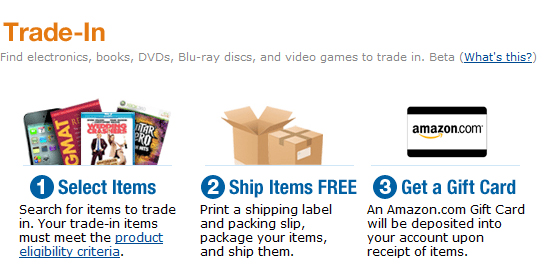 It did however clarify that users were still welcome to sell their products through the Amazon marketplace system, though that does require a lot more input from the user. It also clarified that any existing gift cards, or those obtained before the cut off date would remain valid for the foreseeable future, though would -as usual – be subject to all gift card terms and conditions.
Response to the news has been mixed, with some claiming they had a terrible experience where games were rejected and returned in a worse conditon than when sent in, whilst others claimed it was excellent with many trades that went through without a hitch.
Discuss on our Facebook page, HERE.
KitGuru Says: How did you find Amazon's trade in system? Did it work well for you?