Despite ongoing issues with license fees and what is increasingly labelled piracy with people viewing iPlayer content without paying them, the BBC is looking to expand its audience internationally in the coming years. Thanks to a cash investment by the government, the BBC wants its audience to expand to 500 million by 2022 – an increase of some 150 million.
Calling this latest expansion the largest it has undertaken since the 1940s, the BBC is looking to launch its World Service in 11 new languages, including Afaan Ormo, Amharic, Gujarati, Igbo, Korean and many more (thanks TechCrunch). It will also be launching country specific news, entertainment and radio programming in territories like Eastern Europe, Africa and the Middle East.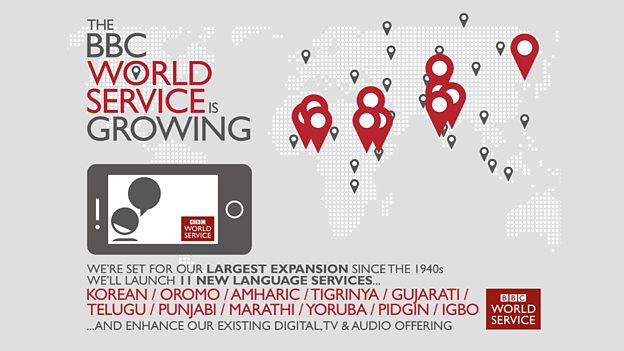 The total investment from the government includes £34 million for the 2016-2017 period, followed by a further £85 million for the 2017-2018 period and possibly continued annually until 2020, when it will be reviewed once again.
"Today's announcement is about transforming the World Service by investing for the future. We must follow our audience, who consume the news in changing ways; an increasing number of people are watching the World Service on TV, and many services are now digital-only," said BBC World Service director, Francesca Unsworth in a statement.
Reporting on the scene will also be improved with the BBC set to hire a number of new journalists to visit locations as stories break around the world. This will be backed up by more localised services for news and bulletins, with an increased social networking presence to help spread the word.
It's not clear how much of this investment will be used to improve national services in the UK, but with all of that extra funding, you would assume some of it would go boosting the BBC at home too.
Discuss on our Facebook page, HERE.
KitGuru Says: The BBC is a controversial topic now with less and less people wishing to pay a license fee for access to it. How do you guys feel about the government investing in it instead?