The Digital Economy Bill (DEB) has a lot of people worried, driving many to take up VPN subscriptions to try and give them the privacy that the bill would strip away. It looks like the matter may become ever more complicated though, as the government looks to pass the buck, leaving innocent websites caught in the crossfire, no way to complain.
The DEB was initially intended to help improve internet access speeds across the UK, but was co-opted by amendments in the latter part of this year, to enforce age checks on any site showing nudity or 'porn,' as well as threaten with ISP level blocks if they don't comply. However when it comes to "ancillary websites," like Reddit and Twitter, responsibility for those blocks may be forced upon the sites themselves, rather than ISPs.
As was highlighted in the House of Lords during a recent debate, demanding that Twitter be blocked at the ISP level would make politicians "look like idiots." What this means however, is that the government, or rather its appointed regulatory body for this matter, the BBFC will demand that sites like Twitter do the blocking itself. That means blocking individual Twitter accounts, simply because they showed nudity.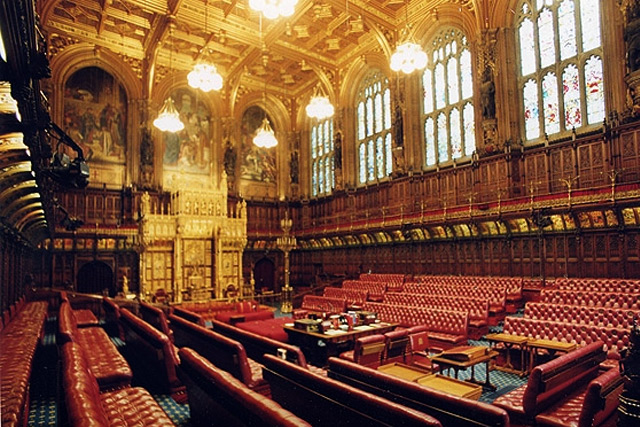 The House of Lords is the last place to debate the bill, where amendments may be added. Source: Terry Moore/Wikimedia
However as the Open Rights Group points out, there is no legal compulsion for Twitter, Reddit, Tumblr or any other number of sites to do this. That may mean that these sites simply ignore the order, which is good for freedom of expression, but not so great for them. With the onus on them, they face the difficulty of on one hand angering the public by acting on something that is not legally binding, or technically aiding and abetting the easing of porn access to minors – 'protecting the children' is what this bill amendment is all about.
This means that should any page or account be blocked unfairly, say in the case of breast-feeding images – which have been targeted erroneously in the past – the only recourse will be to appeal to the sites in question, which will have no legal reason to help. Indeed they face potential problems of their own if they rescind a block, which may encourage them to be more heavy handed than not.
This becomes increasingly problematic when you consider that there may be discussions with payment providers to halt payments to those breaching the rule. This has the potential to do even more damage to the flagging British porn industry, which has already been hit hard in recent years by crack downs on perfectly legal content online.
Discuss on our Facebook page, HERE.
KitGuru Says: These bills get worse and worse the more we learn about them. It's even more demoralising considering how fast they've been rushed through parliament with little opposition.