The long awaited extradition trial of legally-embattled Kim Dotcom and his co-defendants has finally come to close, but not before the prosecution attempted to submit a last-minute piece of evidence, despite its side of the case having ended weeks ago. Regardless, this marks the beginning of the end of a story that began almost four years ago, when Dotcom's New Zealand mansion was raided by a large number of heavily armed police forces.
On 20th January 2012, one day before Dotcom's birthday, his home was raided by a number of police vans, cars and helicopters, dropping off police armed with sub-machine guns and grenades, who eventually found the MegaUpload founder in his hidden panic room. He was arrested and most of his property, including computers and cars, were confiscated.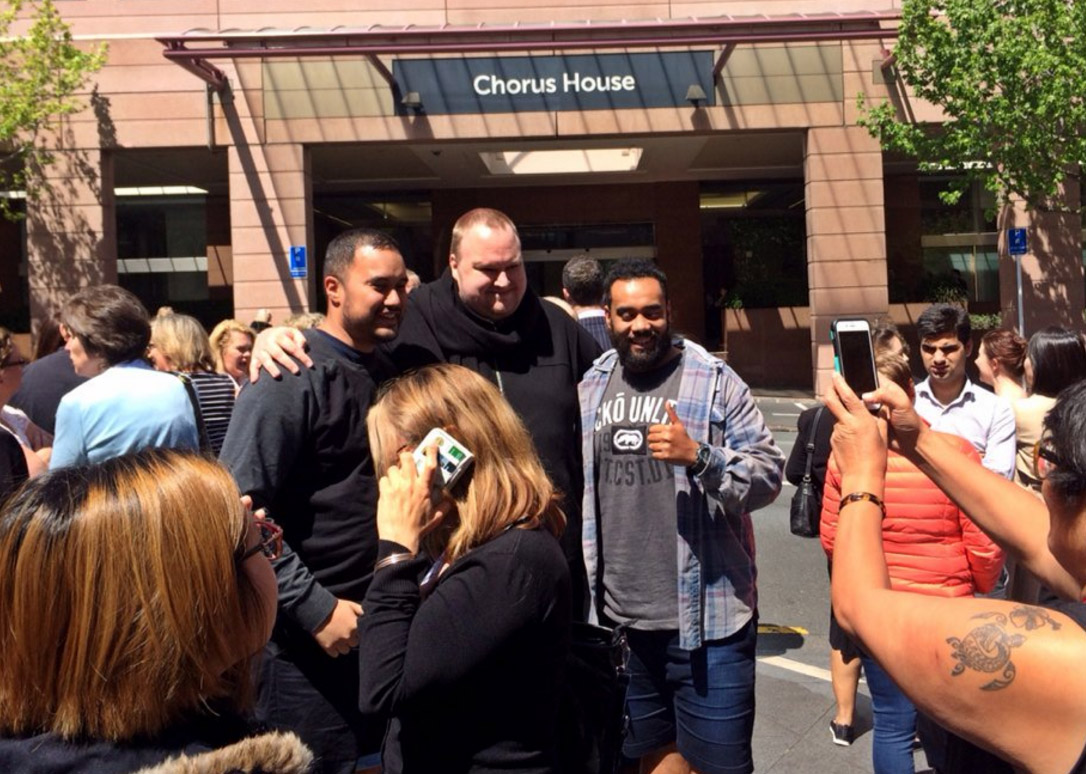 Dotcom has continued to take pictures with fans and supporters outside of the court. Source: Dotcom/Twitter
Since then he's faced monetary issues and launched a failed political campaign to oust the then (and still) Prime Minister John Key. Throughout the many intervening years his legal team repeatedly pushed off the extradition trial, presumably to run out the clock on some of the charges, but you get the feeling that at this point Dotcom just wants to get the results and deal with the consequences.
I'm back in court today listening to the last episode of Alice in copyright land. 10 weeks of U.S. copyright fiction are coming to an end.

— Kim Dotcom (@KimDotcom) November 22, 2015
However his legal team had to deal with what it described as an 'ambush' as they looked to wrap up the case over the past few hours. The Crown, representing the United States in the case, had asked to submit new evidence before the case's conclusion, despite its case ending weeks before.
Although the defence argued against it, the Judge will now decide if the evidence is worth hearing and will make his decision on whether Dotcom and his fellow defendants will be extradited to the U.S. later this week. If he does grant the prosecution's wish, Dotcom could face decades in jail if convicted in an American court. He stands accused of fraud, money laundering and conspiracy to commit copyright infringement.
Discuss on our Facebook page, HERE.
KitGuru Says: Any legal experts among you care to explain how common the practice of late evidence introductions are? It seems like a sneaky tactic to sway a judge's favour at the end of a trial, but perhaps it's less nefarious than that?