Ikea, the company that has simultaneously provided us with most of our in-house furnishings and frustrating afternoons with wooden plugs and glue, has gone after IkeaHackers.net with a cease and desist order, claiming that it impeaches its trademark name. It's given the owner until 23rd June to takedown all adverts on the site or hand over the domain, leaving her bemused and saddened, considering the eight years the site's been in operation.
"Jules Yap," has been running the site since 2006, giving people ideas about how to improve their Ikea products. It's filled with simple fixes or changes that take very little effort, to huge projects like mounting products on the ceiling for an interesting artistic look, all offered freely to Ikea customers and those just interested in modding furniture. It's an homage to the company's products and their versatility if anything and yet Ikea has now decided that it's existence should no longer be tolerated.
Responding to the Ikea legal request, Yap has said she has no choice but to remove ads from the site to keep it open, as it was too close to her heart to let go. The site doesn't just give her some extra pocket money either, it's her livelihood.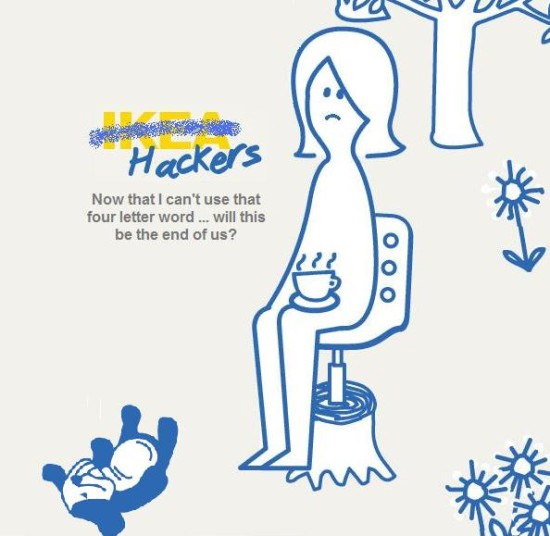 Look what you did Ikea. You killed the blue and white dog.
"Over the last 8 years the site has grown so much that I could not juggle the demands of a full time job and managing IKEAhackers. It also costs quite a bit to run a site this large. Since IKEA® does not pay me a cent, I turned to advertising to support myself and this site," she said on the site's blog.
"Now by June 23rd, I would need to take down the ads, not earn any income and still advance their brand on this site. Wonderful!"
Looking forward, Yap plans to launch a new domain name without the Ikea branding and therefore will be able to advertise on it all she wants, at which point she'll direct current users of IkeaHackers over to the new site. For now though, she's just looking for a little moral support.
Discuss on our Facebook page, HERE.
KitGuru Says: Unless Ikea plans to launch its own version of the site, this sort of trademark wagon circling is so short sighted. The amount of free advertising this sort of website gives the company is better than anything it could pay for and yet it somehow feels threatened by it. So strange.