With the New Zealand national elections set to take place tomorrow, Kim Dotcom and Laila Harré's Internet MANA party has been firing off its last salvos to try and get people out to vote, including encouraging people to vote for someone other than the Internet MANA party if it means getting John Key out of office.
In one of her recent "Not the Six O' Clock News" segments, Harré, the current leader of Internet MANA was quoted as saying that she had used her party vote to help push Internet MANA towards a seat in parliament, and her personal vote for Paul Goldsmith in an effort to change the government.
[yframe url='http://www.youtube.com/watch?v=ziM0v1Z9JEk']
As much as Internet MANA wants to see its issues taken seriously, potentially even garnering enough of the vote to gain a seat in parliament now that it's teamed up with the Mauri MANA party, one of its key aims has been to get John Key, the current NZ PM, out of power.
Harré goes on and pulls no punches, citing "systemic corruption in our public sector, " as a reason that if the current government is voted back in, it will be because of underhanded tactics and due to its instability, wouldn't last long. She also pledged, that unless a new government pushed for a Royal Commission to investigate the matter, she'd take it to International authorities herself.
Dotcom for his part in the matter has simply been promoting the party and not taking much in the way of swipes at individuals, or his old nemesis John Key. He has however been taking some direct quotes from the two key speakers at his "Moment of Truth" conference, Julian Assange and Edward Snowden, citing their thoughts as prime examples of why it's time for a change in New Zealand politics.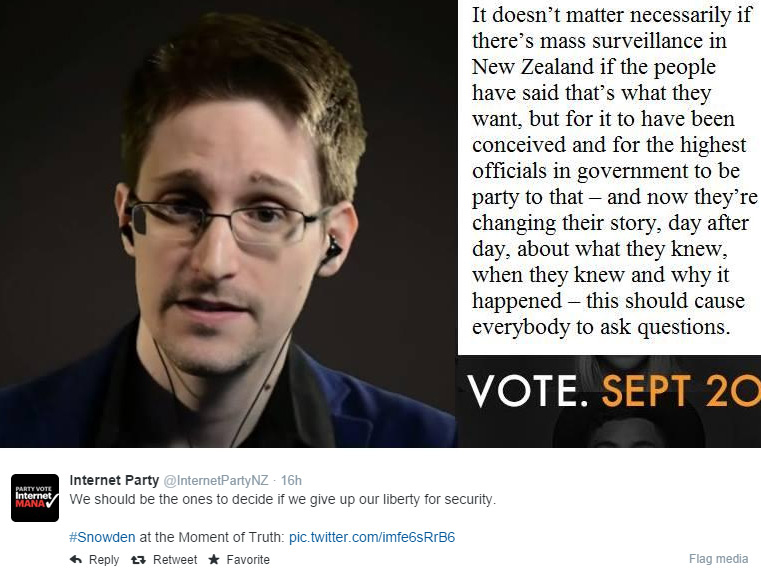 Other than that, he's essentially just urging people to get out and vote. The latest polls peg Internet Mana as on track to receive more than five per cent of the vote, which would give it at least one seat in parliament.
KitGuru Says: Regardless of the outcome of the election tomorrow, the Internet MANA is an impressive achievement not only in terms of its legitimate political gains, but also in the way it's marketed itself. The parties, social networking and consistent headlines have made it very easy to talk about, something that's often hard to do about traditional political entities.