Kim Dotcom recently announced two bigs things: that he was launching a political party and that he was throwing a "Party Party," to celebrate his 40th birthday, the launch of his new album and the two year anniversary of his Megaupload arrest. Now though he's had to cancel the latter, due to the fact that he gave tickets away for free along with food and entertainment, which could be considered "treating," under New Zealand law, essentially trying to influence voters with free gifts.
The cancellation was sent out in much the same way as the original announcement, with Dotcom posting a message via a twitpic which reads:
"I apologise, my friends. Sadly we must cancel my birthday party after we received advice that the event could risk breaching electoral laws.
"Because the tickets were free, we were advised that the purpose of the event could be misunderstood." No small number of tickets went out either, as while initially only planning for a couple of thousand people to attend, before announcing its shut down Dotcom issued over 25,000 tickets to fans.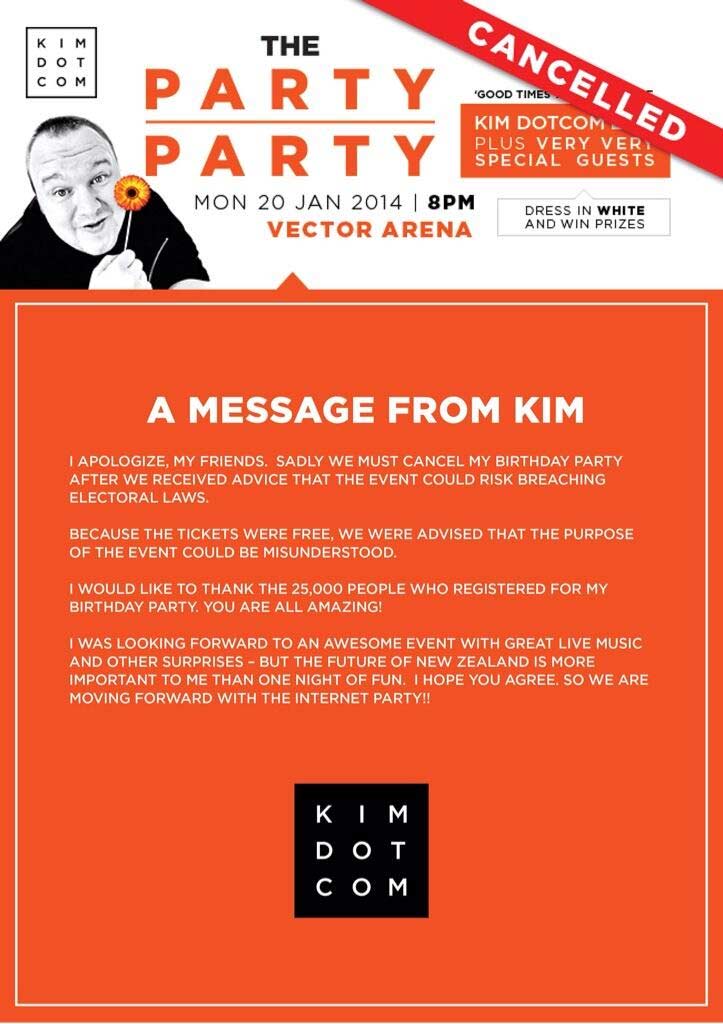 "I would like to thank the amazing 25,000 people who registered for my birthday party. You are all amazing!" Dotcom continued. "I was looking forward to an awesome event with great live music and other surprises – but the future of New Zealand is more important to me than one night of fun. I hope you agree. So we are moving forward with the Internet Party!"
Had Dotcom gone on with his plans and had the party anyway, he risked being found guilty of treating which in itself can land you in jail for as much as two years, along with a $40,000 NZ fine.
Much of the details surrounding Dotcom's Internet Party still have yet to be unveiled. We know what its logo looks like, but who it will push at the next election is unknown. Dotcom has alluded however that it will aim to improve internet privacy for New Zealanders, as well as making broadband access cheaper and more readily available.
Kitguru Says: This seems a bit of a shame, not only for Dotcom but for the rest of us. Chances are there would have been some pretty strange pictures floating around online the morning after a Dotcom party of this magnitude.