If you've ever wondered what a major movie studio looks like when it lowers its visor, powers up its auto-cannons and enters full on battle mode, just take a look at Lionsgate. Right now it's a whirling dervish of fists and takedown requests, as it tries to control the HD leak of the only-just-premièred, Expendables 3.
The third movie featuring Stallone and his old band of action stars, appeared on torrent sites a couple of weeks ago, in what is actually quite a surprising turnout for the upload scene. Normally high quality versions only appear when the DVD version is released, or when screener copies get sent out during award season. Most of the time when a film is in the cinema your only options are horrible quality camera footage from the theatre itself, so for something like this to be released before even the movie itself, is surprising. For Lionsgate, its potentially profit killing.
Which is why it's started swinging for the fences with its legal representatives. Anti-piracy firms have been added to the payroll, with TorrentFreak reporting that MarkMonitor, IP Echelon and Entura International have all been hired to send out takedown requests on the studio's behalf. Between them they've sent out thousands in an effort to try and restrict pirates' access to the movie.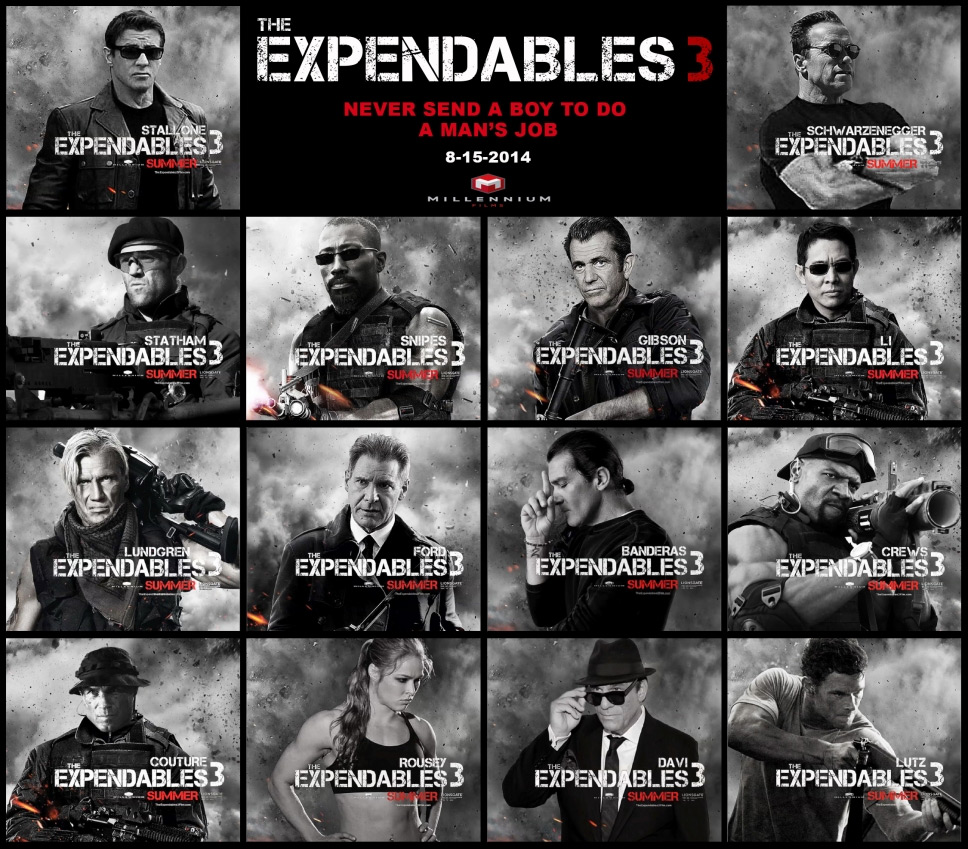 Maybe the uploading of the third film will become the main 'plot' of the fourth instalment
MarkMonitor alone has sent out almost 3,000 according to its director of global operations, Edward Cho: "MarkMonitor, on Lionsgate's behalf, began issuing take-down requests to the operators of the websites identified through our searches. MarkMonitor has sent approximately 2,770 take-down requests covering, cumulatively, 10,846 unique host URLs," he said.
Lionsgate has gone further with some sites too. For sites that ignore its requests to remove the pirated content, it's taking them to court, announcing last week lawsuits against six different foreign torrent sites, including (via HWR) limetorrents.com, billionuploads.com, hulfile.eu, played.to, swantshare.com and dotsemper.com. MarkMonitor, on behalf of Lionsgate, is also hitting these sites with an ex parte restraining order, which if successful, will see the sites taken down completely and the owner's financial assets frozen until a trial sorts out who's at fault.
Still, it seems likely that most of these takedown efforts will be in vain. One quick search by this writer found many copies available on several easy to access torrent sites and their proxies. Lionsgate is likely just drawing more attention to the news by trying to defend itself so vehemently.
Discuss on our Facebook page, HERE.
KitGuru Says: I can understand why Lionsgate is mad. I would be in its situation. But it seems like this is a perfect example of an audience that isn't being tapped into: those that don't want to watch a film like this at the cinema. Make it available at home for £20 for a single viewing and people will pay it. Turn the cinema into a premium experience. Anything else is just a forlorn hope of maintaining the status quo.