The Recording Industry Association of America (RIAA), is a lobby group that's most well known for going after torrent and streaming sites in order to prevent people from downloading music without paying for it first. While that doesn't give it the best image among many music fans, it does at least have a bit of a leg to stand on with its argument, but other times it's actions seem completely arbitrary. In its most recent move, the RIAA has managed to get much of a radio archive's historical airchecks taken down, claiming that it doesn't comply with contemporary licensing.
ReelRadio is the site in question, which stores several thousand old radio DJ airchecks. Its many entries are considered historical in the sense of radio itself, but also in societal terms, where they give an insight into culture at the time, slang, music tastes and a lot more. However in the eyes of the RIAA, this is piracy, despite the fact that ReelRadio has licenses for all the music snippets in its archives.
"The RIAA has determined that our service fails to meet the requirements for 'archived programs', which must be at least five hours in duration and may not be made available for more than two weeks. The service must also display the Title, Artist and Album of each featured song, but only while the recording is being performed," ReelRadio President Richard Irwin explained (via TorrentFreak).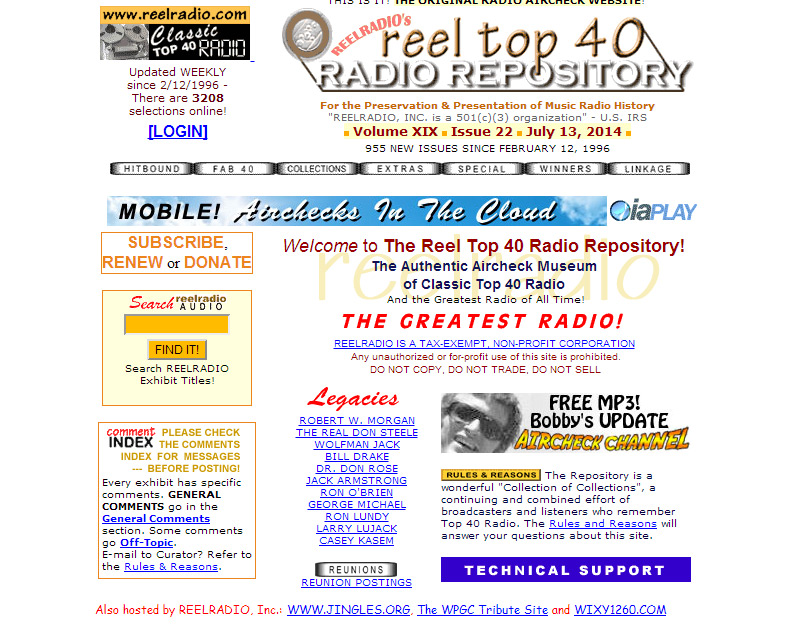 ReelRadio was launched in 1996 and still looks like it
While those demands are ridiculous enough (considering airchecks don't last close to five hours and it's hardly a historical service if they're only on there for two weeks), the RIAA is also demanding that ReelRadio gain permission from all of the old radio stations to store the material, most of which are no longer operational.
All in all, this attack on Reel Radio's service has forced it to remove over 1,100 airchecks from its archives. If it doesn't comply, the RIAA has promised to shut the site down entirely through the courts.
Irwin called the laws being used to target his site "outdated," and suggested that they were designed to keep internet radio in line, not prevent sites from storing archives of radio.
Discuss on our Facebook page, HERE.
KitGuru Says: This is pretty awful behaviour by the RIAA. The site clearly isn't hurting anyone and no station or musician in the clips is worried about fans of 20th century radio listening to clips of their music. Somebody at the RIAA is trying to look busy to justify their job.