Sony's launch of the Seth Rogen and James Franco vehicle, The Interview, has gone surprisingly well. Considering all of the hubbub surrounding its release, it managed to make over $15 million in just a few days. That's a fair chunk shy of its budget, but the majority of that was made online and Sony is now looking to extend the ways in which the film is available, including putting it on pay TV, in more theatres and eventually selling it worldwide.
Sony began showing the film on US cable TV networks earlier this week, as well as on on-demand platforms run by those same networks, like Time Warner, Comcast, AT&T etc. Other platforms are said to be streaming the film soon, if not already, including Sony's PlayStation network (why it didn't start there is anyone's guess) and WalMart's digital distribution platform, Vudu.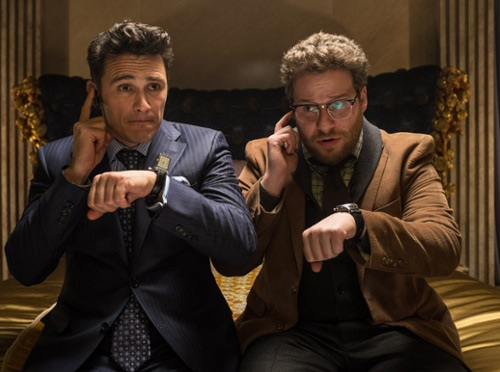 Of course, Sony could be honey-dicking us. 
On top of this, starting today, some 580 other independent theatres in the US will begin showing the film, increasing the total number of cinemas to 911. It's not clear at this time if any of the large cinema chains – that refused to screen the movie after hackers threatened a physical response, referencing the 11th September Twin Towers attack – will take on the movie, but the film is still slated for release in Australia on 22nd January and in the UK on 6th February.
While The Interview has been cited by many as being a focal point for people supporting freedoms like speech and expression, it's real legacy may be in changing the way movies are released. If anything, it has proved that it's viable to stream a movie alongside making it available in theatres. It may not have recovered its costs (yet), but over two million people downloaded it in just a few short days. You have to believe if those streaming options were made available worldwide, that that would be an even bigger number.
Discuss on our Facebook page, HERE.
KitGuru Says: Do you guys think that thanks to this, movie studios will consider simultaneous streaming and theatre releases? When cinemas don't support them, you have to wonder why studios should give them the monopoly on early film releases that they've enjoyed for so long.
[Thanks
Fortune
]