Whether you're downloading something legally or illegally, peer to peer sharing etiquette dictates that you upload more than you download – it helps files disseminate and counters those who only leech. To help encourage that behaviour, the Utorrent client now has an "Altruistic Mode," which only downloads half as much as you upload, guaranteeing a 2:1 ratio.
After updating to the latest version of the Utorrent client, those who want to enable Altruistic Mode can do so through the Preferences-BitTorrent menu – it's the last tick box on the right. Once enabled it forces a 2:1 ratio, so if you are downloading a 1GB file, it will only complete once you have uploaded 2GB – essentially throttling your download so that you always stay ahead of your download.
Although it isn't clear at this time how many users will actually make use of this feature, if a large portion of the torrenting community were to enable it, it would have a two fold impact on the P2P landscape. For starters, those not using the Altruistic Mode would likely see their download speeds improve, since there would be more people downloading at lower rates, as well as uploading more. It would also help proliferate torrents when they are new, when leech numbers are typically higher.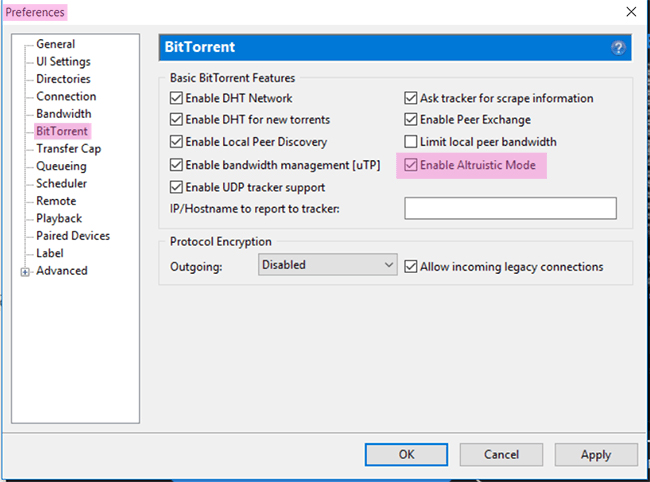 Source: TorrentFreak
When asked by TorrentFreak why Utorrent developers didn't offer options for 3:1 ratios or higher, the concern was that some downloads would never complete. If too many people are still sharing the earliest parts of a file, the latter parts will take much longer to proliferate, making it harder for people to get hold of full files at high speed.
A 2:1 ratio is good enough to provide a positive benefit for downloaders, without hampering the torrents' completion.
In reality it's likely that only a minority of torrent users will utilise the new mode, but if even a handful do, it should have a positive overall impact.
Discuss on our Facebook page, HERE.
KitGuru Says: KitGuru only condones legal downloads of course, but for those of you that share those files over P2P networks, what kind of ratio do you aim for?