Xilinx, a leading designer of field-programmable gate arrays as well as special-purpose system-on-chip solutions, on Wednesday said that it had taped-out one of the world's first SoCs to be made using TSMC's 16nm FinFET+ process technology. The new chip will be used for self-driving vehicles, industrial Internet-of-Things and 5G wireless systems in the coming years.
The new Xilinx Zynq UltraScale+ all-programmable multi-processor system-on-chip (AP MPSoC) integrates four ARM Cortex-A53 general-purpose cores, two ARM Cortex-R5 real time processing units, and an ARM Mali-400 graphics processing unit. The MPSoC also includes integrated peripherals, safety and security engines, and advanced power management. The system-on-chip also sports UltraScale programmable logic fabric as well as the new UltraRAM on-chip memory technology.
The Zynq UltraScale+ can be used for a wide variety of applications, including computerized vision systems, such as advanced driver assistance systems (ADAS), surveillance and other. Thanks to the fact that the MPSoC features general-purpose and highly-parallel graphics processing cores, the Zynq UltraScale+ can process and analyze data as well as make decisions and initiate actuator commands. Xilinx claims that the MPSoC offers a scalable and highly customizable programmable platform that will ensure future-proof customer designs in the quickly changing ADAS space. Besides, increased compute performance of the Zynq UltraScale+ MPSoC will also support the increased radio and baseband processing requirements of next generation 5G systems.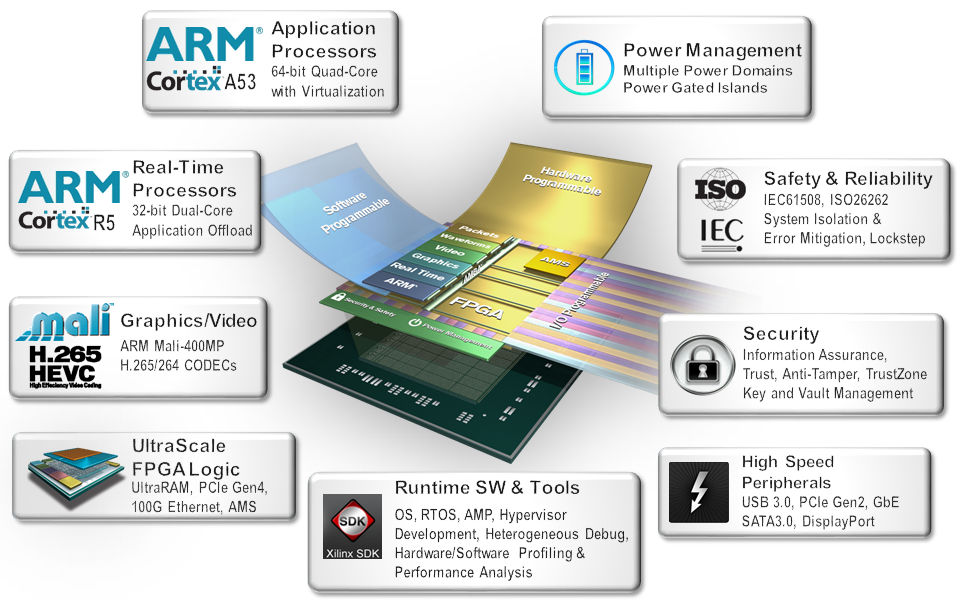 The tape-out of the chip by Xilinx means that the developer will get the first sample of the Zynq UltraScale+ MPSoC several months from now and will start its mass production of the product using TSMC's most advanced 16nm FinFET+ process technology sometimes in mid-2016.
"The Zynq UltraScale+ MPSoC provides an ideal mix of software intelligence, hardware optimization, security and safety, and any-to-any connectivity for the next-generation of smart and connected applications," said Victor Peng, executive vice president and general manager of the programmable products group at Xilinx. "The Zynq UltraScale+ MPSoC has been specifically tailored to meet the unique requirements of next generation embedded vision, including ADAS and the roadmap to autonomous vehicles, industrial-IoT and 5G wireless systems, with applicability to numerous other applications."
Discuss on our Facebook page, HERE.
KitGuru Says: The tape-out of Xilinx confirms that the first wave of chips to be made using TSMC's CLN16FF+ manufacturing technology has taped out. It is believed that Nvidia Corp.'s code-named GP100 graphics processing unit – the first GPU to be based on the company's "Pascal" architecture – is also among the first to be made using TSMC's 16nm FinFET+ fabrication process.