Advanced Micro Devices on Thursday introduced a new accelerated processing unit (APU) based on the code-named "Kaveri" design that is aimed at mainstream desktops with limited power consumption. The new APU comes without unlocked multiplier and thus cannot be easily overclocked, however, it has user-selectable thermal design power (TDP), which allows to install it into small form-factor systems.
Just like other high-end A-series "Kaveri" chips, the A10-7800 model features two dual-core Steamroller modules (four cores in total), 4MB level two cache (1MB cache per x86 core), the AMD Radeon R7 graphics engine with eight GCN compute units (512 stream processors in total) operating at up to 720MHz, a dual-channel DDR3 memory controller with the hUMA [heterogeneous unified memory architecture] technology and the HSA [heterogeneous system architecture] enhancements. Thanks to HSA, hUMA and heterogeneous queuing (hQ) technology, optimized software applications can use both x86 and graphics compute cores at the same time for different types of workloads. The chip supports all AMD's multimedia technologies, such as TrueAudio, Eyefinity, universal video decoder 4.2 and so on.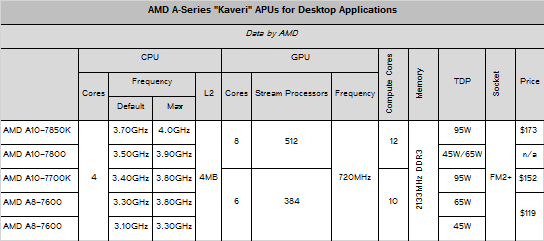 Unlike the "Black Edition" A10-series accelerated processing units based on the Kaveri architecture that were released early this year and were aimed at various enthusiasts in budget who overclock their systems, the AMD A10-7800 is designed for PCs that need both high performance and limited power consumption. Users (or system makers) can select thermal design power of the chip (i.e., the maximum amount of heat the APU can dissipate) – 45W or 65W – depending on cooling capabilities of the particular PC. For example, small home-theater personal computers (HTPCs) would benefit from lowered heat dissipation, whereas bigger systems will be able to offer higher performance with 65W TDP.
"The 2014 AMD A-Series APUs are the most advanced and developer friendly performance APUs from AMD to date," said Bernd Lienhard, corporate vice president and general manager, Client Business Unit, AMD. "The compute and graphics technologies in our APUs lead the way for consumers to leverage the best technology in their gaming, office and multimedia applications, and raise the bar on the desktop PC experience."
The AMD A10-7800 APU will be available for purchase in Japan starting today, with worldwide availability at the end of July. Exact pricing of the chip is unknown.
Discuss on our Facebook page HERE.
KitGuru Says: The AMD A10-7800 seems to be a decent chip for low-cost multimedia-oriented systems. Do not expect it to break performance records, but expect high-quality video playback, high performance in GPU-accelerated apps and nice performance (for an integrated graphics core) in previous-generation video games.