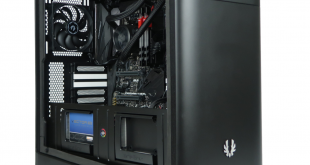 The Bitfenix Shogun is certainly a looker. The top and bottom are wrapped around with thick curved aluminium panels and the case incorporates high quality tempered glass on either side to showcase the build. It is roomy enough inside to accommodate an EATX build with 360mm or 280mm radiators at the top panel, 280mm or 240mm at the front and 140mm or 120mm at the rear. At £144.95 is this a chassis you should be shortlisting for a new system build in 2017?

BITFENIX SHOGUN KEY FEATURES:
Elegant Aluminum Design
Dual Tempered Glass Side Panels
Quick Custom storage design
Quick Custom SSD Chroma
Quick Custom EATX Shield
BitFenix Chroma Control and SSD BitFenix Chroma
Advanced design GPU Safe Bracket
Support Graphic Card Length up to 400mm
Up to 25mm Cable management Space
Supports top mounted 360mm Radiator
SPECIFICATION:
Chassis Type: Super Midi-Tower
Motherboard: E-ATX/ATX/M-ATX/Mini-ITX
Material: Aluminium, SECC Steel, Tempered Glass
CPU Cooler: Up to 175mm height
Max Graphic Card Length: 410mm
Max PSU length: 250mm
Storage Capacity: 5.25″ ODD – 0, 3.5″ HDD – 6, 2.5″ HDD – 6+2
Cooling Capacity: Front – Up to 140mm x 2 or 120mm x 3 (2 x 120mm included), Rear – 120mm x 1 (included), 1 x 140mm, Top – Up to 140mm x 2 or 120mm x 3
Radiator Capacity: Front – Up to 280mm, Top – Up to 360mm, Rear – Up to 140mm
Front I/O: USB3.0 x 2, USB2.0 x 2, HD Audio, Mic & Headphone
Dimensions: 250 x 565 x 525
Net Weight: 14.15 kg
Gross Weight: 16.34 kg
To put this case through its cooling paces we will be using a test system incorporating a Asus ROG Crosshair VI Hero , AMD Ryzen 7 1700x, GTX 970 and an SSD. This system allows us to produce a good amount of heat to effectively test the Shoguns cooling capabilities.
Test System:
Processor: AMD Ryzen 7 1700x.
Motherboard: Asus ROG Crosshair VI Hero.
CPU cooler: Master Liquid Pro 280.
Memory: Geil RGB EVO X Gaming Memory 3200Mhz 2 x 8GB.
Graphics card: Zotac GTX 970.
Power supply: EVGA 650 P2.
Storage drives: OCZ Vector.
OS: Windows 10 Home.
The Shogun comes equipped with 3 x 120mm case fans.
There is one in the rear of the PC and two in the front, both working together to pull air through. You can add extra fans if you wish.
Cooling Performance.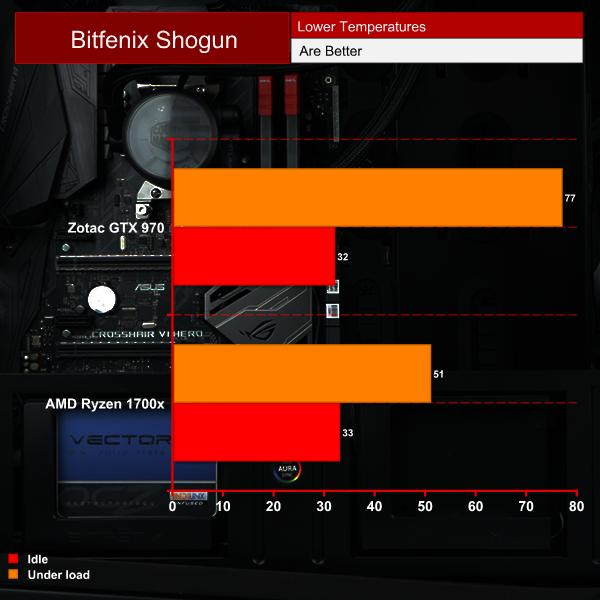 For this test the system in total had five fans working on chassis air flow. Two of these were 140mm pressure fans attached to the radiator for the Master Liquid Pro 280.
Acoustics performance.
If you tend to have the PC resting on a desk then I can confirm it wasn't too loud when under load. The case fans do emit a certain amount of noise, but its never too intrusive.  This was a 'worst case scenario' – connected directly to the power supply using Molex connectors, so they were running at 100% the whole time.
Closing Thoughts.
The Bitfenix Shogun Case is a back breaker – weighing around 16kg for the chassis alone. It would be fair to say you will not be moving this around to game at LAN parties – in fact I would go as far to say that this case will remain in one position for most of it's life.
The Shogun is raised from the ground by around 1 inch which will help with air flow, however the side panels are now propped up higher which gives them further to fall if the glass slips in your hand when opening. If you are ham fisted, extra care will need to taken as they could potentially crack from the fall.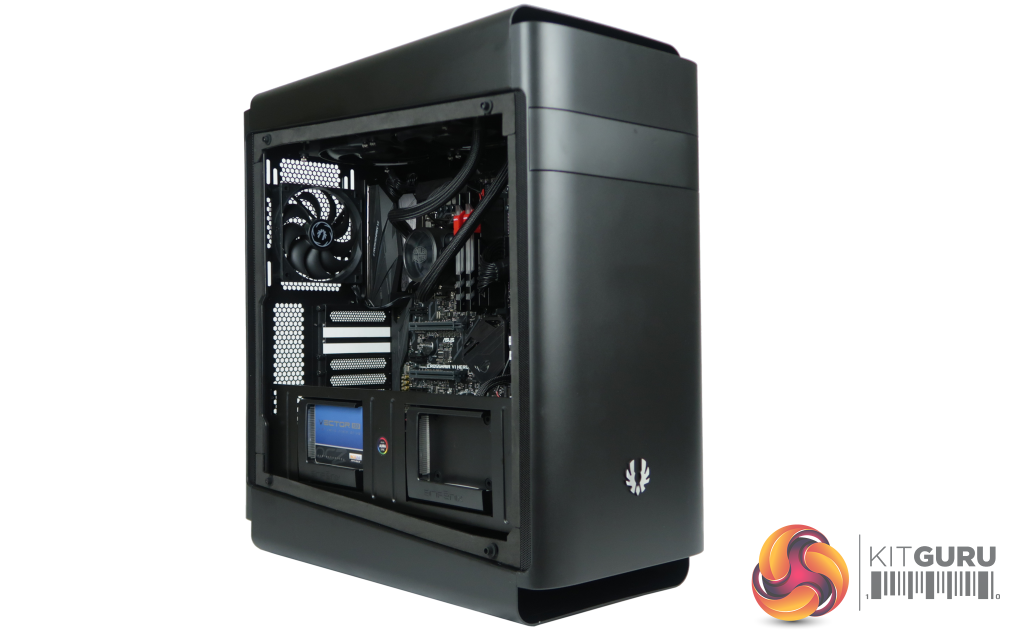 Asus AURA RGB support will prove popular with a specific audience. The case has two SSD bays at the front and they can be easily paired with  the AURA lighting system if you have an ASUS motherboard that also supports this feature. In operation the lights are very bright at the default settings.
There are three panels to stop the 'sag' often noticeable with lengthy graphics cards. Many people will like this feature.
There are two more SSD trays for 2.5 inch drives placed directly on the opposite side of the motherboard however I used them for cable management. The 25mm gap between the motherboard tray and rear panel for cable routing is an inspired choice as it aids the build phase and overall appearance.

You can buy the BitFenix Shogun Midi Tower Tempered Glass Gaming Case – Black case from Overclockers UK for £144.95 inc vat.  HERE.
Discuss on our Facebook page, over HERE.
Pros:
Large interior.
Easily able to liquid cool.
Host 1 x 360 Radiator.
Acrylic window.
RGB LED SSD Chroma.
Raised up to prevent dust.
Soft look.
Aluminium Chassis.
Cable management space 25mm.
Cons:
Overly Heavy.
SSD lighting very bright.
Certain action make parts of the case useless.
No room for Optical Drive.
KitGuru says: The Bitfenix Shogun Case is a monster case with plenty of space for a new system build. There are plenty of features and the support for the latest Asus motherboards will prove popular. Just don't be expecting to move it around to LAN parties, as it is very heavy!