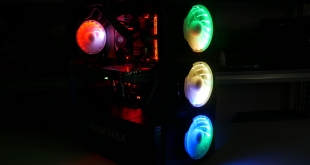 While we previously knew Game Max as a budget case manufacturer, the company is definitely trying to diversify its product stack and produce some cases that are a bit more luxurious than what we might have expected. The Game Max Moonstone, for instance, costs £109.99 and features no less than three tempered glass panels, as well as four pre-installed RGB fans. Can it to do enough to challenge similarly priced mid-towers from more established brands?
We have seen a few Game Max cases in recent months, including the Sapphire and the Polaris. The Moonstone certainly looks quite similar to those other cases – with tempered glass aplenty – but is well worth a closer look. For a full overview of features and a look at the RGB lighting, check out our video review below.
Specification
Form Factor: Full Tower
Motherboard Support: ATX, Micro ATX, Mini ITX
PSU Support: Standard ATX
PSU Location: Bottom
Gaming Case: Yes
Water Cooling: Water Cooling Ready!
Supported Radiator Size: 360mm
Supported Radiator Positions: Front, Top
Body Material: SPCC 0.6mm, Black Inside
Front Bezel Material: Tempered Glass
Side Panel: 0.4mm Tempered Glass (Both Sides)
Internal Cable Management Depth: 33mm
External Bays: 0
Internal Bays: 5 x 3.5" Internal, 5 x 2.5" Internal
Drive Bay Notes: 1 x 3.5″ bay not shared
Expansion Slots: 8 x Full Size
Cooling Front: Space for 3 x 120mm or 3 x 140mm fans (3 x 120mm RGB LED inc)
Cooling Top: Space for 3 x 120mm or 3 x 140mm fans
Cooling Rear: Space For 1 x 120mm or 1 x 140mm fan (1 x 120mm RGB LED inc.)
Cooling Side: None
Cooling Bottom: Filtered vent for PSU
Fan Controllers: 1 Fan Controllers, controlling up to 10 fans in total
IO Ports: 2 x USB 3.0, 2 x USB 2.0, 1 x HD Audio, 1 x Microphone
GPU Max Length: 440mm
CPU Cooler Maximum Height: 180mm
Front Bezel Colour: Black
Body Colour: Black
System Cabinet Features:
PSU Included: No
Unit (Product) Dimensions (mm): 251mm x 528mm x 505mm (W x H x D)
While you can obviously get a good look at the RGB lighting in the video above, it is worth saying the overall effect and ease of use is very impressive. Three 120mm fans come pre-installed at the front, with another 120mm spinner at the back of the case, and all four fans come pre-wired to a small control box. Incidentally, that control box can house up to ten fans in total, so providing you get the same model of fan from Game Max, you could add-in up to 6 more fans.
Controlling the RGB lighting itself is as simple as pressing a single button on the front panel (there is a direct connection between the front panel I/O and the internal control box) and the fans will cycle through various effects including breathing, static and 'rainbow wave'.
The LEDs themselves are positioned around the outside of each fan, and there are probably about 20 LEDs per fan. This means the lighting is very bright and does not get 'lost', as was the case when I reviewed the Game Max Sapphire. The overall effect is very appealing and I am suitably impressed.
So, while the RGB fans are impressive and certainly help the Moonstone get off to a good start, the chassis itself is more disappointing. Overall build quality is not the greatest due to the use of 0.6mm SPCC (a thin steel), and compared to the likes of the Phanteks Enthoo Pro M it feels comparatively cheap, despite costing more money.
While I go over all of my criticisms of the Moonstone in the video, I would also say the honeycomb mesh section in the motherboard tray is perhaps not the best idea. I can appreciate it is meant to give the case something 'extra' – a bit of flair, perhaps – but given 2.5-in drives mount directly behind the mesh, all it does it give users a direct view to the backside of your SSDs. In my opinion, I would rather just have a blank panel.
Lastly, I am not too keen on the tinted tempered glass panels. The tint means the panels are very dark, and even with four bright LED fans you don't really get a good look at your system. My preference would be plain-old clear glass panels, but even a more subtle tint would be better.
Testing
Components used:
Ryzen 7 1700
Gigabyte AX370-Gaming 5
Cooler Master MasterLiquid 120
ASUS ROG Strix RX 570
16GB PNY Anarchy DDR4
Sandisk SSD PLUS 120GB
Seasonic PRIME 650W Platinum
Thermal dynamics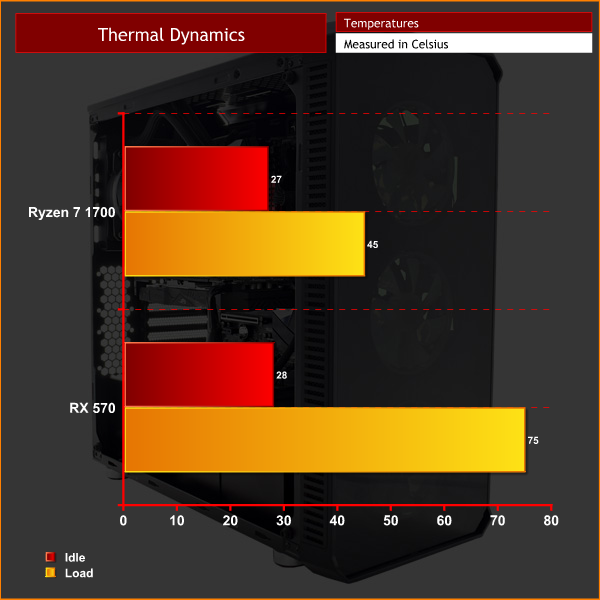 Given the Moonstone sports a three-speed fan controller, I tested with the fans set to 'high' speed. With three 120mm fans at the front of the case, acting as intakes, it is no surprise to see temperatures are very good – the rear 120mm spinner also does a good job of getting the warm air out of the chassis.
Acoustics
Even with all fans set to 'high' speed, the four fans produce relatively little noise. On the lowest setting I could not hear them above the background noise, while the middling setting is still impressively quiet. Good work here, Game Max.
Closing Thoughts
If the Game Max Moonstone was an RGB fan kit, it would undoubtedly be heading for our highest award.
However, despite the very impressive included RGB fans, the Moonstone is a full chassis and needs to be judged as such.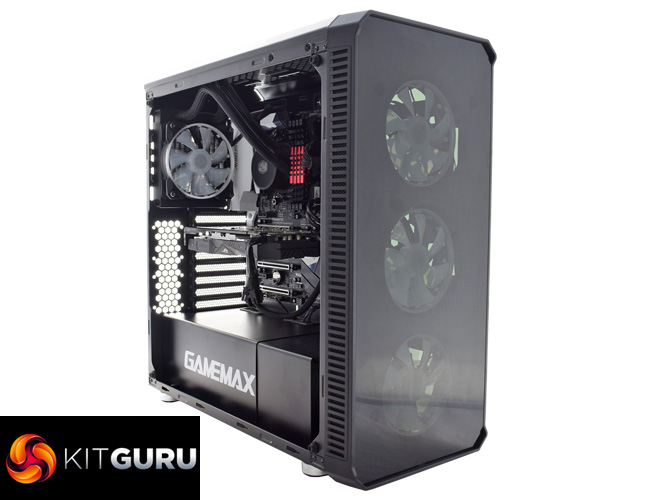 Accordingly, I do find the whole package to be slightly disappointing considering its price of £109.99. Overall build quality is lacking compared to the competition, it lacks the raft of features we would expect from other brands, while the chassis itself has a few too many minor issues as well.
That said, if you are looking for a tempered glass case and want to add some RGB fans to it anyway, the Moonstone would definitely be a cheaper way of achieving that end. However, I can't help but feel the likes of Fractal Design, Phanteks and Corsair have all-round superior cases at similar price-points.
You can buy the Game Max Moonstone for £109.99 from CCL over HERE.
Pros
RGB fans are very good.
Integrated three-speed fan controller.
Top-panel magnetic dust filter.
Cons
Build quality is lacking.
Tempered glass has a very dark tint.
Honey comb section gives a direct view to the backside of your SSDs.
Game Max logo is gaudy.
Competition is very stiff around this price-point.
KitGuru says: Unless you are looking for an easy way to get RGB fans in a tempered glass case, there are all-round better options than the Game Max Moonstone.
Be sure to check out our sponsors store EKWB here