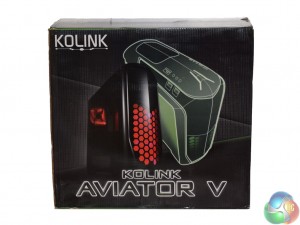 The Kolink Aviator V ships in a big black box. On the front are two pictures of the case, though why one of them is green I have no idea.
The case itself is, of course, black. The front and top panels are glossy, too – which means it is a fingerprint magnet. I would have preferred a matte finish, but that is just a personal preference.
The highlight of the case is the acrylic side panel – it is a full window, held in place with four thumbscrews. The acrylic itself is surprisingly good quality, too, and I measured it to be approximately 5mm thick. Funnily enough, I found it to be a lot sturdier than the acrylic panel included with the Phanteks Enthoo Pro M Acrylic version, which I recently used when reviewing the Overclockers UK Neuron system (review HERE).
Lastly, the other side panel is matte black, and features an extruded section. This should help with cable management when we get to it later in the review.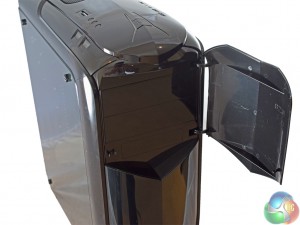 The front panel also utilises a drive bay cover – the door swings open to reveal two 5.25in drive bays.
Elsewhere, the front I/O can be found on the top panel: 2x USB 3.0, headset jacks and 1x USB 2.0 are located on the right-hand side of the panel. On the left-hand side are the controls for the fan controller, a reset button and a SD-card reader.
Incidentally, the small, clear-plastic sections below the I/O are actually red LEDs which light up once the system is turned on.
Meanwhile, the power button is right in the middle of the top panel, and is flanked by more LEDs.
At the far end of the top panel there is also a meshed section to allow air to be easily exhausted from the case.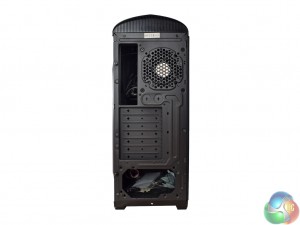 Lastly, we take a look at the rear of the Aviator V. It features the standard 7 expansion slots – however, the case uses cheap expansion slot covers which snap off and cannot be re-installed. Three proper slot covers (which screw in place) are included in the box, but if you snap off more slot covers than that and want to cover them up later, you are unable to do so without third-party slot covers.