Here we preset some pictures of our fully-built system, as well as a discussion of the pros and cons of building in the Kolink Aviator V.
Overall, I was actually quite pleased with the built. It is not the tidiest of systems, but considering the last case I reviewed was the Corsair Carbide SPEC-ALPHA (HERE) which costs £79.99 and turned out even messier, the Aviator V (for £46.99) does quite well for the money.

The biggest problem comes from the fact that an ATX motherboard covers the cable cut-outs that would usually be used for the motherboard 24-pin and USB 3.0 connectors (as you can see in the image above and on the left). This means the cables are a bit more visible than I would like.
There is a top cut-out for the 8-pin EPS connector, however, so that is not a problem.
The front panel connectors are also quite neat if we ignore the fact that they are unsleeved.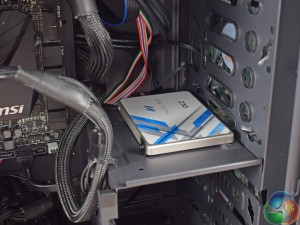 I mounted my SSD on top of the drive cage, too which makes it semi-visible through the case window.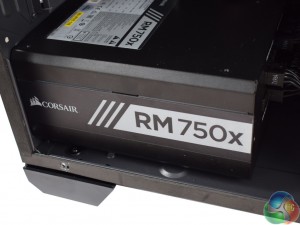 One very nice feature, however, is the power supply support. Essentially, rather than being screwed flat to the bottom of the case, Kolink include a padded support bar for the PSU which raises it off the chassis floor. This prevents unwanted vibrations and is a thoughtful inclusion at this price.
Turning to the back of the system, there are actually quite a few cable tie-down points which meant I could tuck away most of the cabling behind the motherboard tray. The extruded side panel also means that even if you have a small cable bulge, the panel can be re-attached with ease.
However, I must mention one last negative of the build process. The fan controller's Molex power adapter sadly arrived broken – the Molex pins were significantly out-of-place and even when I managed to connect the plug to the power supply, the fan controller was still not receiving power. Obviously I am not saying that all the Aviator V cases will arrive with broken fan controllers, but it is perhaps indicative of cheaper quality components used in the chassis.