Accessing the interior of the case is very simple, with two thumbscrews securing each side panel in place.  Removing the left side panel reveals the black painted interior of the case which is sure to complement most component choices aesthetically.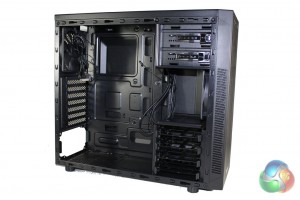 This case supports full-size ATX motherboards, but there is not a great deal of room to work with inside so it can be quite challenging to get everything into position.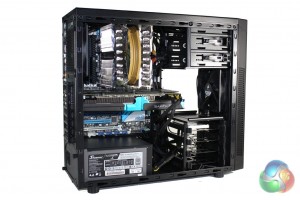 We installed our CPU cooler before installing the motherboard into  the case, which proved quite challenging when maneuvering it into place.
This could be simplified by installing the CPU cooler after the motherboard using the cutout in the motherboard tray to secure the backplate into place.
The case offers support for CPU coolers up to 150mm in height, which was quite tight for our Thermalright Silver Arrow which we used for testing.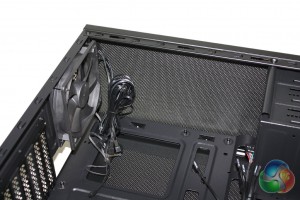 Corsair have supplied us the silent version of the case which features sound proofing material on the inside of each side panel, on the inside of the roof and the inside of the front panel.
There is up to 230mm of room in the floor of the case for power supplies which should provide enough room for most models on the market.
There are a series of cut outs in the motherboard tray for cable routing, however there is not a great deal of room for cable routing behind the motherboard tray and there is not a cut out next to the CPU power connector on the motherboard.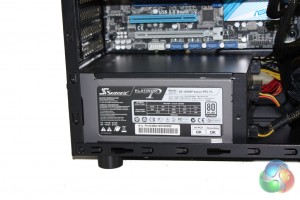 Even though it is possible to achieve a tidy build in this case, it is a significantly more difficult process than in one of Corsair's more expensive cases.  We would recommend a modular power supply to simplify the process slightly – we installed our trusty Seasonic Platinum 1000W power supply without any issue.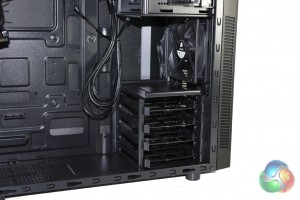 We find four hard drive trays in the Carbide 100R in total, which can support both 3.5″ and 2.5″ drives.  This should be more than enough for most users, although those looking to build a home server should probably consider an alternative.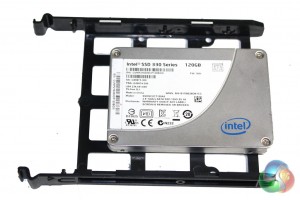 For our test build, we installed an Intel SSD 330 Series 128 GB solid state drive into the case.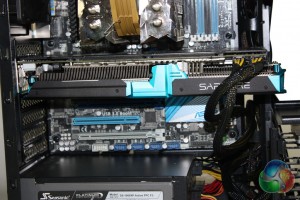 There is plenty of room for long graphics card in this case, we had no issue installing our Sapphire R9 290X Vapor-X graphics card in the case.