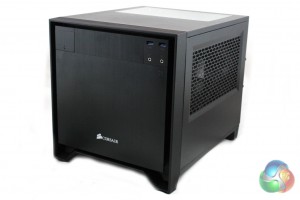 The aesthetic design of the Corsair 250D is very similar to other cases in the Obsidian series, combining a brushed aluminium effect front panel with a sturdy steel chassis. This makes for an understated design that wouldn't look out of place in any environment.

This is one area in which the Obsidian 250D differs greatly from the Bitfenix Prodigy, which has a much flashier design and is available in a multitude of colours.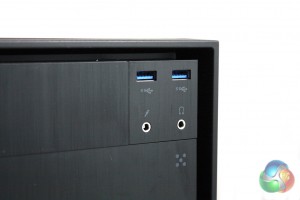 The front panel of the case features a single 5.25" expansion bay, located between the power button on the left and the front panel connections on the right. These connections consist of two USB 3.0 ports and headphone and microphone jacks.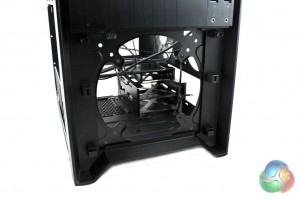 Removing the pop-out cover that is located in the front of the case reveals mounting points for either a 120mm, 140mm or 200mm fan in this location. While this panel doesn't feature a fan vent, there are gaps around the edge which allow air flow to the fan. Corsair include a 140mm fan here with the case, although we removed this in our tests to fit a Corsair H75 water cooling unit in this location.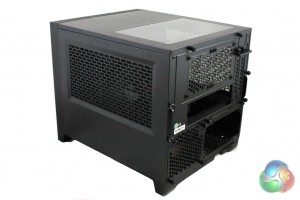 Both the left and right side panels of the case feature large vents to provide airflow to the inside of the case. The vent in the left side panel is designed to provide airflow for your graphics card, while the right side panel covers two 120mm fan locations, which could be used to fit a 240mm radiator. We only had the Corsair H105 available to try in this location at the time of testing, but unfortunately it was too thick. We understand that there is room for a Corsair H100i in this location, though.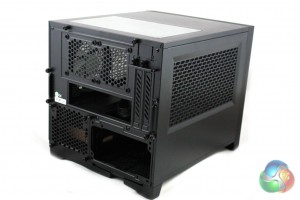 There is a large acrylic window in the roof of the case which gives us a top-down view of the motherboard within.
Moving round to the rear of the case, we can see that the Obsidian 250D has an unconventional internal layout, with the motherboard being orientated horizontally in the case, above the power supply. There is space for two 80mm exhaust fans in the rear too.