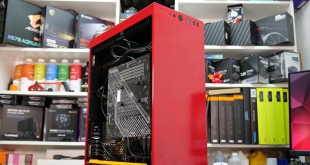 MonsterLabo launched their first passively cooled PC case a couple of years ago and are now back with an updated version that is bigger and better. The Beast features increased cooling capacity, a larger chassis to suit full-size ATX motherboards and high-end graphics cards, plus there's an option for assisted cooling by adding two 140mm fans… but is it any good? Let's find out.
Watch via our Vimeo channel (below) or over on YouTube at 2160p HERE
Timestamps:
00:00 Start
00:15 MonsterLabo – The Beast, details and pricing
04:57 Two complete system options
06:00 what do you get for 790 euros?
10:00 powder coating concerns
11:09 It's not a normal rear I/O setup
12:05 3.5 and 2.5-inch drive install
12:58 Custom build – an overview
15:16 Passive mode and assisted airflow mode
16:08 Compare system that James built
16:33 Testing The Beast
23:17 Cinebench scores and analysis
24:44 Time Spy extreme benchmark test analysis
25:57 Time Spy extreme stress test analysis
29:54 88% result – not passed
30:37 Further analysis
31:55 System under CPU and GPU load
34:17 Temp analysis and discussion
36:12 Putting fans into the mix?
38:41 James closing thoughts
The First MonsterLabo case released in 2019 was a mini-ITX chassis featuring semi-passive cooling of the CPU and graphics. The company is now back with a new completely passive cooling solution squeezed into an ATX side case. Paired with a passive power supply such as the Seasonic Prime Titanium Fanless range, there will be no moving parts inside The Beast which means no fans… and complete silence.
MonsterLabo offers The Beast as a bare case/cooling solution for users to self build a system. There are also a couple of fully pre-built system options where MonsterLabo will source components and build the system for you. The case alone costs €790 (minus any optional extras), pre-built systems start from €2850 for the Extremely Fanless option and go up to €3600 for the Insane spec. A new top of the range Titan option is also coming soon.
This might sound like the perfect solution to the often irritating noise that comes from a PC, but can a high-end system really be fully passively cooled while offering the same performance as the equivalent spec in a traditionally cooled PC using an AIO or tower cooler and air-cooled graphics card? The Beast certainly looks like it will put up a good fight according to its specifications.   
MonsterLabo The Beast Features:
Equipped with two huge heatsinks weighing in at 3Kg each and featuring ten 6mm heat pipes per heatsink. Six copper thermal drains connect both heatsinks to the front and rear 6mm thick aluminium chassis panels for additional thermal spreading.
Total cooling power rated at 400W (150W CPU and 250W GPU) in passive configuration and almost 600W (250W CPU and 320W GPU) in active mode with two slow-moving 140mm fans assisting airflow.
A collaboration with EKWB provides additional cooling to graphics cards of over 220W TDP, via an EKWB VRM and VRAM heat spreader. Lower powered graphics cards use smaller MonsterLabo machined heatsinks for VRM and VRAM cooling inside The Beast.
The Beast is available as a standalone case/passive cooling solution as well as a complete pre-built system with two fixed spec options to choose from, with prices starting from €2850, as well as custom builds with spec chosen by the customer.
MonsterLabo also offers The Beast with a range of case customisations including a personalised laser etch engraving on the aluminium front panel for no additional cost and a special powder coated colour option that cost an additional €100.
On the floor of the chassis is a HDD caddy where the user can install up to four 3.5-inch or 2.5 inch HDD/SSD drives in a vertical orientation.
Front panel connectivity includes 2 x USB 2.0 Type-A ports, 2 x USB 3.0 Type-A, a single USB Type-C port and dual 3.5mm audio jacks. Power and reset buttons are also located on the front panel.
A special modular rear I/O panel uses extensions from the motherboard and GPU outputs. users can add or remove cables for more or less connectivity.
The Beast: A Closer Look
Inside The Beast are two giant heatsinks with ten 6mm heat pipes each, equipped with twenty large aluminium fins on the GPU side, one less on the CPU. The fins are spaced wider than you would expect from a normal CPU heatsink as this wider spacing is more suited to the airflow from the natural convection. Running through and connecting the heatsinks to the aluminium chassis panels are two large copper thermal drains that help spread the heat to the case.
Installing a system inside The Beast is very different to a conventional chassis. The motherboard is almost floating inside the case as the only mounting points are via the CPU cooler mounts, the usual standoff and screw approach isn't used in The Beast, so the motherboard it simply hanging from the CPU cooler, but it is surprisingly firm. The downside for some will be that the motherboard components are not visible or easy to access.
The graphics card is installed at the opposite side of the chassis using a similar method. An RTX 3080 Ti was supplied in our sample and uses the EKWB VRM and VRAM heat spreader, the stock cooler is completely removed so the card is mounted directly to The Beast's GPU heatsink through the stock mounting holes. An EKWB backplate can also be used.
Installing a system inside The Beast isn't difficult, it's just different to a regular build. Everything must be inserted into the motherboard and all cables attached before mounting the board inside the chassis. The rear I/O port faces downwards so a cable system is used to extend the I/O to modular plates on the back of the chassis, the same system is used for the video outputs from the graphics card.
At the top of the chassis, there is a removable top cover, which is simply another 6mm aluminium plate bent into shape with a large cut out to allow air to escape. A piece of mesh is placed under the top cover to stop small pieces from falling into the system. The mesh isn't a very good fit, it moves about and reminds me of something you might find on an outdoor grill or barbeque, it doesn't feel like premium quality. The top cover isn't a great fit either and pressing on the mesh makes the panel pop off.
There are removable tempered glass panels on both the right and left-hand sides of the chassis, aluminium panels are also available as an option. These panels are held in place by four catches, two on each side of the panel. The solution is very fiddly and makes it difficult to line up and fit the glass panels. A hinge system with a magnetic catch or similar would be better. The catches are also very cheap quality.
Our sample came with a special colour coating in red. The powder coating finish is applied by MonsterLabo at their factory and like the top cover design, it's not of the high quality that you would expect from an almost €900 chassis (the colour coating costs an extra €100). Areas of the powder coating look ok and quite smooth and glossy, but other areas such as the front panel suffer from the 'orange peel' effect which looks quite poor.
Areas of the chassis such where the top cover slots in place quickly start to look tired as removing the top cover chips and scuffs the powder coating, the top barbecue grill also arrived with paint flaking off. Overall, the build quality isn't of a high standard I would expect from a chassis/cooling solution that costs as much as The Beast does, which is very disappointing.
Thermal Performance
To measure the thermal performance of The Beast we ran side by side tests of The Beast versus an equal spec system with traditional cooling via 360mm CPU all-in-one liquid cooler and stock graphics air cooling, the results of these tests can be seen in the video. We also ran an extended 60-minute thermal test on The Beast to see how it copes with thermal load for prolonged periods.
To measure the CPU thermal performance a 60-minute Cinebench R23 stress test is run on the system. A similar prolonged GPU stress test is performed by running the 3DMark Time Spy Extreme stress test for one hour. The CPU and GPU temperature is recorded by HWInfo and the average/peak temperature is plotted in the charts below.
A combined CPU and GPU stress test is also performed by running both the Cinebench R23 and Time Spy Extreme tests simultaneously to measure the CPU and GPU thermal performance with full load applied to the system for 60 minutes with the chassis in its fully passive cooling configuration.
The effect of running The Beast in active or assisted airflow mode is also tested by running the same tests again with two 140mm EK Vardar fans placed in the fan mounting locations at the top of the chassis. The fans are set to run at a constant 650RPM which means that the system is still almost silent and below the 36dBA noise floor in the test room.
All temperature measurements are presented as Deltas – meaning the ambient temperature has been deducted from the CPU temperature giving us a Delta. Data shown in the charts represent the average component temperature over the length of the test as measured by HWiNFO and then calculated to get the average. Peak Delta temperature is recorded too. Ambient temperature during thermal tests is between 23-25⁰C.
Test system Specification:
Processor: AMD Ryzen 9 5950X
Motherboard: ASUS TUF Gaming B550M-Plus
Memory: 64GB G.Skill Trident Z RGB DDR4
Graphics card: Zotac GeForce RTX 3080 Ti Trinity  + EKWB backplate + full covering spreader
OS: Windows 10
Thermal Performance Overview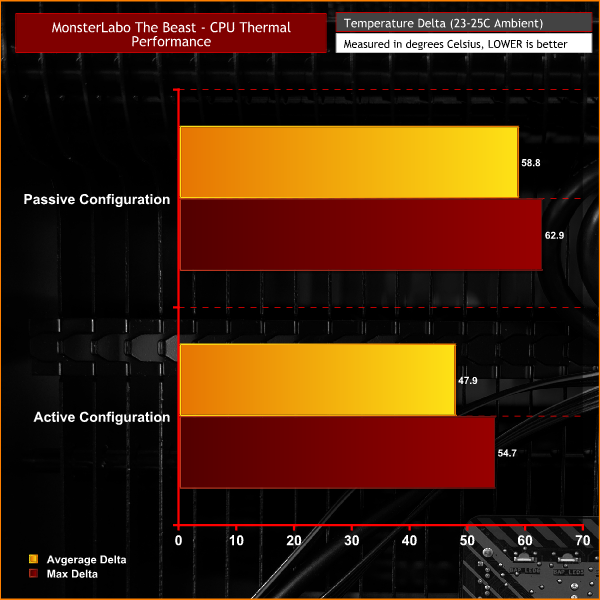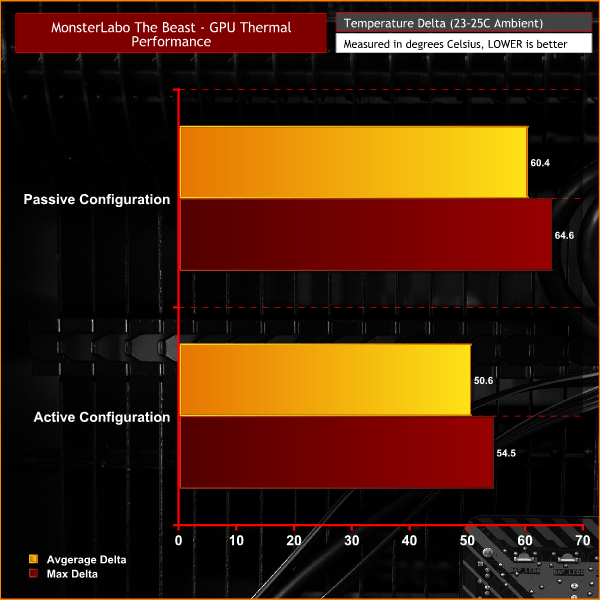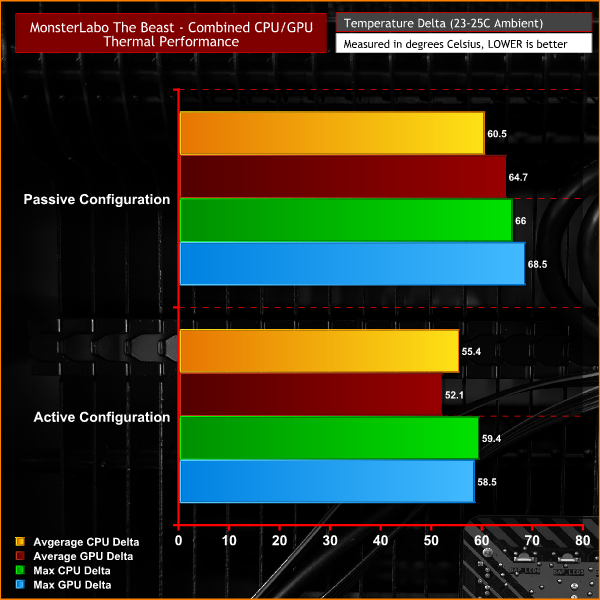 Overall, thermal performance was a little disappointing. Even when taking into account that you must make a compromise between noise and thermal performance in a passively cooled system, still the thermals left me feeling underwhelmed. CPU temperature when stress-tested alone was ok, there wasn't a huge drop in the average frequency measured at just under 3.5GHz across all cores, which is approximately 300MHz down on what our comparison system measured in the video. During the combined stress test, CPU frequency dropped more but it was marginal.
GPU performance is quite heavily affected since the GPU had to be de-tuned to keep within the max 250W power limit that The Beast is rated at in passive mode. During the combined test the RTX 3080 Ti core frequency dropped as low as 1220MHz towards the end of the 60-minutes. This suggests that during prolonged gaming sessions a significant drop in frame rate could be expected.
There was a big improvement in thermals when running the case in the active configuration with assisted airflow. In some situations almost 10⁰C temperature reduction was witnessed which will no doubt help frequency and FPS stability. However, running a passive system with fans defeats the objective of zero noise, but even so, with the fans running at just over 600RPM the system is still extremely quiet.
Closing Thoughts
Taken as a whole, we can't help but feel disappointed by The Beast, we had high hopes that this would be a revolutionary chassis that puts passive cooling in the mainstream. However, with disappointing thermal performance in passive configuration and very poor build quality in certain areas, it's a real let down. Maybe if your system isn't of too high spec then thermal performance would be more than acceptable but in a high-end system, you are going to have to dial back performance.
That being said, CPU thermals were actually quite impressive when the CPU was stress-tested alone. The AMD Ryzen 9 5950X is a very high-performance desktop processor and The Beast seemed to cope with its heat output during a prolonged Cinebench R23 stability test. But when stress-tested simultaneously with the GPU, both the CPU and GPU temperature hit uncomfortable levels and frequency took a hit.
MonsterLabo sent us a pre-built system to test The Beast in passive cooling configuration, with an RTX 3080 Ti GPU. MonsterLabo doesn't offer this configuration in either of their pre-built systems that customers can purchase which we thought was odd as the GPU had to be de-tuned so that it didn't exceed the limits of the cooling solution. However, even in this reduced performance configuration, the GPU still throttled frequency further during our thermal stress tests.
This meant that a big compromise between thermals, noise and performance had to be made, which we saw during testing. In the 3DMark Time Spy Extreme test, The Beast failed to maintain a stable frame rate while our traditionally cooled comparison system of equal specification could achieve stable frames easily. This meant that during gaming sessions we would see the degradation in frame rate as time passes.
So thermal performance is just about adequate in a high-end system but the main issue we have with The Beast is the build quality of the chassis and the finishing touches. The special power coated colour finishes applied by MonsterLabo are sub-par for a high end, premium product that costs almost €900. Sections of the powder coating look smooth and glossy, but the front and rear panels suffer from large areas of 'orange peel' effect which is unsightly and just simply not good enough for a premium product.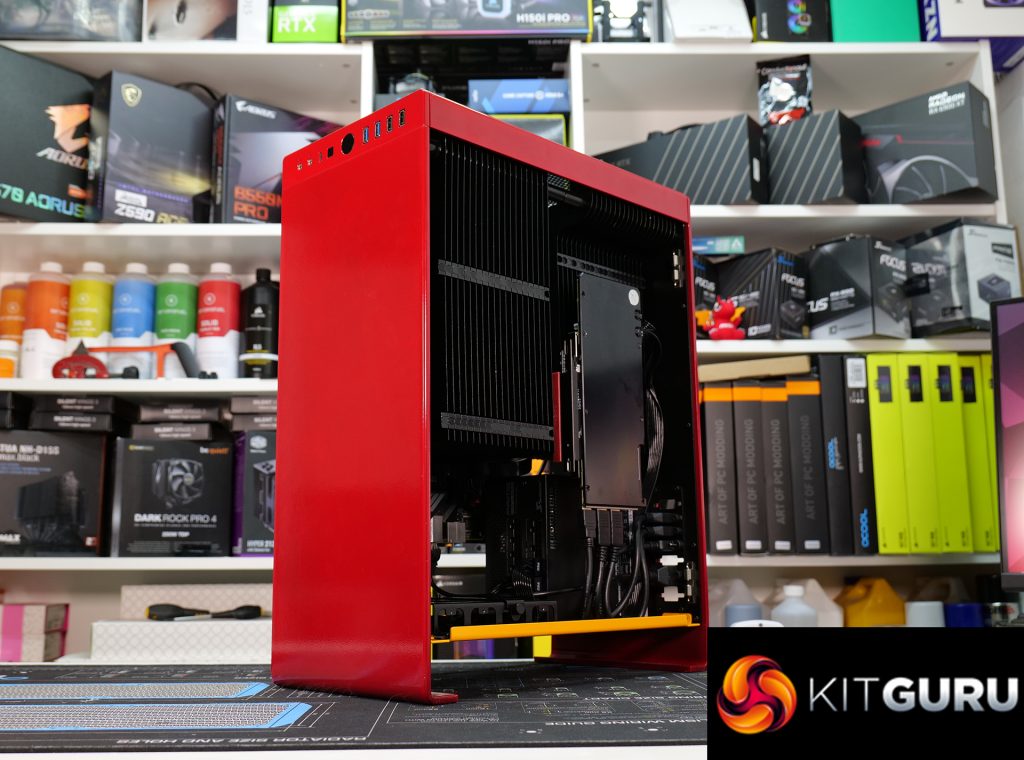 The same can be said for other things such as how the top panel fits, there are four ball catches that hold the top panel in place but one wasn't making great contact which made the top panel very loose. Pressing the top mesh also kicked up one corner of the top panel. The top mesh almost seems like an afterthought, it is just placed between the top panel and heatsink with nothing technically holding it in position.
This means that it is free to move about which can leave it looking misaligned and just odd. The mesh just doesn't look like it's part of a PC chassis, more like something you would find on an outdoor grill or barbecue. The paint was flaking off the mesh right from the start when The Beast arrived, which again isn't a good sign of the quality, similar to the catches used on the side panels, these are also cheap catches you can pick up from any DIY hardware store, not what I expect from a premium product.
Adding fans to the system does boost thermal performance quite significantly. During some of our thermal tests, we saw improvements in temperature of up to 10°C which obviously helps boost frequency which in turn will improve performance. However, this defeats the object of passive cooling, running the fans at very low RPM means that the system still runs extremely quiet, but you can do this with an AIO or CPU tower cooler and get even better results.
So after using The Beast for a while, we agree that passive cooling is possible on high-end systems but you must be prepared to make a compromise on performance if you want a completely silent system. However, a traditionally cooled system with high-quality low noise fans will still easily outperform The Beast while being quiet enough for most situations. Unless you have a very specific reason for needing a completely silent system, the old ways are still the best in terms of performance and value for money.
The Beast can be purchased from MonsterLabo directly priced from €790 HERE. Pre-built fanless systems and custom configurations can also be ordered from the MonsterLabo store.
Discuss on our Facebook page HERE.
Pros:
Completely silent computing.
Pre-built systems configured by MonsterLabo are available.
Cons:
High-end systems need to be performance restricted.
GPU temperature is difficult to manage.
Build quality is poor.
Powder coating is uneven.
Low-quality parts are used in some areas.
The price is high.
KitGuru says: We had high hopes for The Beast from MonsterLabo, unfortunately it didn't live up to our expectations with too much of a performance compromise needed to keep temperatures under control, while the build quality was a big let down too. What do you guys think of The Beast, would you buy one?
Be sure to check out our sponsors store EKWB here